CHAPTER 6
"News to Me"
OFFICIALS WITH the New York State Department of Health said that, prior to the summer of 2018, the department had never investigated a case where the wrong person had been taken off life support. Close to a year later, it closed the investigation, finding no fault with St. Barnabas.


The department, by law, is not obligated to make much about its investigation public, but it shared some facts and a redacted version of some of the investigative records.
Jonah Bruno, a department spokesman, said the investigation began "immediately following the patient's death."


What exactly that initial inquiry involved is unclear. But it apparently wasn't enough. The article in the New York Post in January 2019, which noted the lawsuit against St. Barnabas brought by Powell and Dudelson, appears to have provoked another examination by the state.


"A broader investigation was triggered by media reports in January that indicated the circumstances surrounding the patient's death and identification may have been inconsistent with the information obtained by the Department during its initial review," Bruno said.


The state would not say what the inconsistencies in information were or how the second inquiry was broader. But it said the information given to it by St. Barnabas had been accurate.
Bruno issued a statement in August summarizing the state's findings.


"The New York State Department of Health conducted an investigation of St. Barnabas Hospital to review the actions taken by the hospital upon the admission in July 2018, of an individual who was unconscious and ultimately misidentified as another person," he said. "The investigation determined that the hospital had a policy in place regarding the process for determining the identity of a patient in situations like these. Evidence indicated that the hospital followed its policy. As a result, there is no regulatory standard under which the hospital will be cited."


St. Barnabas, having learned of the state's findings, seemed grateful, if a bit surprised. The state had credited the hospital with having followed its policies for identifying an unconscious patient, and yet, when asked what those policies were, St. Barnabas said there actually weren't any. If someone is admitted bearing identification and visiting family members don't alert the hospital to the mistake, there's not much more the hospital is required to do, St. Barnabas said.


"If the state Department of Health says we do have specific policies, that's news to me," a St. Barnabas spokesman said.


David Hoffman, a lawyer, clinical ethicist and lecturer at Columbia University, said St. Barnabas was obligated to do its own "root-cause analysis" — an internal review meant to examine every aspect of the episode to determine if there was anything that could have been done differently then or going forward.


"It's the ethical obligation born of humility," Hoffman said. "Any mistake that happened once is going to happen again. You must have an adequate response even to a freak occurrence."


St. Barnabas would not say if it had done such an analysis, and, when asked, it would not say if it had altered any of its practices or procedures as a result of the mistake. Bruno said the state Health Department's investigation had not produced any recommendations for possible improvements.


The state's own records and interviews make clear the inquiry was ultimately quite limited. State investigators did not speak to the Williams or Perry families. The state, while saying Perry had been appropriately treated for his condition, did not explore whether the hospital had properly counseled the Williams family about the patient's condition or met its obligations for handling the termination of life support.


There is a federal agency that could have launched its own inquiry — CMS, or the Centers for Medicare and Medicaid Services. Asked if it had, CMS said it had accepted the state's investigation as adequate.


Arthur Caplan, founding head of the Division of Medical Ethics at NYU School of Medicine, said the New York State Health Department should have looked harder at whether St. Barnabas followed the state's laws governing a hospital's obligations to families facing end-of-life decisions.


Health care providers treating the terminally ill are required to inform patients and their families of the full range of options for navigating their final days. There are strict protocols for doctors to follow if they have decided ending life support is the appropriate option.


LaTanya Perry, whose husband's life was ended, wants to know if those laws were followed. Was the Williams family properly advised? If Perry was admitted as an overdose and died of blunt force trauma, had he been properly treated? Had there been any disagreement about the assessment of her husband's chances? Had staff at the hospice really told the Williams family it would be liable for the costs of continued life support.


Right now, she has only the hospital's word — the same hospital that saw the wrong person have his life ended.


David Leven, executive director emeritus for End of Life Choices New York, an advocacy organization, said too many health care providers remain uninformed about their obligations under the law.


"The vast majority of doctors have never been trained in end-of-life care, or palliative care, or hospice care," Leven said. "The vast majority of doctors have not been trained on how to have difficult discussions with their patients, and family members of patients."


Bruno said the state Health Department makes considerable effort to educate providers with information about their obligations for end-of-life care. He said its surveyors conduct regular checks on whether health care providers — including hospitals and nursing homes — are abiding by the laws on end-of-life care. He said the department provides surveyors with guides for conducting those checks — sample interview questions, lists of documents to review and observations they should make to determine whether the hospital is complying with regulations. The department, he said, had posted ample information about the relevant legislation online.


Bruno said the department over the years had cited providers for violations of federal and state regulations governing end-of-life care. But he conceded the department had never cited a health care provider for violating the laws relating to end-of-life decisions for an incapacitated patient without a health care proxy.


"Why have a law if no one is going to enforce it?" Leven asked.
St. Barnabas said responsibility for Perry's final days rested with the Hospice of New York.
Hoffman, the bioethics professor, said when a hospital works hard to explore ways of determining whether an incapacitated patient had ever expressed his or her wishes for end-of-life decisions, they often seek out doctors who had treated them before. Talking to those prior doctors, Hoffman said, might have led to a discovery.


"It's possible," he said, "they might have figured out they were talking about two different people."


CHAPTER 7
"Could Have Been Me"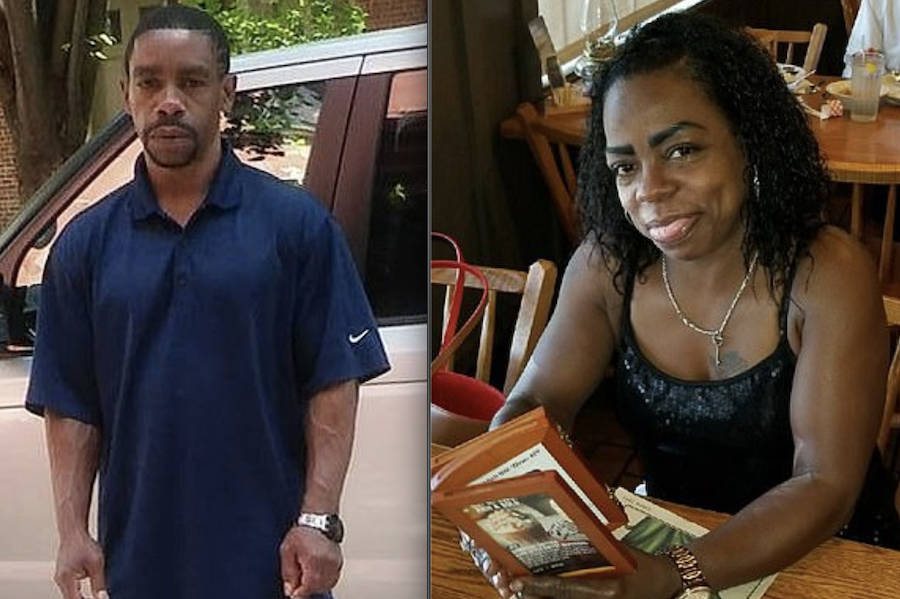 Frederick Williams, left, and Raheme Malik Perry. (Williams family and Perry family)
FREDERICK WILLIAMS sat on a plastic chair inside the chapel at the Anna M. Kross Center, one of the jails on Rikers Island. "Every Moment, Thank God," reads an inscription on a nearby wall.
Williams was not happy to be back at Rikers, and he later pleaded guilty and accepted a five-year prison term for assault. Still, given everything that happened a year ago, he is grateful to be alive.
"Could have been me," Williams said of what happened in the Bronx in July 2018.


After his family learned he was not the man who had died at St. Barnabas, they set out to track him down. They eventually learned he'd been arrested that August and had a court date pending.
Williams thus first learned of his role in an improbable saga when he was in what's known as a "bullpen" — essentially a cage in a courthouse anteroom where inmates are placed to await a hearing before a judge. The public defender representing Williams in State Supreme Court in Manhattan passed him a taped-together single-page letter through the bullpen's bars. It had been given to the lawyer by two relatives of Williams outside in the public courtroom.


"They want you to read this," the lawyer told Williams, not having looked at the letter himself.
It was a doozy. Life support. Funeral plans. Mistaken identity. And the joy that he hadn't died.
"I'm like, what the fuck is going on?" Williams said. "Is this a joke or something?"
Williams said he finished only half of the letter before being called before the judge. He saw two of his siblings in the courtroom, smiling.


When he got back to the bullpen, Williams finished the letter.
"I kept reading it and reading it and reading it," he said. "Thinking the words would change."
Williams, in an interview, did his best to reconstruct the events of the summer of 2018.


At the time, he said, he had been renting an apartment in Lower Manhattan, but because of issues with his landlord, he and his girlfriend often found themselves sleeping on the street. He said he remembers losing his state ID while roaming the streets of Manhattan. He said he often stuck flyers and other papers in his pocket and believes the ID tumbled out with some flyers.


"It's got your picture on it, it says your name, date of birth," Williams said of the ID. "You could use it just about anywhere."


He said he didn't apply for a replacement because he still had what he called his "welfare" ID card. It substituted just fine, he said.


On July 1, Williams was arrested for assaulting his landlord and was held for several days. Police records show he used an electronic benefits card as his ID.


On Aug. 21, Williams was again arrested, this time for assaulting his girlfriend, and it was at a court hearing for that arrest that he learned of his strange connection to Perry's death.
Williams, in multiple interviews, said he'd never met Perry.


"Until this day, right now, I didn't know his name," Williams said in the interview this summer.
Later shown a picture of Perry, Williams insisted he didn't recognize him.
"I just send my condolences," Williams said.


Williams acknowledges the remarkable series of events and coincidences that had to happen to produce the error at St. Barnabas. He had to lose an ID he'd had for years. It had to wind up in the pocket of a man close to him in age and appearance. That man had to have fallen in the street close to a hospital that had once treated Williams and had his information on file. The discovery of the misidentification happened only because both men had criminal records and fingerprints in a database.


"This," he said by way of summary, "is crazy."
What feels almost as crazy is that Williams has the rare opportunity to pass judgment on his family's decision to end his life.


Thaddeus Pope, a law professor and the director of the Health Law Institute, said no one really knows if the decision to end an incapacitated patient's life is, in truth, what they would have wanted. The scholarship that does exist, he said, has consistently shown that the decisions surrogates make for loved ones are often mistaken.


Williams, for his part, said he was touched that his family seemed to rally to his situation. His siblings showed up; his child came to see him; the decision to let him die was not made hastily; he liked their idea to bury him next to his adoptive mother.


But he admits he was at first angry and hurt that his family was willing to give up hope.
"If it was me," he said, "why would you pull the plug?"