This blog has warn torurist but particularly Gay Men, Lesbians and Trans many times to stay away from Jamaica. Now the warning comes to all British Tourists from their government and that should go for Americans also.
British tourists are being warned they should stay inside their resorts in Montego Bay, Jamaica.
The Jamaican government has declared a state of emergency in the St James parish, after a number of "shooting incidents".
The Foreign Office has told British tourists to stay in the confines of their hotels as a "major military operation" takes place.
About 200,000 British tourists visit Jamaica every year.
A spokesman for the Foreign Office said: "[Tourists] should follow local advice including restrictions in selected areas, and exercise particular care if travelling at night.
"[They] should stay in their resorts and limit travel beyond their respective security perimeters."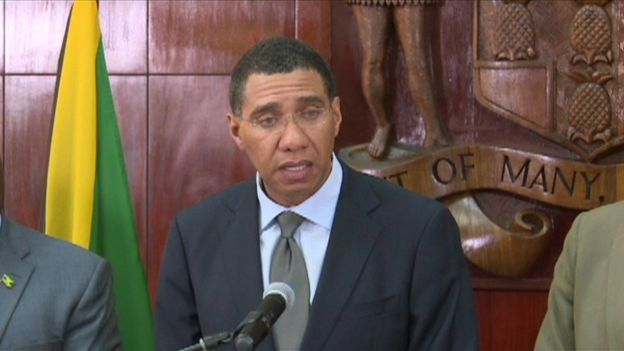 On Thursday the country's prime minister, Andrew Holness, said the state of emergency was "necessary" in order to "restore public safety" in the St James area.
Chief of defence, Major General Rocky Meade, said forces were targeting gangs, with "particular focus on those that are responsible for murders, lotto scamming, trafficking of arms and guns, and extortion".
He added: "We ask that you co-operate with the troops."
#

Jamaica

State of Emergency declared in St James Parish which includes Montego Bay, in response to recent violence including shooting incidents. Follow local advice including restrictions in selected areas, exercise particular care if travelling at night. ow.ly/fu4A30hRMc5
Simon Calder, the Independent newspaper's travel editor, said gang crime in the area had been "intensifying".
He told Radio 5 live: "Last year there were an average of six killings a week - and since the start of the year it has got even worse."
It also estimated there had been 38 killings across the country in the first six days of 2018, compared with 23 over the same period last year.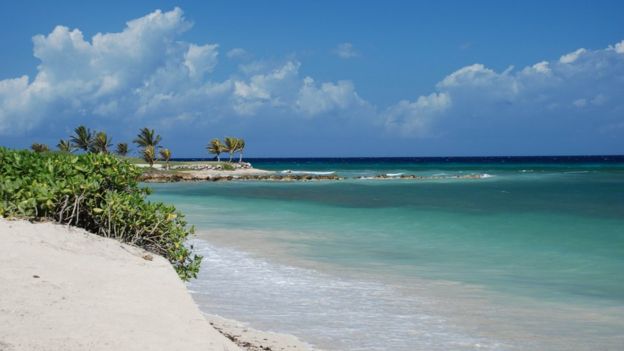 As the UK Foreign Office has not warned against travel to Jamaica, Mr Calder said holiday firms have no obligation to offer customers alternative destinations.
He added: "I've never seen Foreign Office advice quite like this before. Normally the UK government says either 'it's OK' or 'don't go'."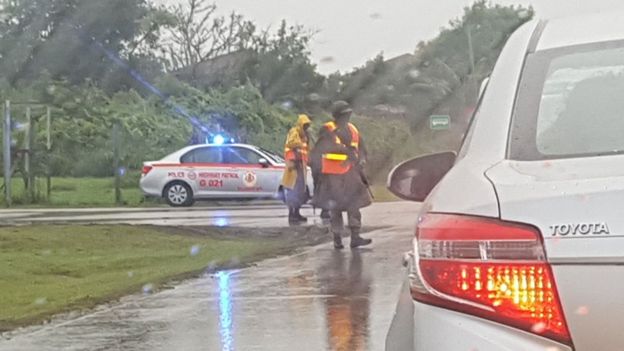 Bristol-based Becks Palou is part of a group of friends on holiday in Montego Bay.
They left their hotel early this morning to drive to Kingston, the capital, after staff said it was safe to travel.
Ms Palou, who is originally from Spain, said they were delayed by stops at military checkpoints but were able to reach their destination.
She said: "When we went out on the road, we arrived at the checks and we were let through. Soldiers felt it was fine to travel.
"It feels safe, more than usual because the roads are quieter."
Sean Tipton, from the Association of British Travel Agents, said that hotels in Montego Bay have "very strict security" which means tourists can feel safe.
He told the BBC: "If you look at the incidents that have occurred, they have been directed at local people.
"It's obviously terrible for them, but in terms of instances affecting tourists, I haven't actually come across one in Jamaica for quite some time."
He also stressed the importance of following the advice from tour operators and the Foreign Office and not leaving resorts unless on an organised excursion.
---
Are you in Montego Bay? Have you been affected by recent events? If it is safe to do so, you can share your experience by emailing
haveyoursay@bbc.co.uk
.