December 31, 2017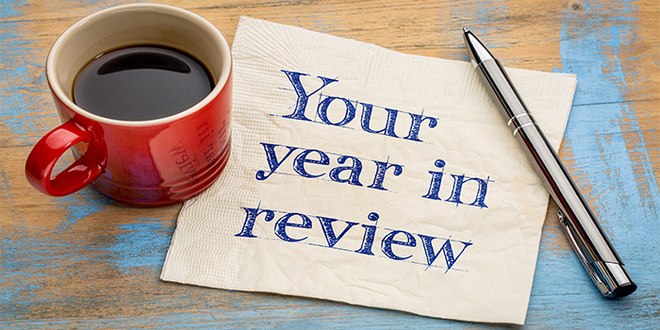 Two in three Republicans say 2017 was a good year compared to just a quarter in 2016
2017 was a good year – at least for Republicans. In the latest Economist/YouGov Poll, 43% of Americans describe the past year as a good year for the world, up 14 points from what the public said at the end of 2016. However, that improvement is mostly the result of a GOP turn from negative to positive – today, two-thirds of Republicans say that 2017 was a good year. Last year, just 25% of Republicans believed 2016 was a good year for the world.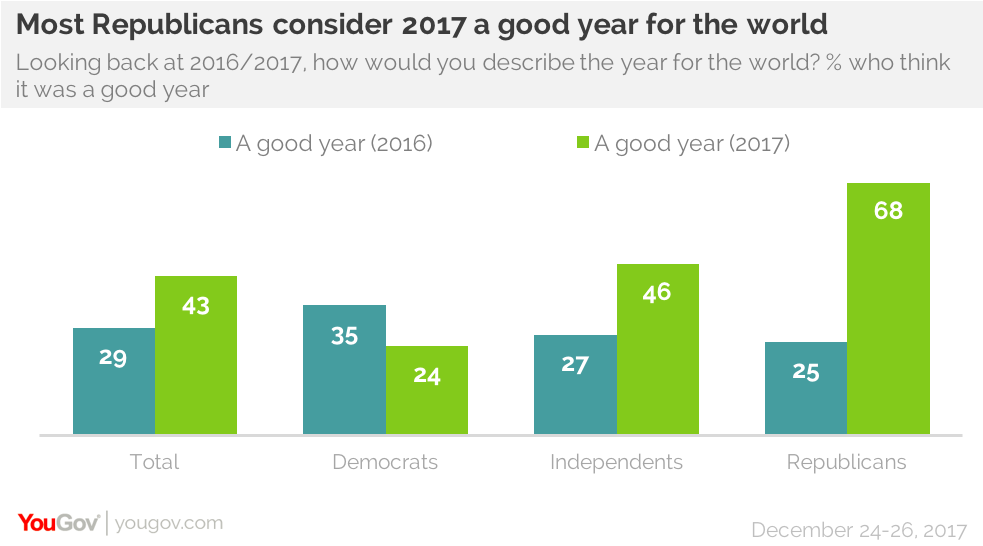 Independents also feel better about 2017 than they did about 2016; Democrats feel somewhat worse.
Last year, only 8% of Republicans said the United States had become more respected in the world in 2016. As for 2017, 48% of Republicans believe the country has become more respected. 80% of Democrats say it has become less respected.
Of course, much of the difference is due to the change in Administrations in Washington, and the replacement of Democratic President Barack Obama by Republican President Donald Trump. The partisan difference extends to the assessment of how 2017 has treated one's own family. Last year, a majority of Republicans said that 2016 had been a bad year for themselves and for their families. This year, three-quarters of Republicans say the past year has been good for themselves and their loved ones.
As for Democrats, their assessment of how the past year has been for their families is about the same as the way they rated 2016 last December.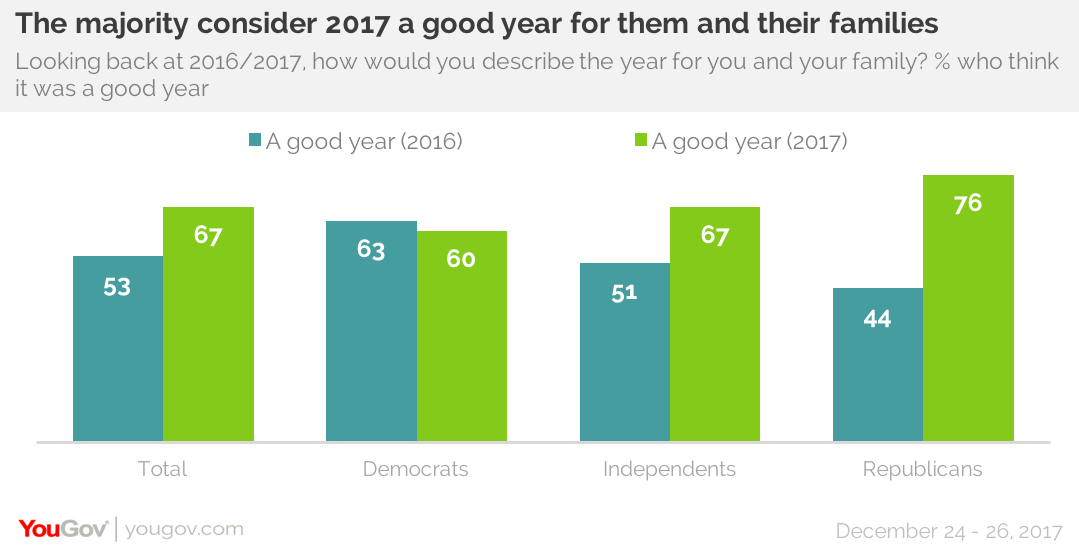 One area where Republicans and Democrats agree is how they view the state of American political discussion – it has become much more negative in the last few years. This year, 66% say political discussion had become more negative in 2017. Last year, 59% said that about 2016, and in 2015, 55% said the same.
That doesn't mean that politics has become more interesting. Only 27% think that, which is a few points lower than the 32% who said so in 2016 and 2015.
As for the President himself, his approval rating during his first year in office has never risen above 43% in the Economist/YouGov Poll, and has not been above 40% in the last few months. This week, at the end of 2017, 38% approve, while 52% disapprove. Disapproval has increased since the beginning of the Trump Administration.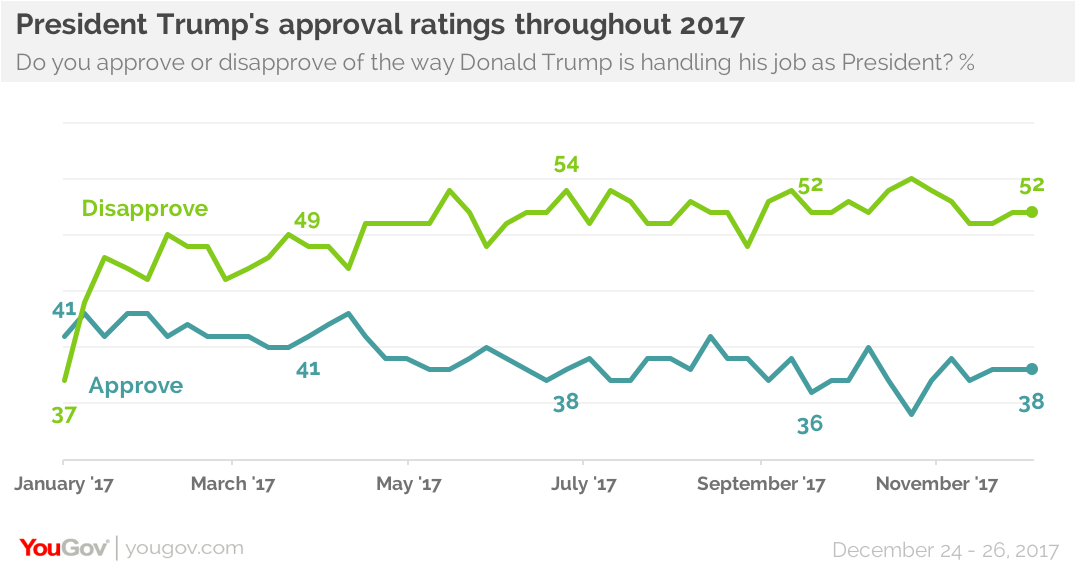 The President has generally met the public's expectations for his first year in office, though just 23% say he has accomplished more than they expected of him. 29% say he has accomplished less than they expected. On specifics, many Americans are still waiting. Even though the tax cut bill just became law, only 49% say he has kept his promise to cut taxes. Even fewer, 31%, say his actions have succeeded in repealing Obamacare.
Looking ahead to how Americans expect history will judge Donald Trump as President, less than a third say he will be viewed as outstanding or above average, something two-thirds of Republicans believe will be the case. Half think the Trump Presidency will be seen as below average or even worse – 40% think he will be regarded as a "poor" president.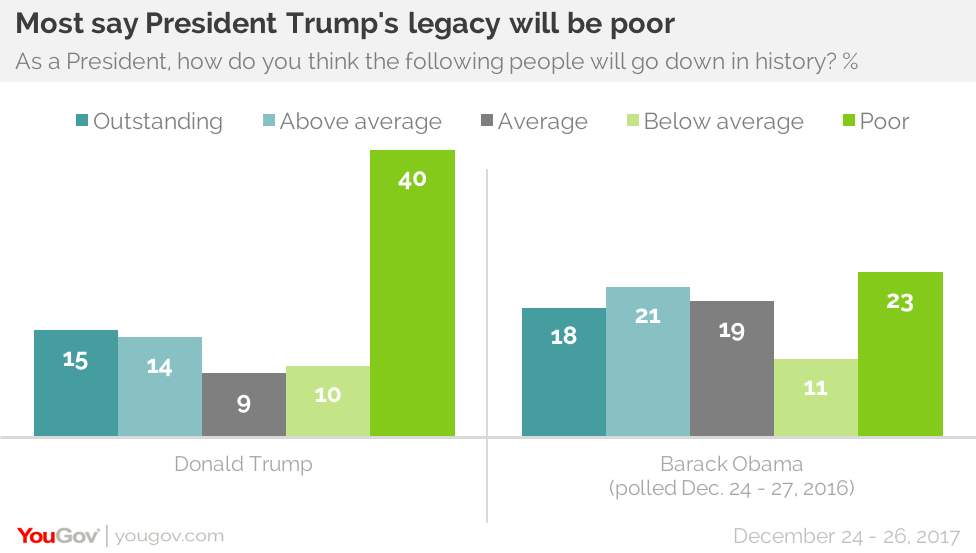 Assessment of President Obama near the end of his second term was slightly better, but like the public's current judgment of President Trump, it was also partisan. At the end of 2016, 49% of Republicans thought President Obama's performance would be regarded by history as poor. Now, 71% of Democrats say Donald Trump will be regarded as a poor President.
In fact, many think that President Trump will be a one-term President. Half the public, including 44% of Republicans, do not think he will be elected to a second term in 2020.
But despite GOP skepticism about what will happen in the 2020 election, two-thirds of Republicans still want the President to run for re-election then.
Image: Getty
Over 5.6 Million Reads

Adam Gonzalez
at December 31, 2017
No comments:


December 30, 2017
Sonny's parents warned him: Authorities could turn him into immigration enforcement at any time. So, growing up in rural California, he cowered at police, avoided applying for jobs, and never drove.
"I thought they could pick me up whenever and send me back," said Sonny, now 20, who was born in Mexico and crossed the border at age five with his mother and younger brother. "When cops would pull my friends over and I was in the car, if they asked for my ID I'd say I didn't have it. I didn't want them to know something was up with my citizenship."
As Donald Trump campaigned last fall, Sonny entered 12th grade more anxious than ever, internalizing Trump's promises to purge the nation of undocumented immigrants and to erect a 70-foot-tall cement border wall with Mexico. "I started hearing things like, 'Mexicans and immigrants are all bad,'" recalled Sonny, who requested his last name not be used to protect his family's privacy. "It made it harder to imagine staying here, being scared so many people are against you."
Then one day after school, as Sonny found solace in watching his favorite movie, Dances with Wolves, his father burst into his room with an outrageous proposal.
"He walked in and said I could be a citizen," said Sonny. "I thought it was going to be another scam."
He had good reason to distrust the claim. His family had already overpaid a notary to help him apply for
DACA
, an Obama-era program that provided deportation relief for young undocumented immigrants in two-year increments. In the family's tiny town outside Davis, California, immigration attorneys were scarce and Sonny knew no other youths—other than his brother—in his position.
"People tell you different stories over here, and they charge you different amounts," Sonny's father Jose told me of notaries pledging to help immigrants adjust their legal status. "I went to a notary public who charged us $700 to fill out a two-year application. I decided I needed to get a second opinion."
Jose's quest led Sonny and his brother Jose, who had always believed they lived illegally in the States, to a stunning realization: They are, and always have been, US citizens.
An unknown, but significant amount of US residents spend their lives ignorant of the fact they, too, are citizens, due to the complexity of citizenship requirements and a lack of education about those criteria.
"It's very common actually," said immigration attorney Holly Cooper, co-director of the immigration law clinic at UC Davis, who specializes in citizenship claims and handled the brothers' case. "It's a life-changer for so many of our clients who live their lives thinking they're undocumented and then we turn around and tell them, 'You're a citizen.'"
Cooper estimated that about 5 percent of the individuals who approach her for immigration help are unwittingly citizens.
"You find a lot of these people in rural communities because of a lack of access to lawyers in rural communities," she said, noting that even in many "know your rights" presentations for immigrants people skip over explanations about citizenship.
Sonny and Jose had a straightforward case: Their father (also named Jose) was a US citizen who had lived in the US more than ten years before the sons' birth, making them also automatic citizens, Cooper explained.
Jose was born in Chicago to Mexican immigrant parents and spent his life in the States but visited Mexico regularly, meeting his future wife on one of those trips. He moved briefly to Mexico, where they married and had children, but then returned to the US to work as a forklift operator, and his family soon followed.
If you sort through a somewhat complicated chart at the USCIS website, it's clear that Sonny and Jose qualify for citizenship. But it's not intuitive to many that they would. Even highly educated people—including some attorneys—are unclear about the criteria for citizenship, said Cooper.
"I work with public defenders all the time who don't understand this," she told me. "It's hard to educate people about because it's so complicated. It's a labyrinth of laws."
The easiest criteria for citizenship is birth in the United States, but people can also be citizens through their parents or grandparents, and the requirements vary depending on what year they were born since citizenship laws have evolved over time. To prove their citizenship, a qualified individual can either apply for a US passport through the US State Department or for a certificate of citizenship through US Citizenship and Immigration Services—a process that takes months, even years, depending on the complexity of the case and discretion of the government officials.
The boys' father had significant proof of his US birth and residency, but it still took months for Cooper and her law students to secure their citizenship from the Department of State, she said. The younger son, Jose, now 18, got confirmation of his status by May, while Sonny only just received his confirmation this fall.
"For Jose, it was easier but Sonny had a different passport officer who wanted all the documentation for his father's schooling, his tax returns, birth certificate, marriage certificate," Cooper said, explaining that the passport office guards against fraud in this way.
The officer also asked for documents of every job the father had worked and every time he had left the country and returned, resulting in a "45-year history of Jose's life," said Cooper's law student Apurva Behal*, who compiled the information.
A US State Department spokesman said the agency receives first-time passport applications from US residents asserting their citizenship on occasion, but could not provide specific statistics. He told me individuals born and living abroad more frequently contact US consulates asserting citizenship claims because they have realized they qualify for citizenship through a parent.
With no central database of US citizens and a lack of clarity over individual cases, the US federal government has also been known to detain and to deport US citizens.
More than 800 individuals were released from immigrant detention facilities between 2007 and 2015 after they proved they were citizens, according to data obtained by an FOIA request by Northwestern University professor Jacqueline Stevens and analyzed by NPR. Stevens, director of Northwestern's deportation research clinic, has estimated that thousands of more people have been wrongfully detained and deported without having the chance to prove their citizenship. In one recent high-profile case, a citizen named Davino Watson was detained by Immigration and Customs Enforcement for over three years but was denied any compensation for his imprisonment.
A spokesperson for Immigration and Customs Enforcement responded told me that the agency "takes very seriously any and all assertions that an individual in its custody may have a claim to U.S. citizenship."
"Analyzing US citizenship for individuals born abroad can often be very complex, as it often involves investigating the individual's birth and immigration history, residency history, immigration status, marital status of the individual's parents, and the ever-changing body of law that was in place at the time of the individual's birth," the spokesperson, Danielle Bennet, said in an emailed statement. "This complexity means that some individuals don't even know they are U.S. citizens until well after they are encountered by ICE."
Fortunately for Sonny and Jose, their father thought to investigate his sons' legal status before they had an encounter with immigration enforcement, and before they ever moved out of his house.
"We probably would have moved to Mexico already, because ICE was doing roundups," the elder Jose told me of the deportation raids enacted under the Trump administration. "It's changed now: They can do what they want to do and they can study what they want to study."
For Sonny, who ran daily to his mailbox this fall to check for his passport, the document gave him the hope he lacked for a future in the US.
"The first day I slept with it under my pillow to keep it safe—I didn't want to lose it," he said of the night in early October. Now Sonny, an understated young man who draws and does martial arts, has begun applying for jobs with his ID and celebrated his citizenship last month along with his 20th birthday.
"It feels good, I can finally work, travel, and vote," he told me. "I feel more like this is my home"
Over 5.6 Million Reads

Adam Gonzalez
at December 30, 2017
No comments:


December 29, 2017
Large numbers reportedly turned out in Rasht, in the north, and Kermanshah, in the west, with smaller protests in Isfahan, Hamadan and elsewhere.
The protests began against rising prices but have spiralled into a general outcry against clerical rule and government policies.
A small number of people have been arrested in Tehran, the capital.
They were among a group of 50 people who gathered in a city square, Tehran's deputy governor-general for security affairs told the Iranian Labour News Agency.
The US State Department condemned the arrests and urged "all nations to publicly support the Iranian people and their demands for basic rights and an end to corruption".
How did the protests start?
People there took to the streets to express anger at the government over high prices, and vented their fury against President Hassan Rouhani. Fifty-two people were arrested for chanting "harsh slogans".
The protests spread to other cities in the north-east, and and some developed into broader anti-government demonstrations, calling for the release of political prisoners and an end to police beatings.
On Friday, despite warnings from authorities, the demonstrations spread further to some of the biggest cities in the country.
They represent the most serious and widespread expression of public discontent in Iran since mass protests in 2009 that followed a disputed election, correspondents say.
What are people complaining about?
What began as a protest against economic conditions and corruption has turned political.
Slogans have been chanted against not just Mr Rouhani but Supreme Leader Ayatollah Ali Khamenei, and clerical rule in general.
Demonstrators were reportedly heard yelling slogans like "The people are begging, the clerics act like God". Protests have even been held in Qom, a holy city home to powerful clerics.
There is also anger at Iran's interventions abroad. In Mashhad, some chanted "not Gaza, not Lebanon, my life for Iran", a reference to what protesters say is the administration's focus on foreign rather than domestic issues.
Other demonstrators chanted "leave Syria, think about us" in videos posted online. Iran is a key provider of military support to the government of Bashar al-Assad in Syria.
It is also accused of providing arms to Houthi rebels fighting a Saudi-led coalition in Yemen, which it denies, and is an ally of Lebanon's powerful Shia movement Hezbollah. Iran's Fars news agency, which is close to the elite and powerful Revolutionary Guards security force, reported that many protesters who turned out over economic grievances decided to leave rallies after others yelled political slogans.
How big are the protests?
There have been calls on social media for protests up and down the country, despite warnings from the government against illegal gatherings.
Demonstrations of varying sizes are reported to have occurred in at least seven cities.
Overall, the numbers said to be taking part range from a less than 100 in some places to thousands in others - but demonstrations do not appear to be taking place on a massive scale.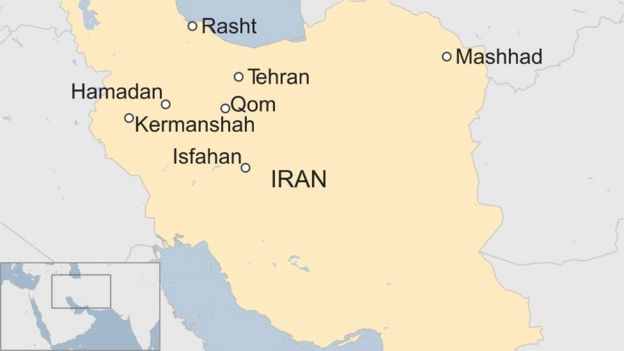 How have the authorities reacted?
Videos posted on social media appear to show clashes between security forces and some demonstrators in Kermanshah.
Fars news agency reported that protesters there destroyed some public property and were dispersed.
The governor-general of Tehran said that any such gatherings would be firmly dealt with by the police, who are out in force on main intersections.
Officials in Mashhad said the protest was organised by "counter-revolutionary elements", and video online showed police using water cannon.
BBC
---
'Seething discontent'
Analysis by Kasra Naji, BBC Persian
The demonstrations have taken the Iranian authorities by surprise. Impromptu anti-government demonstrations are rare in a country where the Revolutionary Guard and numerous intelligence agencies have a strong grip on the population.
Predictably they are blaming anti-revolutionary elements and foreign agents. But the protests clearly stem from seething discontent in Iran, mainly because of the worsening economic conditions faced by ordinary Iranians.
A BBC Persian investigation has found that Iranians, on average, have become 15% poorer in the past 10 years alone.
Many believe that money that should be used to improve their lives is being spent by Iran's leaders on conflicts in Syria, Yemen and Iraq. Billions are also being spent on spreading religious propaganda and Shia Islam around the world.
But it seems that the hardliners opposed to President Rouhani may have triggered the unrest by holding a demonstration that quickly grew out of control and spread to cities and towns across the country.
Over 5.6 Million Reads

Adam Gonzalez
at December 29, 2017
No comments:


One hundred One days ago, powerful Category 4 Hurricane Maria hit Puerto Rico leaving the island severely crippled and the more than 3 million U.S. citizens desperate for help.
Now, Puerto Ricans on the island and U.S. mainland are feeling angry and the lack of progress and they are organizing to demand help for Puerto Rico.
Though life has improved for some Puerto Ricans on the island more than three months since Maria hit, the Caribbean island is still in recovery mode.
Before Hurricane Maria hit, the island was already crippled by an economic crisis with more than $74 billion in debt. But the hurricane obliterated Puerto Rico's infrastructure and today more than a million people are still without power, hundreds are still living in shelters and lack reliable drinking water and the health care system is in dire condition. The crisis has triggered an exodus to the mainland.
"It's hard, it's not easy," says Chaylin Palma even though she's now living in an apartment in Ciales with her husband and four kids ages 6 to 9. The family spent more than two months at the Josefa del Rio Guerrero High School in nearby Morovis, located in the central region of the island. The school was being used as a shelter. She's grateful to be out of the shelter and into public housing, she says, but there is no electricity in her new apartment, "I wasn't prepared for this."
She's says she knows she's lucky. "My kids have their own bed now and they are going to school," she says, but "I didn't think we would be in recovery this long." She says she struggles to have positive thoughts when the family is ending the year in the dark.
In spite of promises made by Gov. Ricardo Roselló in October to expedite recovery including restoring at least 95 percent of power to the island, normalcy on the island is still elusive.
"We had to cancel our Christmas Eve dinner" says Irma Rivera Aviles, "we lost power and water early on December 24." Though power was restored to her home in Cataño on December 1, she says, "black-outs are part of life" in the aftermath of Maria.
Hundreds of thousands have arrived in Florida since the hurricane according to statusPR.com, a website tracking progress since Maria, and many more people are expected to abandon the small Caribbean island in the months to come.
Since Maria, the humming of generators is ubiquitous throughout the island – Puerto Ricans are depending on them to power lifesaving hospital equipment like dialysis and ventilators, but also to charge cell phones and keep electric stoves, fans and refrigerators running at home.
Those like Irma Rivera who have power and running water restored at home feel lucky, but the system continues to be fragile and unstable. "We have lost a few appliances to the power surges and the water initially came overnight with so much pressure that busted the kitchen sink valves" says Grizelle González. "So in the morning we woke up with a flooded house."
González says she now has bigger appreciation for showers. Up until the first week of December when her home got power and water back, she and her family took bucket baths – filling a bucket of water and using a mug to wash themselves. She did laundry at work. She's an ecologist at El Yunque National Forest where Maria's fury left a swath of destruction and though "trees continue to leaf up, many areas of the forest are still brown" says González. The forest remains closed to the public.
Meanwhile, Puerto Ricans on the mainland are angry that it's taking too long to rebuild the island after Hurricane Maria. Many say that the lack of progress is exposing people to a growing environmental catastrophe.
"People are breathing toxic air because of the diesel generators, the water is polluted and they don't have rooftops, highways haven't been fixed," says Elizabeth Yeampierre. She's an attorney and the executive director of UPROSE, a Latino community organization in Brooklyn.
"Communities are completely isolated and they don't have access to health care" says Yeampierre, "100 days is an indictment of the U.S. and its lack of commitment to Puerto Rico," she says.
On a chilly evening this month, members of the Puerto Rican diaspora will gather at Union Square Park in New York City to demand a just recovery for an island still reeling in crisis.
"We hope for a better future for Puerto Ricans on the island," says Yeampierre — one that brings in sovereignty all around to allow Puerto Ricans to create the systems that work for them.
Over 5.6 Million Reads

Adam Gonzalez
at December 29, 2017
No comments:


Paul Bayes, Bishop of Liverpool, accuses some religious leaders of 'colluding with a system that marginalizes the poor'
Church of England, York
A senior Church of England bishop has lambasted conservative evangelical Christians in the US for their "uncritical support" of Donald Trump, urging them to reflect on how their endorsement of the president relates to their faith.
Paul Bayes, the bishop of Liverpool, said "self-styled evangelicals" risked bringing the word evangelical into disrepute, and added there was no justification for Christians contradicting God's teaching to protect the poor and the weak.
Bayes told the Guardian: "Some of the things that have been said by religious leaders seem to collude with a system that marginalises the poor, a system which builds walls instead of bridges, a system which says people on the margins of society should be excluded, a system which says we're not welcoming people any more into our country.
Paul Bayes: 'If people want to support rightwing populism … how are they going to relate that to their Christian faith?' Photograph: Rebecca Lupton for the Guardian
"Whenever people say those kinds of things, they need to be able to justify that they're saying those things as Christians, and I do not believe it's justifiable."
He said he regretted that "people who call themselves evangelical in the US seem to be uncritically accepting" positions taken by Trump and his allies.
"Some quite significant so-called evangelical leaders are uncritically supporting people in ways that imply they are colluding or playing down the seriousness of things which in other parts of their lives [they] would see as really important," Bayes added.
He stressed that not all evangelicals were Trump supporters, saying there were "many, many Christians who are trying to proclaim the gospel as we've received it, even if that means political leaders have to be challenged".
Last month, Justin Welby, the archbishop of Canterbury, said he could not comprehend the strength of support for Trump among conservative evangelicals in the US. "I really genuinely do not understand where that is coming from," he told ITV's Peston on Sunday programme.
In his Christmas Day sermon at Canterbury Cathedral, Welby criticised "populist leaders that deceive" their people, in comments interpreted as being aimed at Trump.
According to the Washington-based Pew Research Center, 80% of self-identified white evangelical Christians said they voted for Trump in the 2016 election, and three-quarters have since said they approve of his presidency.
Bayes, who has been bishop of Liverpool since 2014, said: "If people want to support rightwing populism anywhere in the world, they are free to do so. The question is, how are they going to relate that to their Christian faith?
"And if what I believe are the clear teachings of the gospel about love for all, the desire for justice and for making sure marginalized and defenseless people are protected, if it looks as though those teachings are being contradicted, then I think there is a need to say so."
Bayes was speaking to mark the launch of a new Christian charity, which he is chairing, aimed at eliminating discrimination based on sexuality or gender.
The Ozanne Foundation will work with religious organizations around the world on LGBTI, gender and sexuality issues, as well as conflict resolution and education. It will be led by Jayne Ozanne, a prominent campaigner for equality within the C of E. Along with Bayes, the charity's trustees and advisers include David Ison, the dean of St Paul's Cathedral, Jeffrey John, the dean of St Albans, and Martyn Percy, the dean of Christ Church, Oxford.
Bayes has previously called for the far-reaching change in C of E attitudes to LGBTI people, saying he had been "profoundly changed" by encounters with lesbian and gay Christians, including within his own family. "I have come to believe that we need to change the church," he said last year.
The Ozanne Foundation would provide "strong and clear advocacy, not only for LGBTI inclusion but against other forms of discrimination and hurt in the church", he said. "There is room in the church for people who strongly and clearly advocate for change, and I want to support them."
The church's "institutional inertia" needed to be countered, Bayes added. "There is no doubt that the church at the moment is on a journey, and that journey needs to arrive at a place of inclusion further on than we are at the moment.
"What matters to me in terms of my own responsibility and my own advocacy is that we don't settle for second best, that we keep trying to move the organization forward."
Over 5.6 Million Reads

Adam Gonzalez
at December 29, 2017
No comments:


How About .50cents Every Month
Is that too much? We need it, IF everyone reading the blog will give us a dollar or less every few months and become our members You, they will save us.
Featured Posts
Abigail Breslin (L) is Matt Damon's on-screen daughter in Stillwater        BBC Actor Matt Damon says he only recently stopped u...
Most Popular Posts
Words from the publisher: Before you start reading this posting let me warn you that NOT ALL the information  here has   been verified. Th...

  Kennedy never said anything like "people of faith have no role in the public square," and the GOP zealot knows that BY...