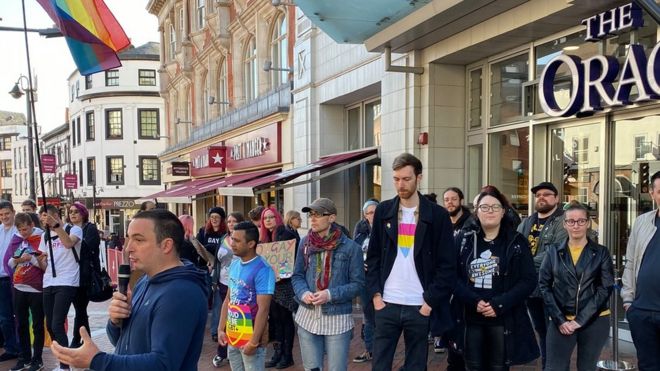 Note: Last week a Preacher was kicked out of Rwanda. This same preacher and others like him come from mainly the US and they need lots of money to go to an African Country tohelp the local governments with legislation for executions for those that are Gay. The money comes from companies ...
such as Chick-fil-A and they have rouse the anger on the LGBTQ community, at least those that care about people threatened with death, not that jail with no end is any better, but a couple of African countries have taken us to the Spanish inquisition in which the same was being done but including those that did not abandon their beliefs and pick up Jesus Christ.

For some of us even in todays Trump ( I'll do what I want no matter who gets hurt) there are things
that simply is not acceptable.

In the US the fight for this type of company is been almost a draw except when they try to open in Universities and public owned places. Then you see the resistance to this Christian money. Wouldn't it be nice if it helped people here? Ministers go out to expand to where there are new territories and potential for millions of new converts. The right kind of converts they like, those in political upheaval and money being short and religion is a hope in God they need. These people are friendly and their restaurant is run. You could see a long line but it won't last for long. Enough order takers, at least 3 expediters and then3 in the kitchen wich everything is automated. Mc D's is tried but with the wrong type of worker or the wrong training. Where an McD does it that way they run great. Starbuck's started doing it this way too. No one has to be told to go to a register or do this or that they know what might be getting behind and they go there. When I was younger I wanted to own a Restaurant and no matter to what restaurant I went to, wether Europe or Canada, San Francisco, NYC. Etc., I took mental note about how they were doing their thing and what was the wait time before and after the customer placed the order.
Adam Gonzalez


The U.K.'s first and only Chick-fil-A restaurant will close it was announced Friday—just eight days after it opened in Reading, south England.
LGBT+ groups expressed concerns about Chick-fil-A's views on LGBT+ rights and the company's donations to perceived anti-LGBT+ organizations.
The Oracle shopping mall said it would not renew Chick-fil-A's six-month lease, telling the BBC it's the "right thing to do."
"We always look to introduce new concepts for our customers, however, we have decided on this occasion that the right thing to do is to only allow Chick-fil-A to trade with us for the initial six-month pilot period, and not to extend the lease any further," an Oracle spokesperson told the BBC.




Ads by scrollerads.com
LGBT+ rights groups in Reading, including the organizers of Reading Pride, have been critical of the new Chick-fil-A branch in recent weeks. A planned protest on Saturday will go ahead.
"The chain's ethos and moral stance towards #LGBTQ people goes completely against our values, and that of the UK," Reading Pride tweeted earlier this week.
Reading Pride said its concerns about Chick-fil-A's position on LGBT+ views included
comments made by the company's CEO Dan Cathy in 2012 opposing
same-sex marriage.
In an interview with the Biblical Recorder, Cathy said:
"We are very much supportive of
the family—the biblical definition of the family unit.
We are a family-owned business,
a family-led business, and we are married to our first wives.
We give God thanks for that ...
We want to do anything we possibly can to strengthen families."
In a radio interview the same year, Cathy said that by redefining marriage,
"I think we are inviting God's judgment on our nation."
In March, the website ThinkProgress reported that, in 2017, the Chick-fil-A Foundation
gave just over $1.6 million to the Fellowship of Christian Athletes, which requires
employees to adhere to a "sexual purity" clause that forbids "homosexual acts."
Reading Pride organizers said Friday they felt it was "reasonable" to allow Chick-fil-A to
see out its six-month lease at the Oracle shopping center, which would allow
"re-settlement and notice for employees that have moved from other jobs."
The U.K. Pride Network, a group that brings together organizers of Pride events
around the U.K., tweeted Friday: "Cluck off @ChickfilA you are not welcome!"
It also said it would show solidarity with Reading Pride organizers at a
protest planned at the
Chick-fil-A restaurant on Saturday.
Reading Pride organizers said that Saturday's protest will go ahead as planned—
despite the store closing—"to advise where their money should go" as they believe
Chick-fil-A will be "profiting from unsuspecting patrons" over the six-month
tenure of its lease.
BY