Like many foreigners who have been in China for a few years, I have become acutely aware of the cycles, the coming and going of different people and the subsequent changes in the community. It is around this time, with the start of the new school year, that this transition happens. This year, I was hit hard by a feeling of sadness, having yet again a new wave of people leave the city.
Over the past few weeks, however, I've met many newbies, hungry to discover all that this grand city has to offer. Meeting these people has led to some wonderful experiences, their hunger and my inability to say no has led to us organizing queer bar crawls, dancing in rainbow Morphsuits just because we feel like it, 'queer takeovers' of spaces, and of course, parading down the streets of Beijing in the Rainbow Ride, a hot-pink and rainbow-covered sanlunche.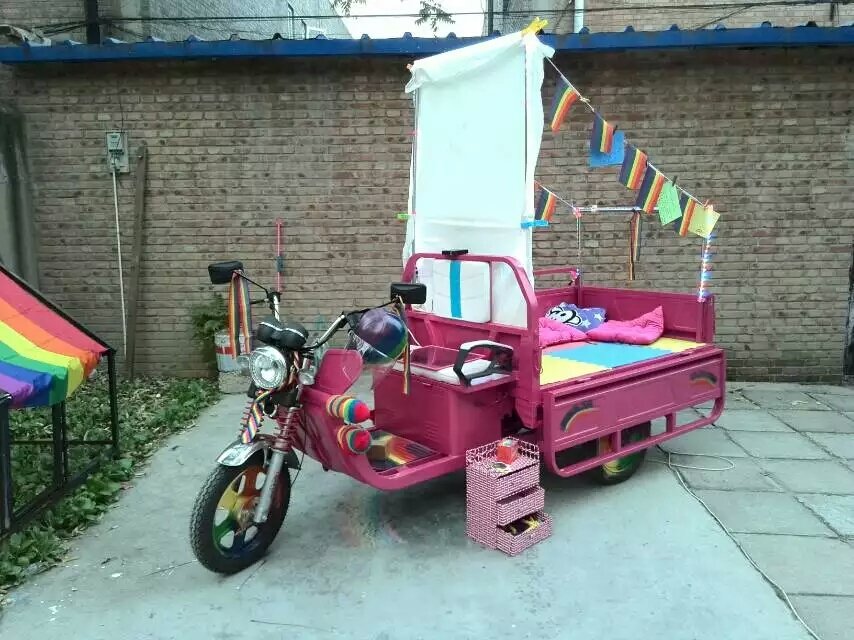 These experiences in the past weeks with the Rainbow Ride, with 10 people crammed on and a couple more pushing, the laughter and the stories told on it, has reminded me about all the times this has happened before, albeit with a different set of bodies. It has been with me from the very beginning of my queer life here, has experienced the cycles and the changes in the community over the past few years. It has witnessed the nurturing of a community and just how magical and life-changing this can be. There is no denying that there is something beautiful and consistent that exists here in our international queer community. No matter where we come from, there is something special here that will touch and change us.
Adapting to a new place is hard, but for those of you who are new, be not afraid to step out of your comfort zone and seek out the queer community. It is vibrant and welcoming, and you will become a part of this magic in no time at all.
So it is with anticipation that I look forward to meeting the new faces of our community, and wonder what adventures are in store for us next.
Aug 22-26: 14 Years of Destination
To celebrate their 14th anniversary, Destination puts on a variety of special events throughout the week and into the weekend. Wednesday is their weekly drag show, Thursday from 8 pm is a free musical sing-along of The Sound of Music, whereas Friday and Saturday is their party night featuring the regular go-go boys and queens. The weekend will climax with a foam and city slides paradise party in their outdoor courtyard (1-7pm, see poster above). Multiple dates, times, and prices. Destination and DesLink
Aug 25: THVNDR Presents False Witness
False Witness is an audio-visual identity designed by sound artist and producer Marco Gomez, who explores electronic music through a queer lens. Resident DJ of New York City's GHE20G0TH1K club night since 2014, he is also one of the original founding members of the queer art collective #KUNQ. DJs Joy Ginger, Luxixi, and DJ青 provide support. RMB 80. 10pm. Dada
Drag Night @ Des Link
Destination's focus on fashioning itself as an inclusive destination for the entire LGBTQ+ community shows best during its Wednesday night fiestas. Dress to be, be to impress, and don't miss the Queens of Beijing's spectacular free show from 11pm onwards. Free. 8pm. Des Link
The Closet
Alternatively, Nali Patio's La Social continues its growing gay-friendly night The Closet on Thursdays (pictured at top), featuring some of the most ludicrously-named cocktails that have ever been, case in point: Urethra Franklin and Cum Burglar. Best yet, if you're willing to put beef aside, you can get half-price on any drink by kissing your enemy before 10pm (or your BFF, but where's the fun in that?). With those games, things are bound to get rowdy. Free. 8pm. La Social
Especially for the ladies
Huoli Ladies Bar
Tucked away under the Sanlitun Soho complex, Huoli is an intimate ladies bar with special 'singles activities' on Wednesdays, Fridays, and Saturdays designed for, ahem, getting to know each other better. Great for a first date if you, like me, believe that furry handcuffs, naughty drinking games and a rickety staircase leading to a cozy cushion balcony are perfect conversation starters. Intimate and fun, it's a good place to meet new people. There is a minimum order, and the menu is a little confusing given that it contains a large array of different combination sets of beers, weak cocktails, shots, and snacks. Free. Daily 7pm-3am. Huoli Ladies Bar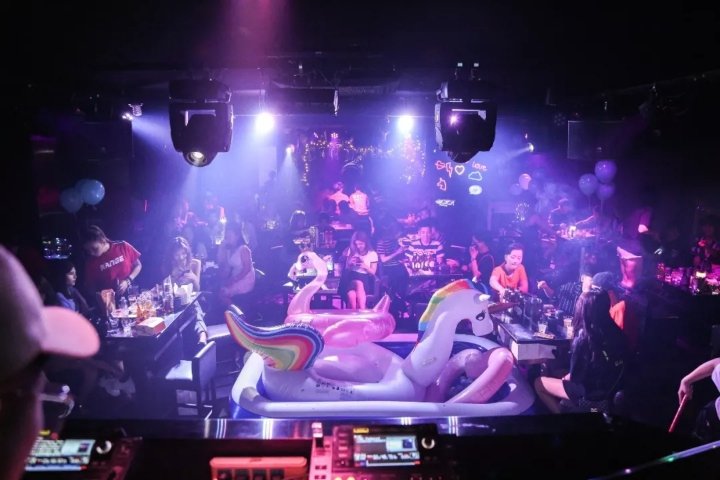 AMO Club
The biggest club for ladies, the Beijing branch is quite literally an underground club you could just about live in. Open from 8pm onwards every night, Wednesday, Friday and Saturday nights are the busiest, with live DJs and T&P performances. For special events, they have performances with opportunities to get involved with the games on stage and win prizes. Some drinks can be bought on their own, but most prefer some of their combos of beers or hard liquor with snacks. Here, ice cream in vodka could be a thing. For more information, follow their WeChat account. Free. Daily 8pm-5am. AMO Club
Watch this space for more queer events that roll in in the future. If you have an event or venue you would like featured, get in touch at listings@thebeijinger.com.
Images: Jo Dee, courtesy of the organizers