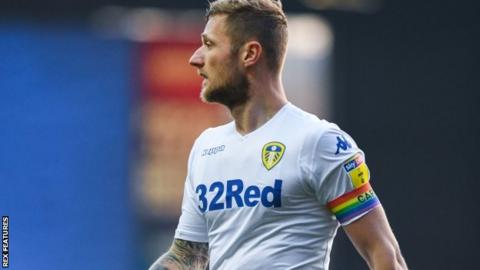 caption
More than half of British people think it is important that anti-LGBT language is challenged at sporting events, but only a quarter are willing to do it.
The survey of more than 1,000 adults by LGBT charity Stonewall concluded that there was a group of "hesitant allies" who want to make the sport more inclusive.
Kick it Out figures said reports of homophobic or transphobic abuse in football had risen over the last year.
Stonewall said: "Sport is one of our strongest tools for social change."
Kirsty Clarke, Stonewall's director of sport, added: "That's why it's so powerful to see so many people wanting to do more to support LGBT people and challenge anti-LGBT abuse in sport.
"Our work won't be finished until every lesbian, gay, bi and trans person, from fans to players, are accepted without exception."
Wasp's James Haskel
According to Kick it out, reports of homophobic or transphobic abuse in football have risen 9% from 102 cases in 2016-17 to 111 in 2017-18.
But Clarke said part of that reflected the new-found confidence of fans to report discrimination. She also said awareness had improved thanks to strategies such as the Rainbow Laces campaign, which is running until 7 December and will be highlighted at Premier League games this weekend.
Part of the problem in football surrounds
homophobic chanting
, but Clarke said more research was needed about the types of abuse inside and outside stadiums.
And she said there should be no difference in challenging abuse whether it originates from an individual or a group.
"If it's homophobic, it's homophobic whether it's an individual saying it or if it's a chant. The more support we give staff and stewards to tackle this is key," Clarke added.
"There are questions about confidence and the tribal nature of football. How do individuals feel about challenging their own fans?
"There is a real desire to change some of those systemic cultural elements but there needs to be more confident in how they do that. There needs to be greater communication about what that abuse sounds and looks like."
After the likes of the Rainbow Laces campaign, and improved relationships with the Football Association, the Premier League and the EFL, Clarke said football was "more inclusive, but there is lots still to do".
Men's professional football is yet to see a player come out, for example.
Clarke added: "We can't be complacent. We need local allies and those who support the message.
"I'd like to think that we will get to a point where these cases [of abuse] won't be there."