December 26, 2018
A Concentration camp for children. 1942 No this is 1918
POLITICS can be a killer!
US says 2nd Guatemalan child dies in im­mi­gration custody
BY ASSOCIATED PRESS HOUSTON
HOUSTON (AP) — An 8-year-old boy from Guatemala died in government custody in New Mexico early Tuesday, U.S. immigration authorities said, marking the second death of an immigrant child in detention this month.
U.S. Customs and Border Protection said in a news release that the boy died shortly after midnight.
The death came during an ongoing dispute over border security and with a partial government shutdown underway over President Donald Trump's request for border wall funding. The White House referred questions to the U.S. Department of Homeland Security, CBP's parent agency. CBP officers and the Border Patrol remain on the job despite the shutdown.
The agency said the boy showed "signs of potential illness" on Monday and was taken with his father to a hospital in Alamogordo, New Mexico, where he was diagnosed with a cold and a fever. The boy was prescribed amoxicillin and Ibuprofen and released Monday afternoon after being held 90 minutes for observation, the agency said.
The boy was returned to the hospital Monday evening with nausea and vomiting and died there just hours later, CBP said.
According to Guatemala's foreign ministry, the father and son entered the U.S. at El Paso, Texas, on Dec. 18, then were taken to the Border Patrol's Alamogordo station Sunday. Alamogordo is about 90 miles (145 kilometers) from El Paso.
CBP typically detains immigrants for no more than a few days when they cross the border before either releasing them or turning them over to U.S. Immigration and Customs Enforcement for longer-term detention. Agency guidelines say immigrants generally shouldn't be detained for more than 72 hours in CBP holding facilities, which are usually smaller and have fewer services than ICE's detention centers.
Parents and children together are almost always released quickly due to limited space in ICE's family detention facilities.
A CBP spokesman on Tuesday did not respond to questions about the ministry's statement. CBP has not yet confirmed when or where the father and son entered the United States or how long they were detained, saying only in its statement that the boy had been "previously apprehended" by its agents.
The agency said the cause of the boy's death has not been determined and that it has notified the Department of Homeland Security's inspector general and the Guatemalan government.
The hospital — the Gerald Champion Regional Medical Center — declined to comment, citing privacy regulations.
CBP promised "an independent and thorough review of the circumstances."
The Guatemalan foreign ministry called for an investigation "in accordance with due process."
Ruben Garcia, director of El Paso's Annunciation House, said Tuesday that he had no reason to believe his shelter had served the family, but was waiting for further details about what happened.
A 7-year-old Guatemalan girl died earlier this month after being apprehended by border agents in New Mexico. The body of the girl, Jakelin Caal, was returned to her family's remote village Monday for burial Tuesday.
Large numbers of Guatemalan families have been arriving in recent weeks in New Mexico, often in remote and dangerous parts of the desert. Jakelin and her father were with 161 other people when they were apprehended in Antelope Wells, about 230 miles (370 kilometers) southwest of Alamogordo.
CBP announced new notification procedures in response to Jakelin's death, which was not revealed until several days later.
Democratic members of Congress and immigration advocates sharply criticized CBP's handling of the death and questioned whether border agents could have prevented it by spotting symptoms of distress or calling for an evacuation by air ambulance sooner. CBP has said that it took several hours to transport Jakelin and her father from a remote Border Patrol facility to a larger station and then a hospital in El Paso.
A spokeswoman for U.S. Rep. Steve Pearce, a Republican whose district along the U.S.-Mexico border includes Alamogordo, did not respond to messages Tuesday.
Xochitl Torres Small, a Democrat who will represent the district starting in January, called for a thorough and transparent investigation into the children's deaths and more medical resources along the border.
"This is inexcusable," she said in a statement Tuesday. "Instead of immediately acting to keep children and all of us safe along our border, this administration forced a government shutdown over a wall."
___
Contributing to this report were Associated Press journalists Mary Hudetz in Albuquerque, New Mexico; Sonia Perez D. in Guatemala City; and Mark Stevenson in Mexico City.
Copyright 2018 The Associated Press.
December 15, 2018
A seven-year-old girl who US officials say tried to cross the Mexico-US border illegally with her family has died hours after being taken into custody.
AP news agency quotes border officials as saying she had not had food or water for several days.
Thousands of migrants have travelled from Central America to the US border.
The migrants say they are fleeing persecution, poverty and violence in their home countries of Guatemala, Honduras and El Salvador.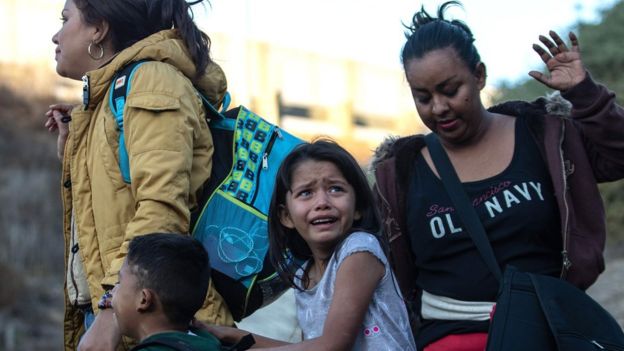 Many of them say their goal is to settle in the US despite warnings by US officials that anyone found entering the country illegally will face arrest, prosecution and deportation.
What do the US authorities say?
The Department of Homeland Security (DHS) said the girl was "apprehended with her father for illegal entry with a group of 163 illegal aliens" on Thursday of last week.
The US Border Patrol confirmed the girl started experiencing fever and seizures while in its custody.
She was flown to hospital in El Paso where she suffered cardiac arrest and died.
DHS head Kirstjen Nielsen told Fox News: "It's heart-wrenching. This is a very sad example of the dangers of this journey. This family chose to cross illegally."
A department statement earlier said: "Our sincerest condolences go out to the family of the child.
"Border Patrol agents took every possible step to save the child's life under the most trying of circumstances. As fathers and mothers, brothers and sisters, we empathise with the loss of any child."
Former secretary of state Hillary Clinton tweeted that the incident reflected a "humanitarian crisis" on the border: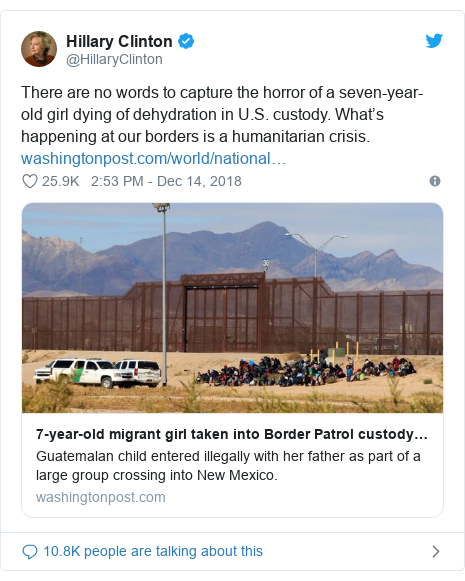 Why is there tension on the border?
It's been running high since the arrival of almost 7,500 migrants in recent weeks.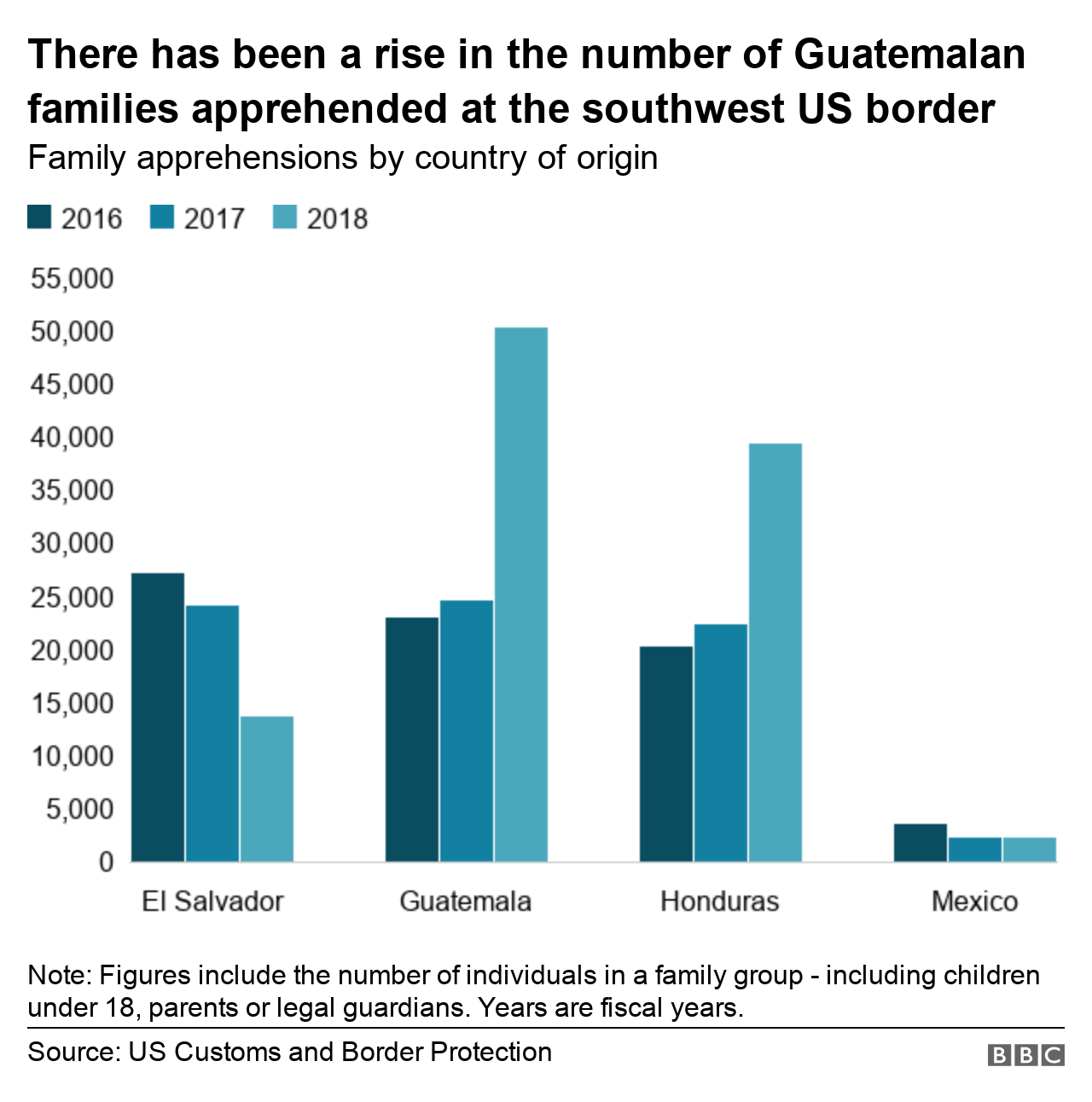 Last month, US border agents used tear gas on a crowd of migrants, including children, trying to cross the border.
The agents said that personnel had been assaulted and hit by stones.
However, critics accused the Trump administration of a draconian response, while Mexico demanded an investigation into the incident.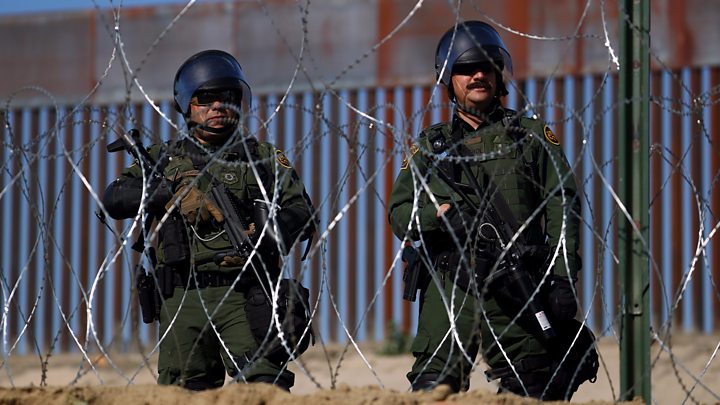 The migrants have travelled in large groups, dubbed "caravans", for more than 4,000km (2,500 miles) from Central America.
Among them are many families with young children.
Donald Trump has vowed to keep each migrant on the Mexican side of the border until courts have decided their cases, meaning some face a long wait.
They have been spending time in temporary shelters in the Mexican border city of Tijuana and in Mexicali, 180km to the east.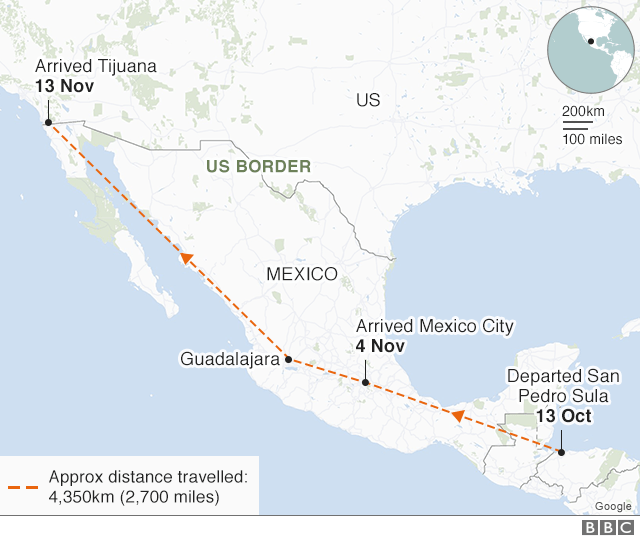 Over 5Million Reads

Adam Gonzalez
at December 15, 2018
No comments:
Links to this post


November 28, 2018
REDFORD, Tex. — Nowhere else in the United States is President Trump's troop deployment to the southwest border weighted with more meaning and heartbreak than in the rugged mountain towns near Big Bend National Park in far West Texas. It has nothing to do with politics or border security.
It's a reminder of Esequiel Hernandez Jr.
Mr. Hernandez, a high school sophomore who dreamed of becoming a game warden, was shot and killed as he herded his family's goats after school one day in May 1997. The killer: a Marine corporal on an anti-drug surveillance team assisting the Border Patrol. Mr. Hernandez was the first civilian killed by American soldiers on domestic soil since National Guard troops opened fire at a Vietnam War protest at Kent State University in Ohio in 1970 and killed four students.
Mr. Hernandez had brought his grandfather's rifle with him to protect the goats from wild dogs. The Marines claimed he shot at them twice and was preparing for a third shot when the team's commander, Cpl. Clemente M. Banuelos, 22, fired once from an M-16 rifle, killing him.
Mr. Hernandez's relatives and local prosecutors believed he never saw the Marines — who were hidden in the brush and wearing so-called ghillie suits, fatigues outfitted with foliage to blend into the surroundings. He had turned 18 six days before he was killed.
"My mom never came out of shock," said Mr. Hernandez's brother Margarito, 49. "She died without ever coming out of shock."
Esequiel Hernandez Jr., in a photograph provided by his brother Margarito Hernandez.
He stood at his brother's grave at Redford Cemetery as he spoke. He could see the white cross in the distance — the memorial marking the place where his brother died, at an old well on the rocky desert bluffs above the Rio Grande. It was peaceful, lonely country: The mountain silhouettes against a dome of the cloud-streaked sky, the only splash of color from the flowers on the graves. The adobe home where Mr. Hernandez grew up, the filled-in well where he died, the church where his funeral was held, the cemetery where he is buried — the landmarks of Mr. Hernandez's whole life and death fit neatly in Redford, population 90.
"He had a poster next to his bed, a Marine poster, one of those posters that the recruiters give away, 'The Few, the Proud,' or something like that," Margarito Hernandez said. "After it happened, my smaller brother, he went over there and grabbed it and tore it down."
Two decades after Mr. Hernandez's death, the shooting in Redford remains a kind of cautionary tale as the president orders thousands of active-duty troops to America's southern border in response to the caravan of Central American migrants seeking entry into the United States.
Trump administration officials and military leaders have said that the troops now at the border will serve in a support role only, providing transportation, logistics and other assistance to Customs and Border Protection, the Border Patrol's parent agency. The soldiers, most of whom are from the Army, are not expected to engage directly with migrants.
But the warlike posture on the border has intensified recently, as the troops set up base camps with concertina wire. On Sunday, officers with Customs and Border Protection shut down a border crossing that leads into San Diego and fired tear gas on hundreds of migrants, including children, to push them back from the border fence. With Mr. Trump's aggressive warnings about the caravan — he said rocks would be considered firearms if thrown at the military at the border — those involved in the Hernandez case said they fear it could happen again.
"Don't take people who are trained to kill and put them to do a mission on border security, because you're asking for trouble," said Bill Weinacht, the lawyer for the Hernandez family. "They're just not trained for civilian interaction."
The troops on the border today appear to have a different role from that of the Marines who took part in anti-drug missions in the 1990s. None of the soldiers on the border now are expected to conduct armed clandestine operations hidden in the brush like the Marine team involved in the Hernandez shooting.
But 21 years later, the Hernandez shooting provides a textbook case of what could go wrong. The Marines' training was inadequate: They were given fewer than three days of dedicated instruction for the mission. Their coordination with the Border Patrol was sloppy: No one told the Marines their observation post was near several homes and that Mr. Hernandez had been stopped months earlier by Border Patrol agents for shooting his rifle while herding goats. And the Border Patrol was delayed in responding to the Marines: They arrived 38 minutes after the Marines reported someone was shooting at them but had they arrived sooner, they would have likely defused the situation, investigators said.
State, federal and military investigations followed the shooting. State and federal grand juries heard the case. But through it all, none of the four Marines on the surveillance team, including the one who fired the single fatal shot, Corporal Banuelos, were ever charged with any criminal wrongdoing. Military and federal officials reached a settlement with the Hernandez family, agreeing to pay nearly $2 million.
A congressional inquiry in 1998 found that federal and Pentagon officials were negligent in training and preparing for the mission. "The central problem was that the chain of command regarded the mission primarily as a training opportunity for Marines, rather than as a complex real-world mission involving significant risk," read the House subcommittee report by Representative Lamar Smith, a Texas Republican.
After the shooting, the Pentagon suspended all anti-drug operations by military forces on the border. But military officials and the Marines' lawyers defended the actions of the troops, saying that Corporal Banuelos pulled the trigger because he had believed Mr. Hernandez was about to shoot one of his fellow Marines, Lance Cpl. James M. Blood. The Marines, they said, had been briefed that armed scouts often checked the path ahead of drug runners, and other troops on similar border missions had been shot at before the Hernandez shooting.
Corporal Banuelos was represented by one of the most prominent criminal defense lawyers in Texas, Jack B. Zimmermann, one of two lawyers who represented Branch Davidian leaders in the 1993 siege at the religious sect's compound near Waco. Mr. Zimmermann described the shooting of Mr. Hernandez as a tragedy, but not a crime.
"Because of his fear that he was going to lose one of his teammates, Banuelos acted reasonably under the circumstances," said Mr. Zimmermann, a retired Marine colonel. "If it had gone to trial, there was no question in anybody's mind that a jury would have found him not guilty."
That afternoon in 1997, Mr. Hernandez came home from Presidio High School at about 4 p.m. and studied his driver's education handbook. He was, as one teacher described him, "a ranch kid" who had no criminal record; he was a student aide at a recent cattle drive in the area. Shortly before 6 p.m., he took the goats out, a routine chore, and walked away from his house toward the Rio Grande. In his hands he held an antique .22-caliber pump-action rifle. He had told one of his teachers that he often shot the rifle for target practice while tending the goats.
The four Marines, known as Team 7, had been occupying an observation post along the river for three days, as part of a joint task force conducting surveillance of drug-smuggling routes to support the Border Patrol. Redford residents were unaware that the heavily camouflaged Marines were there.
Team 7 members had left their hiding site to move up a hill but knelt down after seeing a man on horseback, according to military investigators. Then they saw Mr. Hernandez, the goats, and the rifle. They radioed to headquarters in nearby Marfa that a man herding goats was heading toward them, armed with a rifle. Mr. Hernandez then fired in the direction of the Marines twice from about 200 yards away.
"We're taking fire," Corporal Banuelos said on the radio at 6:07 p.m., according to a military transcript of Team 7's radio transmissions.
Mr. Hernandez then walked away, and the Marines followed him. At 6:11 p.m., Corporal Banuelos said on the radio, "As soon as he readies that rifle back down range, we are taking him." The radio operator in the Marine tactical operations center responded, "Roger, fire back."
The Marines, based on their radio transmissions, seemed to believe that Mr. Hernandez had spotted them and was hiding from them, and they drew closer to him. Corporal Banuelos observed Mr. Hernandez raise his weapon and point it in the direction of Lance Corporal Blood when he fired, according to military reports.
Albert G. Valadez, the former district attorney who investigated the case, said Mr. Hernandez was not pointing the rifle in the Marines' direction when he was shot. Because the rifle did not have a strap, Mr. Hernandez had been carrying it behind his neck and across his shoulders, as he stood near the well and was shot in the lower chest beneath his right armpit, Mr. Valadez said.
"He was not even pointing his rifle in their direction," Mr. Valadez said. "The rifle wasn't being pointed. It was resting on his shoulders. This is nothing more than a coldblooded murder."
Corporal Banuelos's lawyer in Houston, Mr. Zimmermann, said he had not heard Mr. Valadez's theory before, adding, "There's not a single witness that would say that he was draping" the rifle on his shoulders instead of aiming it.
At Redford Cemetery recently, Margarito Hernandez went to his truck and pulled out the rifle his brother had been carrying that day. The authorities recently returned it to the family. "Now you tell me how they confused him with a drug dealer with this rifle," he said, holding the thin, small weapon. "There are BB guns that look more like a rifle than this one."
He stood for a long time at his brother's grave, the rifle at his side. He said it's too hard for him, so he does not come here often. He works now as a police officer in nearby Presidio and is a father of four. His son was born four months after his brother died in 1997. He named him Esequiel.
November 27, 2018
By

JUGAL K. PATEL

and
TROY GRIGGS
Tear gas used
in this area
Tear gas used
in this area
One of three key places
where migrants tried
to cross the border
Satellite image by DigitalGlobe via Google
United States Customs and Border Protection officers
used tear gas on Sunday
to deter hundreds of migrants who attempted to cross the border into the United States. Migrants tried to enter at three locations near the border crossing in Tijuana, Mexico.
A number of migrants tried to cross into the United States at the nearly dry Tijuana River and were met with a law enforcement blockade with barbed wire and tear gas. In a widely viewed photograph, a woman can be seen pulling her family away from tear gas fired by Customs and Border Protection officers.
Others crossed the Tijuana River on their way to El Chaparral, a port of entry on the Mexico side of the border, to evade the police blockade.
Rodrigo Abd/Associated Press
Migrants also met tear gas and law enforcement officials at a set of train tracks near the San Ysidro crossing. The United States shut down the crossing in both directions in response to the migrants' attempt to cross.
August 25, 2018
You can see the Ice Guard already has the back pack next will eb the child
US immigration authorities coerced parents who were separated from their children at the border under the Trump administration's "zero tolerance" policy into signing documents they didn't understand or didn't want to sign, according to a
complaint
filed Thursday.
The complaint filed by the American Immigration Council and the American Immigration Lawyers Association includes testimonials from some parents who said immigration officers told them they had to sign the forms, including deportation papers, or they would never see their children again.
Still others said they were pressured by Immigration and Customs Enforcement officers into signing forms that already had been filled out. Some of the parents who signed the forms were seeking asylum.
"This really is the systemic and intentional effort to take children away from parents and hold them as hostages in order to sabotage their right to apply for asylum in the US and then use these children as threats to other parents contemplating coming to the United States," said Ben Johnson, executive director of the American Immigration Lawyers Association.
Asked about the complaint, the Department of Homeland Security, which oversees ICE, referred to the July 31 Senate testimony of Matt Albence, an executive associate director at ICE, who denied that ICE officers were coercing parents to be deported.
"There is long-standing ICE policy which dictates how a reunification may occur for an individual that is being detained and going through an immigration process," Albence said.
More than 2,500 children were separated from their parents as a result of the zero tolerance policy, which sought to prosecute anyone caught trying to enter the US illegally. Being prosecuted for illegal entry resulted in parents being sent to federal custody to face the charges and their children being sent into the custody of Health and Human Services.
Following immense outcry, President Trump signed an executive order directing the Department of Homeland Security (DHS) to keep detained families together. As a result of a lawsuit over family separations, a federal judge also ordered the government to reunite the separated families, though 366 parents had already been deported without their kids, and 565 children remain in government custody without their parents.
The complaint was submitted to DHS's Officer for Civil Rights and Civil Liberties and Inspector General.
A mother from Guatemala who was separated from her 5-year-old son for 32 days told lawyers that she was told to sign a form by an ICE officer who said, "Sign here [and] you will get your child back if you return to your country," without being told there were other options, such as being reunited with her son and allowed to stay in the US to fight their asylum case.
"I was so desperate to know the whereabouts of my son and finally hold him in my arms again that I signed for both of us to be reunited even if it meant going back to Guatemala," said the mother, identified as A.E. in the complaint.
In the El Paso area, numerous parents said that ICE officers demanded that they sign forms affirmatively abandoning their rights to reunification. Fathers at the West Texas Detention Facility in Sierra Blanca, Texas, said they were forced to sign forms waiving reunification and were not told they were entitled to pursue their asylum claims and be reunited with their child, the complaint said.
Four parents, who had recently been reunited with their children, said that on July 25, ICE officers boarded the bus they were on and told her to sign pre-completed forms saying they wanted to be deported with their kids. At least two fathers refused to sign, saying they wanted to be deported without their children. They were yelled at in English and pressured in Spanish to sign the forms.
"All four fathers recounted that their children were separated from them a second time upon their refusal to sign the forms pre-marked with Option 1, which would have agreed to them being deported together," the complaint said.
Katie Shepherd, the national advocacy counsel for the Immigration Justice Campaign, said many parents reported being given inadequate or spoiled food and forced to lie on cold floors while being held at Customs and Border Protection (CBP) facilities, creating a stressful and coercive environment.
"The coercion and coercive environment created by government officials really started at the moment these families entered US soil," Shepherd said on a call with reporters.
Among several corrective actions the complaint seeks, advocates for the families want DHS to announce a clear policy forbidding any tactics that pressure people into making decisions affecting their legal cases. The complaint also says DHS should bring back deported parents who were not given the chance to reunite with their children or "meaningfully participate" in the asylum process.
Over 5Million Reads

Adam Gonzalez
at August 25, 2018
No comments:
Links to this post


Featured Posts
Ryan O'Connel, the new pretty face IN Hollywood is gay and by the way he has Cerebral Palsy Photo: Sarah Walker ...

Words from the publisher: Before you start reading this posting let me warn you that NOT ALL the information  here has   been verified. Th...