This story was shortly taken out to have proofread.Thank you.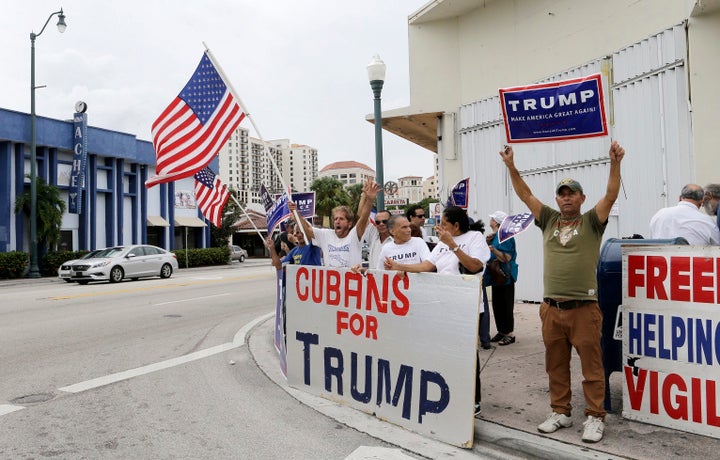 I have a sister who is Evangelical and married to a Cuban. One thing I have to say and is that of 11 kids only two, this sister and another one close to her age have never divorced. As far as this goes of being with the same partner all your life even if you don't like him is weird enough but what was weirder to me was when she told me she voted for Trump and was voting for Trump hoping he will destroy the nation and bring the second coming upon us. First, you don't bring out half baked religious theories to someone who spent five years studying all these things. But older siblings even without a college education think they know more because they knew more since they were older but that advantage washes out when the kid is about 12 and especially today the older sibling has been left behind in learning about science, history, and mathematics from the younger family members because all these things have changed.
My sister assumed her Cuban husband voted for Trump as most Cuban Americans did particularly in Miami. They hated President Obama because he was black (my sister admitted to me) and because he wanted to re-establish relations with these few million people 90 miles from the U.S.

Fidel dead and his brother Raul in line to go meet him. But these Cubans resent the Cubans there for never revolting against Fidel but then they never did either, they ran to the U.S.
Now Cubans are finding out of who Trump is really like and Cubans like Puerto Ricans with white skins and blue eyes but not pure white serve Trump nothing he can take to the bank. Their vote is no longer important because many of them have mixed with white Americans so the remaining Cubans are not enough in numbers or political cloud like they once did.
Adam Gonzalez
120 Cubans out which some say is the beginning. Cubas now would have to search refuge with those Hispanics they don't like.
The Trump administration deported 120 Cuban immigrants in one fell swoop last week, even though many had passed credible fear interviews and said they would face violence and persecution if they were sent back,
the Miami Herald reports
.
The large-scale deportation marks a turning point in U.S.-Cuba relations regarding the deportation of Cuban immigrants, and officials say it's just the beginning.
All 120 people were put on a single flight from New Orleans to Havana on Friday, making it one of the biggest Cuban deportation efforts in recent years. But many of those who were sent back passed credible fear interviews, the first step in the asylum process, the Herald reports. Passing these interviews doesn't necessarily mean one qualifies for asylum, though; it just means they get to apply for it.
"These are all individuals subject to removal under federal law whose cases were adjudicated and persons determined to have no lawful basis to remain in the United States," an ICE spokesperson told VICE News.
The U.S. and Cuba signed an agreement on January 2017, during the last days of the Obama administration, requiring Cuba to accept all of its citizens who are deported from the U.S. or who are in the U.S. without authorization — a drastic shift from the "wet foot, dry foot" policy that granted legal protections to virtually all Cuban migrants who set foot on U.S. soil.
But the agreement doesn't require Cuba to accept anyone the U.S. wants to deport. Instead, the Cuban government has 90 days to decide whether to accept a deportee. If they don't, ICE can't deport them. There was at least one other immigrant who was scheduled to be deported that day but was taken off the list at the last minute because of a "paperwork glitch," according to the Herald's report.
"The large removal charter is made all the more significant given Cuba's longstanding status with respect to accepting the return of Cuban nationals ordered removed from the United States and abiding by key provisions of the U.S.-Cuba Joint Statement. Cuba has a long history of being deemed an uncooperative country," an ICE spokesperson told the Herald.
The recent deportation was just the beginning, two federal sources told the Herald. There are more than 37,000 Cubans in the U.S. with deportation orders, many of whom are required to check-in with ICE a few times a year. But attorneys told the Herald that a growing number of people are being arrested during these check-ins