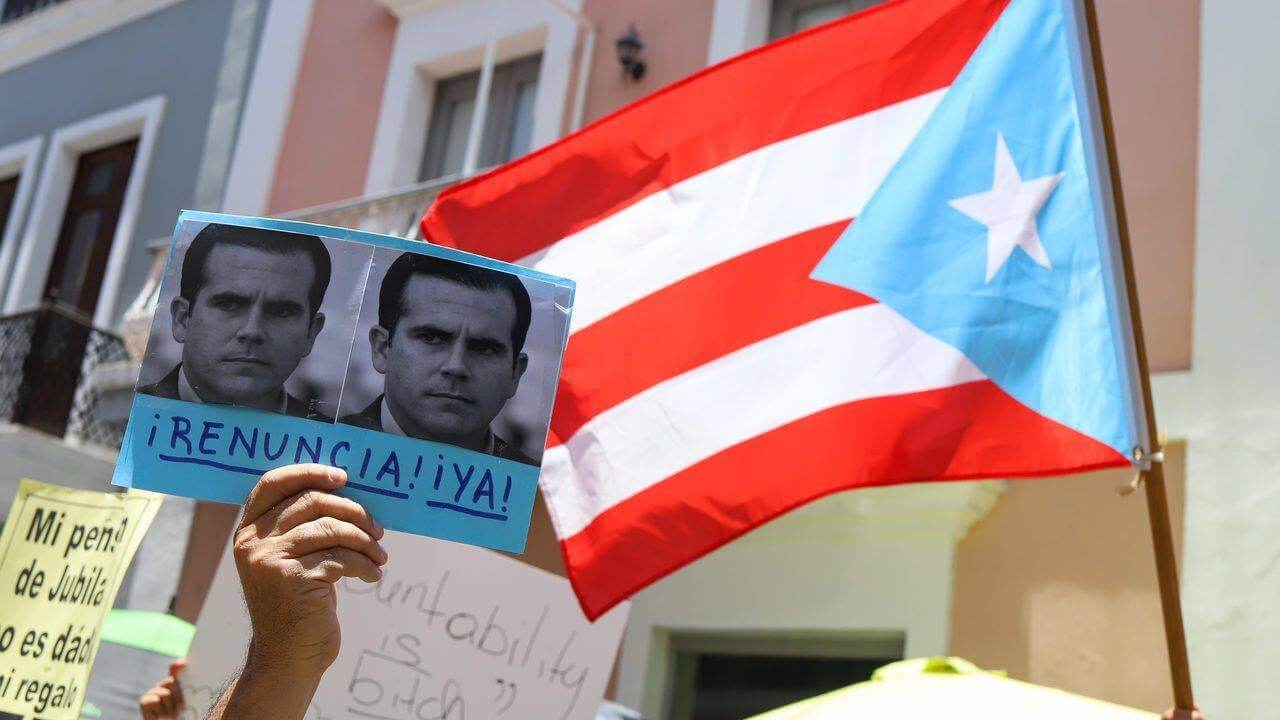 People have been protesting every day in San Juan and other parts of the island for a week, demanding Rosselló's ouster. So far, there's no indication they will stop anytime soon.
So what got Puerto Ricans to this point? Here are five things to know.
On July 8, local media outlets published excerpts of profanity-laced and derogatory private chat messages between Rosselló and some administration officials and some close associates, including lobbyists.
The chats, on the encrypted messaging app Telegram, shocked islanders for their vulgarity and crassness and raised questions about possible conflicts of interest and violations of the law.
The group also made jokes about the corpses that piled up after Hurricane Maria, something that struck a chord among many Puerto Ricans and is repeatedly mentioned during the protests.
Puerto Ricans also got a window into the administration's efforts to steer the media narrative and smear political opponents. In the chat, politicians also shared confidential government information with people who were not public officials.
Beyond the insults, island and federal authorities are investigating whether the chats point to wrongdoing such as corruption or conflicts of interest.
The members of the chat group were Luis Rivera Marín, Rosselló's secretary of state; Christian Sobrino, who held a series of economic posts; Alfonso Orona, Rosselló's former chief legal officer; Ramón Rosario, former public affairs secretary; Raúl Maldonado, former chief financial officer; Carlos Bermúdez, a one-time communications aide; Edwin Miranda, a communications consultant; Interior Secretary Ricardo Llerandi; Public Affairs Secretary Anthony Maceira; and Elías Sánchez, a lobbyist and Rosselló's former campaign director.
According to CPI's investigation, Rosselló was aware that Sánchez, Miranda, and Bermudez were giving preference to companies that Sánchez lobbies for and granting them government contracts — some of which were funded with federal money.
Many see the leaked chats as the last straw for an island still struggling to recover from a devastating hurricane, all amid a decade-long financial crisis.
The FBI is also investigating the finances and donation requests of Unidos por Puerto Rico, the nonprofit organization created by Rosselló's wife, Beatriz Rosselló, to handle Hurricane Maria-related donations.
Unidos por Puerto Rico, which received $41 million in donations, was run for a time by Jorge del Pino, the brother-in-law of lobbyist and group chat member Elías Sánchez.
According to Puerto Rico's constitution, if the governor's seat is vacant, the secretary of state is next in line. But Rosselló's secretary of state, Luis Rivera Marín, resigned in the wake of the leaked chats.