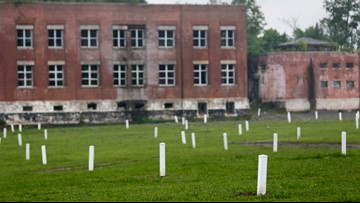 The grim possibility drove home the toll of the virus in New York, a day after some data suggested that its spread might be slowing.
RIGHT NOW A New York City Council member said that some virus victims could be temporarily buried in mass graves in a park.
Here's what you need to know:
People who die of the virus could be temporarily buried in mass graves in a park.
The one-day death toll in N.Y. fell for the first time.
People who die of the virus could be temporarily buried in mass graves in a park.
With the number of people dying of the coronavirus in New York City outpacing the system's capacity to handle them, the city is considering temporarily burying people in mass graves in a park, the chairman of the City Council's health committee, said on Monday.
"It will be done in a dignified, orderly — and temporary — manner," the chairman, City Councilman Mark Levine, wrote on Twitter. "But it will be tough for NYers to take."
Mark D. Levine
✔
@MarkLevineNYC
· 2h
Replying to @MarkLevineNYC
And still the number of bodies continues to increase. The freezers at OCME facilities in Manhattan and Brooklyn will soon be full. And then what? 8/
Mark D. Levine
✔
@MarkLevineNYC
Soon we'll start "temporary interment". This likely will be done by using a NYC park for burials (yes you read that right). Trenches will be dug for 10 caskets in a line.
It will be done in a dignified, orderly--and temporary--manner. But it will be tough for NYers to take. 9/
1,303
9:36 AM - Apr 6, 2020
Twitter Ads info and privacy
1,333 people are talking about this
Mr. Levine said the goal of "temporary interment" would be "to avoid scenes like those in Italy, where the military was forced to collect bodies from churches and even off the streets."
Mayor Bill de Blasio said no such plan had been put in place.
"If we need to do temporary burials to be able to tide us over to pass the crisis and then work with each family on their appropriate arrangements, we have the ability to do that," he said when asked about Mr. Levine's comment on Monday.
But he said the city was "not at the point that we're going to go into that."
In an interview on Monday, Mr. Levine, who represents Upper Manhattan, declined to name the park or parks that were under consideration but said, "I presume it would have to be a large park with some inaccessible areas that are out of the way of the public."
Temporary burials are part of a plan the city medical examiner's office put together in 2008 to deal with a pandemic. "Tier One" of the plan involves storing bodies in freezer trucks and easing restrictions on crematories. The city is already doing that.
"We are relying on freezers now to hold bodies, but that capacity is almost entirely used up," Mr. Levine said.
In recent days, the virus has tripled the number of people dying in the city compared with an average day.
Temporary burials are described in "Tier Two" of the medical examiner's plan.
Mr. Levine said the only possible sites for mass burials would be a city park or Hart Island off the Bronx, the Potter's Field where prison labor is used to bury the dead.
Hart Island has logistical challenges because it is inaccessible and it is a secure Department of Corrections facility, so there are limitations on who can go there and under what circumstances, Mr. Levin said, adding, "I think it would be preferable to have something that didn't have the security issues of Hart Island."
For days, officials in New York have been searching for signs that the coronavirus is nearing a peak in the state and will start to ebb.
On Sunday, there were some hopeful signs, but Gov. Andrew M. Cuomo cautioned that it was too soon to say whether they indicated a trend:
The one-day death toll from the virus, which had increased each day since the outbreak's early days, fell slightly for the first time, to 594 deaths reported Sunday, from 630 deaths reported Saturday. The state's total stands at 4,159.
While the number of people currently hospitalized is still increasing, the one-day increase reported Sunday was the smallest in at least two weeks. The number grew by 574, to 16,479, from 15,905. That is a 4 percent increase. The increase the day before was 7 percent. Two weeks ago, the number was growing by more than 20 percent per day.
The number of people in intensive-care units, which are equipped with ventilators, is still increasing, too. But the rate of increase is slowing. Sunday's count — 4,376 — was 6 percent higher than Saturday's — the first single-digit percentage increase recorded in at least two weeks.
"You could argue that you're seeing a slight plateauing in the data, which obviously would be good news," Mr. Cuomo said Sunday at his daily briefing in Albany, citing "the interesting blip maybe in the data, or hopeful beginning of a shift in the data."
But he added, "You can't do this day to day. You have to look at three or four days to see a pattern."
Even if the curve of infection is slowing, the virus's daily toll remains horrific.
New York City reported a one-day total of 351 deaths on Sunday morning. On a normal day in New York City, 158 people die, so more than twice as many people in the city are dying of the virus than of all other causes combined.