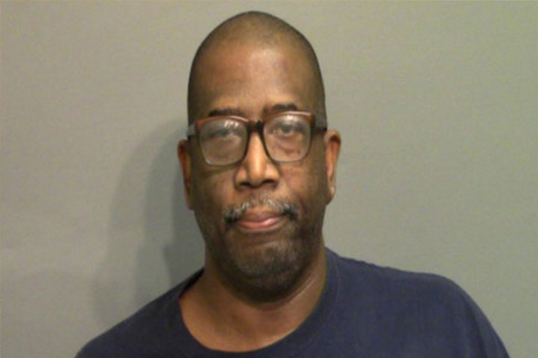 Ken Adkins in Glynn County Jail
This so called man of god and a pastor of a church who saw himself so above other human beings and life and death, who came down in judgement of the victims shot on the club Pulse in Orlando.
It takes a special kind of individual to stand in judgment of others particularly when it deals when people are dying because of who they are and where they happen to be by simply chance of circumstances. For a man that claims to be a teacher of others of the virtues of Christianity seemed to have forgotten most of the teachings of Christ by putting himself as judge over those young people that died at the hands of someone who obviously did not see them as full humans and thus with the right to enjoy life for as long as their lifetime lasted independently of any other person.
As it has happened many other times, those that judge usually are the ones most guilty of the act they judge others about. This hypocrite felt more comfortable saying something outrageous and thus put the spot light on him as the opposite of what those young people that he was judging in Orlando were.
He Most've figured that by coming down on those victims his cover of being attracted to others of the same sex would further be even safer. But this man's sin went further because loving someone of your own sex cannot be a sin wether you are a believer or not, that is if you preach love in your religion. However taking advantage of a pre-teen boy who does not yet know the meaning of sex or love towards another human being in a mating or partnership way. Taking this boy's innocence and purity to satisfy his own dirt of a conscience is something beyond reprehensible.
*
News4jax
in GA published the following story as they found out this man arrested of child molestation was Ken Adkins the rabidly anti gay pastor.
*A Southeast Georgia pastor who has been a lightning rod of controversy was arrested Friday after a young man who used to be a church member told the Georgia Bureau of Investigation the man molested him in 2010.
Kenneth Adkins, 56, who is pastor of the Greater Dimensions Christian Fellowship, turned himself in at 9 a.m. at the Glynn County jail. He was charged with one count of aggravated child molestation and one count of child molestation.
Ken Adkins arrested
A GBI agent told
News4Jax
that several incidents of molestation were alleged to have occurred at the church, in a vehicle and at the victim's residence. The Brunswick Judicial Circuit asked the Brunswick police to assist in the investigation, which began Aug. 12 and is ongoing.
Adkins' attorney, Kevin Gough, said the charges are over an alleged incident that happened six years ago and felt that the investigation and charges were rushed.
"He will ultimately be cleared of any wrongdoing," Adkin's wife and co-pastor, Charlotte Adkins, said. "I share my husband's concern for the alleged victim," who she said was a "deeply troubled" young man who was part of the church's teen ministry.
Mrs. Adkins said she hopes that the authorities will be as vocal in cleaning her husband's name as they were in announcing his arrest.
"I'm here to express my support for my husband," she said. "We are disappointed with what appears to be a rush to judgment by law enforcement authorities in this case. We are confident my husband, Kenneth Adkins, will be found innocent in this case."
Gough said he was filing motions for bail, a preliminary hearing, to demand a speedy trial and to see the evidence.
"Warrants say these events took place in 2010. That's a long time," Gough said. "We don't know why they're coming up now. We'd like to think the timing isn't politically motivated. We hope not. We're not saying they are. Given his timing and stances on various issues, it's a concern."
"We are praying for him," Mrs. Adkins said of the victim, who has since moved out of the state. "The young man has been a part of our teen ministry we have taken care of him and taken him in our church family with a lot of love. Ken and I have done a lot to help mentor that young man. I'm deeply troubled by the things that are happening with that young man."
Kenneth Adkins is known for speaking out against Jacksonville's human right ordinance, transgender bathrooms and injecting himself into other local issues on behalf of conservative causes.
After the mass shooting at the Pulse nightclub in Orlando in June, Adkins tweeted about homosexuals, "I don't see none of them as victims. I see them as getting what they deserve."
Adkins, who often dressed in drag to express his disdain for homosexuals, said the public took the tweet out of context. Adkins said he wasn't referring to the shooting victims, but "strictly meant for the Jacksonville group that has made my life a living hell" while he served on a discussion panel for the HRO.
Jacksonville Mayor Lenny Curry, who asked Adkins to sit on the panel, released a statement he didn't know anything about the allegation other than what was reported in the news, "but it sickens me."
"If he is found to have done what he stands accused of, he deserves the fullest punishment the law allows," Curry said.
Adkins drew the ire of Jacksonville City Councilman Tommy Hazouri when he tweeted a photo of that had Hazouri's face superimposed on one member of a homosexual couple. Hazouri has been one of the council's vocal proponent of adding LGBT rights to the city's HRO.
"I don't trust him," Hazouri said. "I was this close to filing a charge for slander, because it wasn't just of me. It was the rest of the whole council. It wasn't about freedom of speech, but of the abuse that he did with his caricatures."
For years, Adkins has used social media to make his points. He posted video on YouTube to poke fun at a Glynn County School Board member.
According to criminal records, Adkins was arrested in 2003 for obtaining property in return for a worthless check, petit theft in 2002, leaving the scene of an accident resulting in injury in 2001, and multiple grand theft and fraud charges.
Adkins is expected to have a first appearance on the molestation charges Monday at 2 p.m., then a preliminary hearing next Friday. The victim has been subpoenaed to appear at the preliminary hearing on Sept. 2.
"There's no reason why this couldn't (be seen by) a magistrate or judge this week," Gough said.
In Georgia, aggravated child abuse is considered a capital crime. While the death penalty is not considered likely, he could face up to life in prison if convicted.*