This is one of those subjects I wanted to say so much but it would have taken the time for more serious news. The ladies have been augmenting all the parts of the body they got from birth you can think off, but they started way back with the boobs and butts. How long is the age of the technology coming of war and doctors trying to repair everything on the soldier from half a face to total crouch? This is where the innovation comes from and you have medical personnel with licenses to do what some call plastic surgery (which in most cases has no plastic involved). I find it as a personal taste to find out my date has that done but that is just me. If the female sex is doing it and the Transgenders have been using all available and affordable techiniques you will figure it will go International. But you also have the part you have to take off when you go to bed. I love the removable butt, I don't know how a guy will explain that to his date? "I think I danced too much honey and perspired all my fluids away but they will be back to normal tomorrow."
The US patent office is littered with
hilariously dry descriptions
of male support garments. One underwear brand claims it can provide the ideal "cosmetic buttock profile" while another promise "integral male member adjustable support." One pair of padded boxers with
removable butt
insert says
it also has a system for "easily venting the scrotum."
Then there's Rounderbum, a butt-enhancing underwear brand that comes with two butt-shaped polyurethane foam pieces woven into the brief's backside, creating what the makers describe as "lift technology."
"When brands use silicone, it's heavier, and it's a little more obvious if someone were to smack your butt," Rounderbum inventor Jonathan Diersing tells me. "Ours is spongy, like a real butt."
Rounderbum's rapid expansion suggests men are under
similar pressure
to women to present a thick and juicy ass to the world. But Diersing, of course, would like to sell a more empowering message. "We're not here to fake anyone out," he says. "We just want your clothes to fit as well on you as they do on a mannequin."
Surely, wearing padded underwear is a healthier way of dealing with your own body dysmorphia than using steroids or compulsively exercising, but it also perpetuates unrealistic standards of beauty, according to Columbia University
psychology professor Melanie Brewster
. "It's hard for me to imagine that when someone goes out and buys any kind of shaping undergarment, that there isn't some underlying dissatisfaction with their own bodies," she says.
---
Men, especially queer men, have long been padding their asses. But the majority of products previously available were marketed for reasons other than image-improvement. Rounderbum is refreshingly shameless about their mission to make your butt look bigger, and they're not hiding behind the medical language to justify that mission.
Butt for You, which has been selling padded underwear since 1997,
features a man in a wheelchair
on its homepage; the owner
told SFGate
that many of his clients were seniors and HIV positive men who'd lost fat in their butts from years of taking antiretroviral drugs. BottomsUp, a brand that
made headlines
about ten years ago, also catered to cancer patients and men in wheelchairs. Rounderbum's advertising, in contrast, is de-medicalized, emphasizing the confidence a man can feel with a bubble butt (assuming it doesn't slide around).
The ascendance of padded underwear for men isn't entirely expected. According to the American Society of Aesthetic Plastic, women still make up the bulk of cosmetic butt procedures, with men undergoing just 2.6% of a total of 20,126 butt augmentations and 3.7% of butt lifts
in 2016
.
But Karen E Jones, the owner of Bubbles Bodywear, says that more men are buying her products than ever before. "The men complain that their jeans or pants sag. We had one doctor who felt self-conscious when residents were walking behind him. He thought they were just staring at his flat butt."
She adds that a "perfect" butt just isn't attainable for many men
through exercise alone
. "They aren't genetically built with the hormones, fat and muscle makeup in the backside," she said. (According to a
2009 study
, women on average store 6 to 11 percent more body fat than men.) "Sometimes they need a little silicone help."
Unlike Rounderbum, Bubbles offers a range of padding, from one to three inches, as well as optional silicone inserts. Jones says her sales reps spend hours on the phone with customers, trying to craft the ideal derriere. "It's like fitting a bra times one hundred," she said.
Brandon Gray bought Rounderbums after seeing ads for the bulbous underwear brand pop up on Facebook. "I've had many compliments," he tells me. "I've even had friends ask me if I've had cosmetic surgery."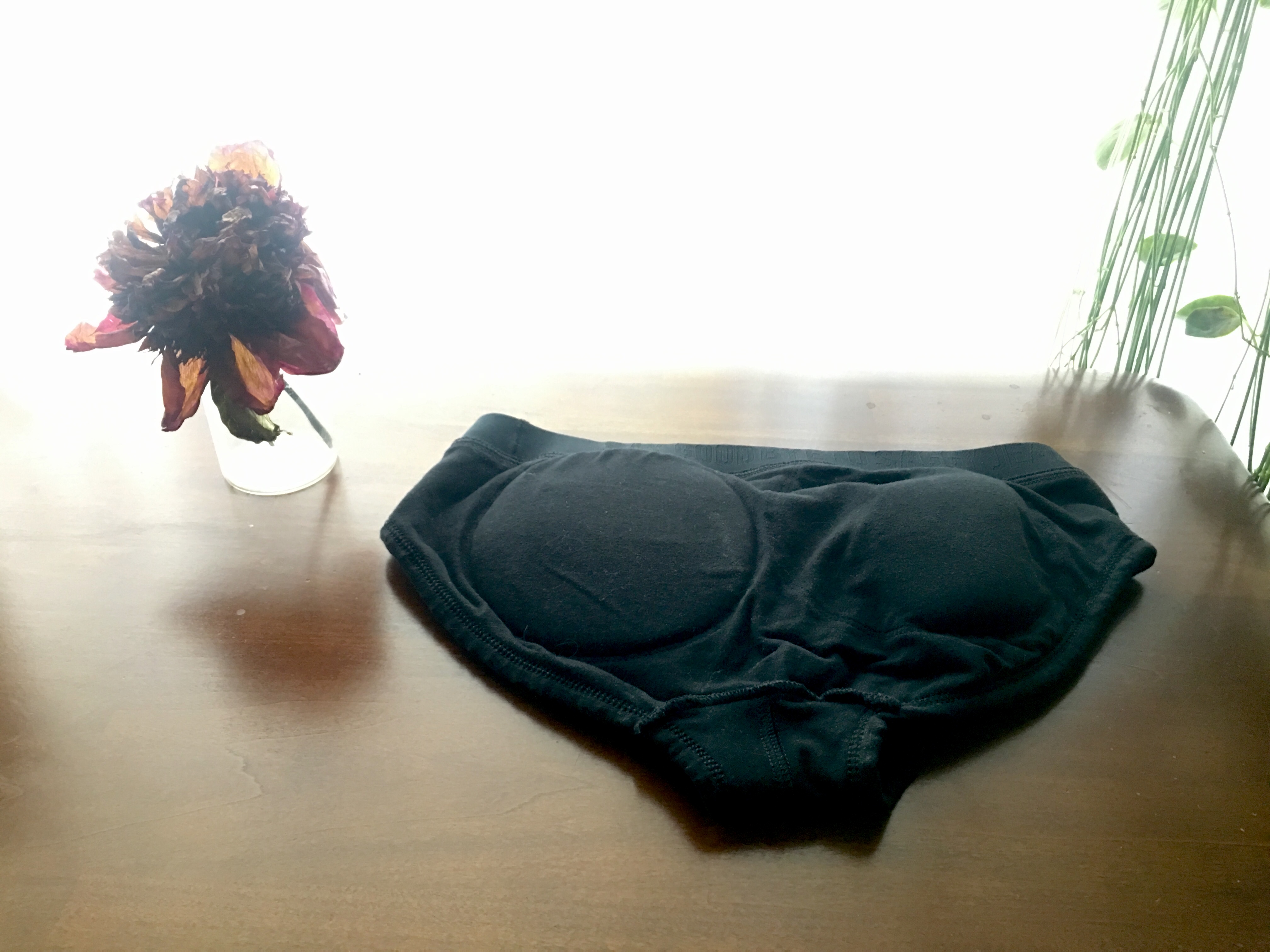 Gray was so happy with the way the briefs made him feel that he bought a pair for every occasion. "I've always been self-conscious about my butt. I think most guys check their butts out in the mirror and wonder if they look okay."
Naturally,
the Amazon reviews
for Rounderbum are all over the map. One customer praised the briefs for cupping his cheeks effectively, while another remarked, "these will make you look like Jennifer Lopez before her reduction." Still, one gets the sense that the briefs are solving a pressing issue for some men, especially those who have butts so flat that they can't hold their jeans. As one customer says, "I have worn these with loose jeans and also skinny pants (that show what little real butt I have) and have [received] compliments from everyone, including slightly inappropriate ones from coworkers."
Brewster worries about what the rise of padded underwear says about male self-esteem. If a patient brought up padded underwear as a solution to their problems, she says she'd proceed with caution. "If people compliment you on your new butt, is that going to make you feel better about yourself or is that going to make you feel potentially worse because you're getting attention based on this superficial modification that you've made?'"
She believes that gay men, in particular, are more likely
to self-objectify
. "Rather than really living in and enjoying your body, you're constantly thinking about how this body can look better for the benefit of other people," she says. "Gay men internalize the male gaze just like straight women do."
Every time someone changes their shape artificially, they're putting forth an idea that isn't achievable, she adds. "I'd just suggest that they wear it mindfully."
Vise