As you watch Trump go about his I gotcha foreign policy without sometimes he even seems to know what he means to do. It's easy what Trump wants from the world. He wants money. Money, not power? You can't have one without the other. He has had problems holding to fortunes given to him not that he never earned it. Father, Mob in NYC and Vegas,. Never earn it. He likes to throw the dice and sometimes he is been lucky but like any hooked player in Vegas will tell you,. No matter how much you win you will lose it again because you need to keep playing. That is why the house always wins unless the house loses because the money is been siphon off like Trump did in Vegas. He took properties with money and milked them, would they go out and thousand of employees go on food stamps. Well not today, you need to be healthy and working to get food help. Or dying> But those properties went out and he got some of his investment through insurance but he was still borrowing while he played the diced on other life. He is damn good on that.
Ok, what is today to be a Republican backing this man?

Well, you are politicians like we have always known politicians. They only care about themselves. The thing is some people without the inkling what happens in the world including Climate change, they elect people like them. I will never vote like someone like me but someone better. Even in Staten Island, you have a novice Representative who is very smart but he is just like most of us and he represents Trumpie Territory, Sometimes I don't think he knows what he is talking about but he yells it and not giving someone the chance to question him. He talks with the opposite idea he is in congress. I criticize this popular democrat or any other behaving like just politicians like the GOP in Washington. Only worry about how the shit should not all fall on them. Just enough to clean with the most toilet paper the Capital can supply for free.
Adam Publisher, Publisher (disagree??? )write a post under this news posting and my editorial.
Love without touching, hugging, kissing on the cheek The Eastern way, except Trump did ask for him to bend down. He refused.
WASHINGTON / KIEV — President Trump's willingness to withhold crucial military aid while pressing Ukraine to launch politically helpful investigations into his rivals
startled
Kiev.
"That situation tells Ukraine that our country can rely only on itself," Commander Vyacheslav "Eagle Owl" Vlasenko, a stony-faced leader of Ukrainian forces in the war-torn Donbas region, told Vice News.
"That situation tells Ukraine that our country can rely only on itself"
For Ukraine, where soldiers are still fighting Russia-backed separatists in the east, Trump's Syria pullback is doubly alarming: It not only reveals Trump's willingness to turn his back on American allies on a whim but also directly benefits Kiev's chief military threat, Russia.
The U.S. remains Ukraine's most important source of international assistance in its brutal five-year war with Russia-backed separatists, a conflict that has
already killed some 13,000 people
. Between April 2014 and June of this year, Washington provided Kiev with some
$1.5 billion
in aid that included lethal arms, defensive materiel, and hands-on training. A volte-face in support for Ukraine could dramatically alter the course of the war.
"Whoever did this once might very well do it again," said Volodymyr Ariev, a member of Ukraine's parliament. "We've seen just such an attitude from Trump in negotiations with [Russian President Vladimir] Putin."
Fickle friends
Trump angered even his
most stalwart defenders in Congress
by ordering U.S. troops to pull out of northern Syria, clearing the way for Turkish troops to launch an offensive against the Kurds that immediately raised fears of ethnic cleansing against a key U.S. ally.
"In Ukraine we are witnessing a two-track credibility loss in Trump's America"
Ukrainians were already on edge over Trump's apparent readiness to play politics with their $391 million in foreign aid, in a scandal that launched an impeachment inquiry.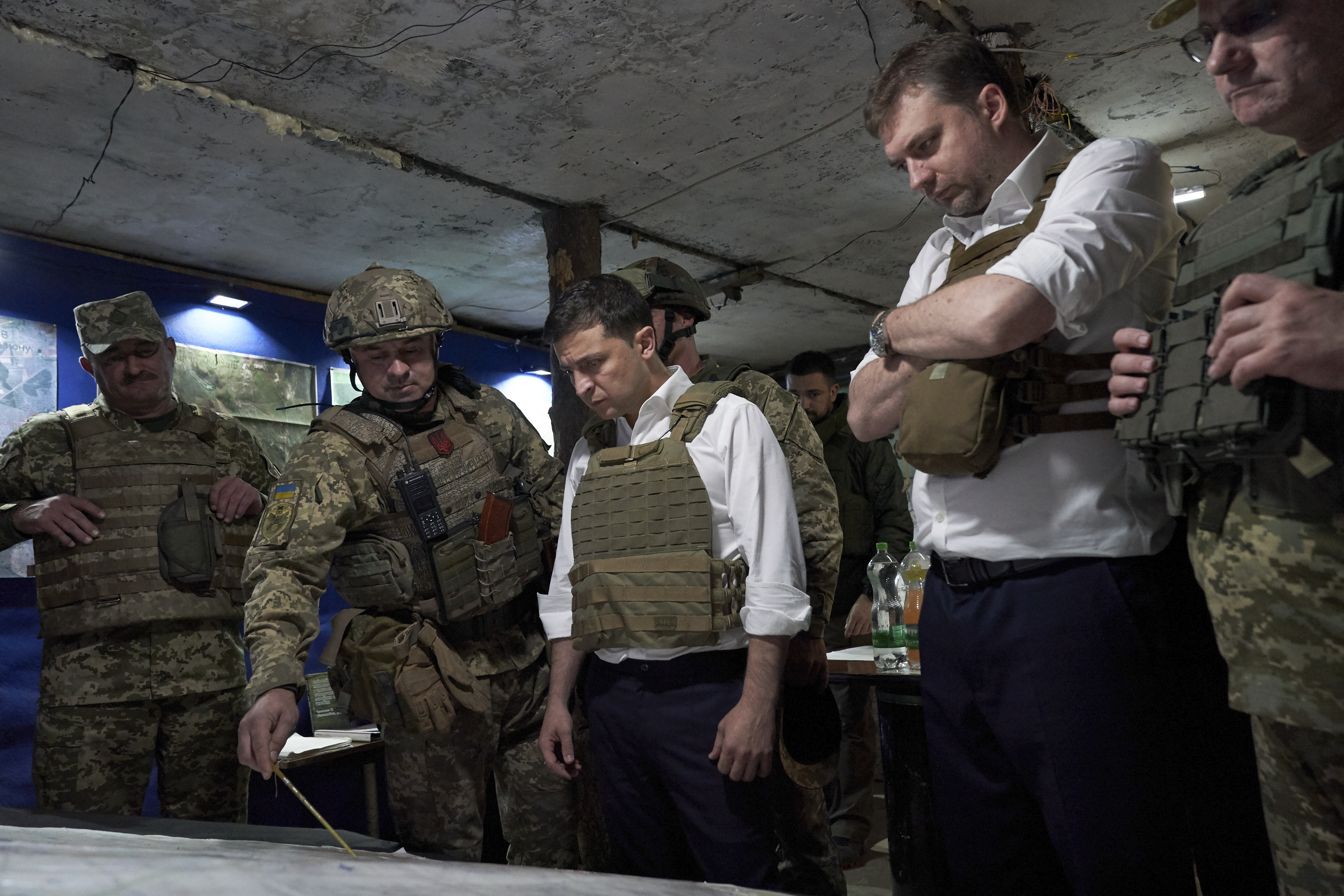 The combined effect has hammered America's reputation as a reliable ally in Ukraine, said Alyona Getmanchuk, director of the New Europe Center think tank in Kiev.
"In Ukraine we are witnessing a two-track credibility loss in Trump's America," she said. "The first wakeup call was when Trump withheld military assistance for Ukraine. The second is the signal he's sending with his attitude toward the Kurds."
House Democrats are investigating whether Trump abused his office by putting a hold on the aid while pressuring Ukrainian President Volodymyr Zelekensky to announce investigations of Trump's 2020 Democratic rival Joe Biden and the 2016 U.S. election.
Another win for Russia
Few countries appeared to benefit more from Trump's sudden reversal in Syria than Russia, which
gladly rushed
in to fill the void created by America's withdrawal.
Following the U.S. pullback, Russia and Turkey agreed to share control over northeastern Syria in a power-sharing deal that could reshape the political landscape of the Middle East for years to come.
And Trump signaled that was pretty much just fine with him.
"If Russia wants to get involved with Syria, that's really up to them,"
Trump said earlier this month
. "The United States acted as a guarantor of the security of my country and one of the main constraints on the path of Russian expansion," he said. "Of course, such an unstable policy worries me."
Ambassador Daniel Fried, a career U.S. diplomat, recalled fielding question after question about the Kurdish fiasco during his trip to Ukraine this month.
"That really shook them," Fried told VICE News. "Many Ukrainian students and former fighters told me: What about the Kurds? Might you betray us in a similar fashion? I got that from a lot of people."
Fried, the former U.S. ambassador to Poland, noted that central and eastern European countries have decades of experience carefully reading the balance of power between Washington and Moscow.
"American presidents doing deals with Moscow over their heads is something they know about in that part of the world," Fried said.
As Ukraine's political and military leaders watch the White House for further abrupt policy shifts or Trump's next explosive tweet, some are already openly discussing the need to be prepared.
The lesson from Trump's reversal on the Kurds for Ukraine should be increased self-reliance, said Hanna Hopko, a former lawmaker who served as the head of the committee on foreign affairs in the Ukrainian parliament.
"We have to analyze this case because one day Ukraine could be in the same place as the Kurds," she said. "This is why we have to be ready to defend our territory ourselves, and not rely on anybody else, because one day, we could find that we have been betrayed by one of our strategic partners."
Cover: President Donald Trump meets with Ukrainian President Volodymyr Zelenskiy at the InterContinental Barclay New York hotel during the United Nations General Assembly, Wednesday, Sept. 25, 2019, in New York. (AP Photo/Evan Vucci)