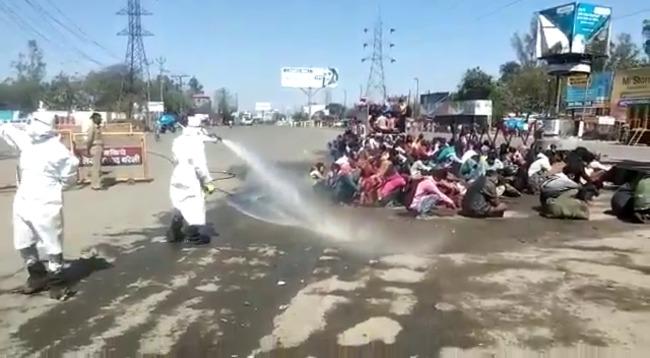 Thousands of migrant workers in India have been sprayed with a bleach disinfectant after they returned home during the country's coronavirus lockdown.
Video captured by a reporter in the northern city of Bareilly shows migrants forced to sit on the ground after they arrived, as three people in protective gear doused them with the spray.
The disinfectant is usually used to sanitize buses.
The migrants in Bareilly, which is a city in the northern state of Uttar Pradesh, were told by officials when they arrived that they would be put on a bus and given food.
"We sprayed them here as part of the disinfection drive, we don't want them to be carriers for the virus and it could be hanging on their clothes, now all borders have been sealed so this won't happen again," Gautam said.
Gautam's actions were strongly condemned by Lav Agarwal, senior official at the Ministry of Health and Family Welfare.
Agarwal said that local officials involved in the incident were "reprimanded," adding that spraying migrant workers was not a "required" policy in the country. Uttar Pradesh's Chief Minister Yogi Adityanath called the spraying of migrants "rude and indecent" and called for those responsible to be punished.