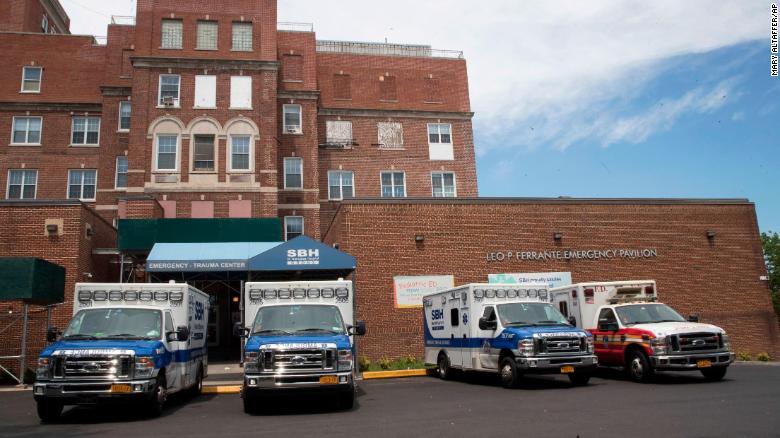 CNN Picture: Mistaken Identity at Barnabas Hospital
CHAPTER 3
"He Came Out Too Soon"
LATANYA WAS still frozen behind the wheel of her car when family members found her on the highway outside of San Antonio.


"She just couldn't move," Leah, one of her daughters, said.
Leah and other family members, in shock themselves at the news of Raheme's death, eventually got LaTanya back home and then onto a plane to New York the next day. After landing at LaGuardia Airport, LaTanya made her way to the medical examiner's office in Queens. She was seated in an office, and a photograph of the body that had come from St. Barnabas was called up on a computer screen.


LaTanya had turned her back to the computer at first but then spun around to look.
"My husband," she said. "No mistake."


There was another shock to come.


The medical examiner's office had made a second discovery in examining the body. While Perry had been brought to St. Barnabas after a likely drug overdose, that is not what killed him. Under cause of death, the medical examiner listed "blunt impact of head."


"Fell and struck head while being chased by group of people," the initial death certificate said.
The case was a homicide.
For LaTanya, it was one more jarring development in a deepening nightmare.
Over the next year, LaTanya struggled to piece together what happened to her husband — in the streets of the Bronx, as well as at the hospital where he was taken. And how, exactly, he had come to have another man's identification.


She pulled together police and hospital records, talked with detectives, compared notes with reporters, even hit the streets trying to find people who might have been witness to what went down at East 174th Street and Bryant Avenue just before midnight on July 13, 2018.


The facts and timeline she assembled look like this:
On the night of July 13, police records show that an officer and a supervising sergeant, upon arriving at East 174th Street and Bryant Avenue, had found what they estimated to be a 40-year-old man unresponsive on the pavement. They administered a nasal spray meant to reverse the effects of a drug overdose to the unconscious man and performed CPR.
"Got a pulse," the records say.
A New York Fire Department ambulance soon arrived. The EMS personnel's notes offer greater detail. They show that bystanders had said the unconscious man "was running when he twisted his ankle, tripped/fell and stopped moving."
The notes list bruising to the side of the face and bleeding from the back of the head. The Fire Department records also confirm that the unconscious male was carrying a legitimate ID: a state-issued non-driver's license. It had the name Frederick Williams and a number: 00685520.
The man carrying Williams' ID was then taken to St. Barnabas.
The hospital records obtained by LaTanya, reflecting daily updates on the patient's status over the next two weeks, contain a mix of information about the unconscious man thought to be Williams, some of it conflicting. One record has an entry called "Problem list."
"Admitted under the impression cardiac arrest related to drug overdose," is one problem. There are others: "traumatic injury"; "acute kidney injury"; "sudden collapse while running."


The records show cocaine and tranquilizers were found in the patient's system, but another note says that he'd been using cocaine and heroin, and that he'd suffered "respiratory failure due to opioid overdose." The records include an entry noting "no traumatic injury," only to later list abrasions to the "right eyebrow, right upper cheek, right shoulder and both wrists," and "trauma to the head."
"Per EMS and bystander, patient was running and fell — cracked his neck," reads one entry.
"Witnessed to run into pole, fall over, pass out," reads another.


In an interview, Glenmoore Reid, a superintendent at an apartment building near the Bronx intersection, said Perry had indeed fallen, but he had done so while being chased by three men. Something had happened between the men down the block, Reid said, and Perry had taken flight. He briefly hid out in a building, but emerged only to be chased again.
"He came out too soon," Reid said.


Then, Reid said, Perry's leg had buckled. He'd fallen and maybe hit his head. The men, thinking he was faking, shook Perry, but then took off. Reid said a security camera on his building had captured the encounter, and he'd given it to the police.


The New York Police Department would not discuss what it describes as an open homicide investigation involving the death of Perry. It would not say when it began, who has been spoken to, what evidence might exist. Brian Hernandez, a detective on the case, would not comment when approached at the 42nd Precinct in the Bronx.


LaTanya said she had spoken to the detective in recent months and came away thinking any arrests were a long shot. She said Hernandez told her that the police had reviewed the videotape of Perry and the men chasing him, but that it does not capture anyone actually laying their hands on her husband.
She said the police told her they believed that Perry had stolen papers belonging to Williams, and that they had recovered mail belonging to Williams in Perry's possession. But they offered no clues about where, how or why the papers had been stolen.


LaTanya said she had walked the streets of the Bronx in the weeks after Raheme's death, and found witnesses who described Raheme being chased and then thrown to the ground — body-slammed, she said. He staggered to his feet, but collapsed. She does not know if the police have spoken with those people.


Among the many things LaTanya is haunted by is this:


A detective at the 42nd Precinct told her he had gone to St. Barnabas shortly after the man on the street had been taken there. He was supposed to check up on the patient, and maybe get more information about the incident. The detective was told the man was in no shape to talk and was turned away.

The officer told LaTanya he knew Raheme. He'd arrested him before. He might have recognized him, he told LaTanya, if he'd been allowed to see him.