The LGBT community in Ukraine is often under attack but one volunteer soldier has gone public about his sexuality.
Viktor Pylypenko, 31, decided to come out after hearing how the LGBT community was being talked about.
The BBC's Zhanna Bezpiatchuk went to meet him.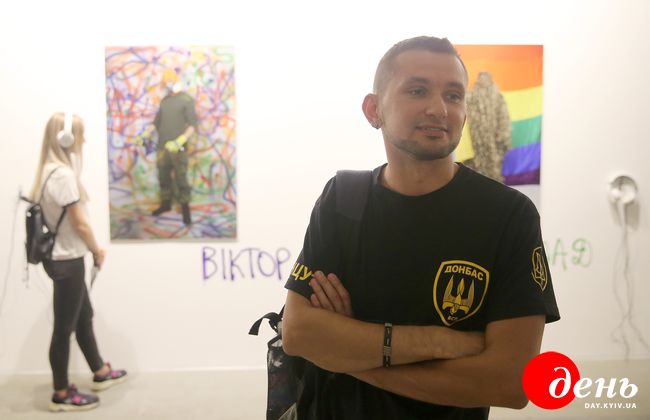 VIKTOR PYLYPENKO, WHO SERVED IN THE DONBAS BATTALION UNDER THE NOM DE GUERRE "FRENCHMAN," IS A LITTLE TIRED OF COMMENTING TO JOURNALISTS. HE IS THE ONLY PROJECT PARTICIPANT WHO DARED TO COME OUT. HE CONFESSES THAT IT IS EASIER TO LIVE NOW THAT HE DOES NOT HAVE TO HIDE / Photo by Mykola TYMCHENKO, The Day
The man confesses that it is easier for him to live after he came out. Viktor is pleased that he does not need to hide. "In reality, comings-out should be done almost daily, for far from everybody reads the internet, where all this is published," Pylypenko adds. "Someone may be telling a joke about gays, and I have to do a coming-out in front of these people to make them aware of being wrong, so to speak."
Viktor was in fact a rifleman in the "Donbas," but he had to perform various functions. "We were short of personnel. When all kinds of far rightists chased gays and lesbians in Kyiv, we lacked soldiers," he says. "I had to use a heavy antitank grenade launcher, and this robbed me of normal hearing – I hear badly now. I also did a combat medic course and used to give first aid on the battlefield. My comrades and I would carry off the wounded under gunfire. My platoon was also an assault unit, and we mopped up such places as Shyrokine."
"COMING OUT OF ISOLATION"
The exhibit "We Were Here" was put on as part of the project "Coming out of Isolation: through Art to Visibility." It is a long-term interdisciplinary project of the Isolation foundation and NGO Kyiv Pride. Its aim is to spotlight the problem of discrimination on the basis of sexual orientation and gender identity in Ukraine through the prism of art.
In addition to Shebetko, the project involves Tetiana Kornieieva and Oleksii Salmanov. They studied the theme in March at the residency under the general guidance of the Polish artist Karol Radziszewski and tutors from Ukraine and the UK. Following this, the artists began to work on their own projects.
Besides, Kornieieva performed "Come In/Out" at the Kyiv Pride opening ceremony in June and then prepared, together with the online publication The Village Ukraine, a special project, "Alphabet of Equality," in which LGBT people tell about themselves. Salmanov is going to present his project in the fall.
Isolation foundation curator Kateryna FILIUK says: "Handling the LGBT topic, I understood a banal thing which many people pass over. Whenever we say that what is going on in the bedroom is 'their' own business, we often forget that heterosexual couples can formalize their relationship, get married, acquire property, and legally divide, sell, or inherit the latter. They have children. All these moments present difficulties for the LGBT community who are in fact deprived of these basic rights. This is why openness is important – in order not to flash your identity around but to have the same rights as other citizens have."
The exhibit "We Were Here" will remain open until October 7. There will be debates and film showings – you can follow announcements on IZONE's Facebook page
https://www
. facebook.com/izone.ua.