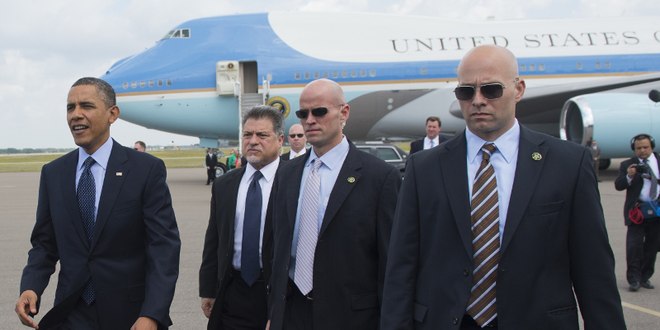 Public concern about the Secret Service is increasing as the number of lapses mount
Fewer than half of Americans remain very confident that the Secret Service can protect the President. The latest Economist/YouGov Poll suggests that confidence has dropped dramatically since the beginning of the Obama Administration – after a series of scandals, including several breaches of White House security, and questions about the proper protection of former Presidents.
The series of security lapses that has taken a toll includes bullets shot at the White House in 2011 and not discovered until days later, and a man jumping the White House fence last September. The recent gyro flight into what was supposed to be a secure airspace, the discovery that an alarm system at former President George H. W. Bush's house had not been working for more than a year, plus active Secret Service agents' involvement with prostitutes in Colombia during a Presidential trip in 2012 also haven't helped. A majority of the public has similar concerns that the agency can protect

former

Presidents.
Doubts about the Secret Service are bi-partisan. Republicans and Democrats express similar positions. Africans-Americans are the most worried: just one third say they are very confident the Secret Service can protect this President from harm.
As time goes on and the security issues have piled up, the public has become more likely to see them as part of a broader problem with the agency. Even as recently as last fall, the Pew Research Center found that Americans were just as likely to see the cases as isolated instances when security was compromised. In this week's poll, twice as many think of them as part of a broader problem with the Secret Service.
Once again, there is bipartisan agreement. Both Democrats and Republicans don't believe the instances are isolated ones.
The hiring of Colombian prostitutes by Secret Service agents and the breach of the White House fence by a man carrying a knife appear to be the two most notable incidents, with 71% and 78% respectively remembering hearing about them. Fewer (38%) are now aware of what happened in 2011, when bullets shot at the White House were not found for days. Even fewer (28%) had heard about the recently-reported incident involving former President Bush's security system.
There is still at least a fair amount of confidence that the Secret Service can turn things around. Most have at least that much confidence the agency can improve the job it does of providing security to Presidents. Democrats and Republicans generally agree.
However, the agency has a way to go. In this week's poll, just over a third give the Secret Service an excellent or good rating when it comes to how it does its job. Nearly two in three say it does at best a fair job, with nearly a quarter describing its performance as poor.