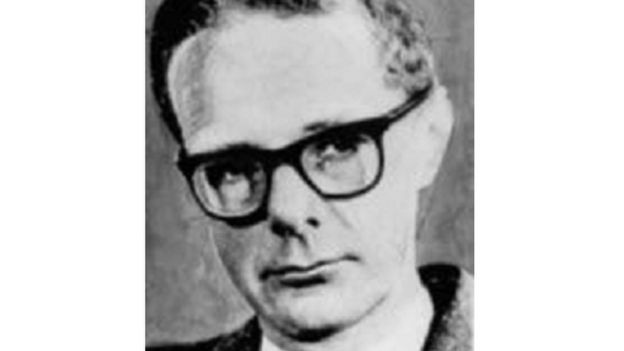 We saw how the killing of Milk in California had an impact in that state but also the country. The same for Martin L.King and the Kennedy's. These people were killed because they were out front with their beliefs and were honest about how they wanted change. Before them, no one had said the same things in public which caused some people's intelligence to be blinded by their hatred. If intelligence was playing its role instead of hate towards gays and blacks they would have realized that what they were trying to quiet was now getting a megaphone everywhere. Killers of ideas are either just plain ignorant or so blinded by hate they can't see ahead of their killings what is going to do to what these victims/heroes were saying.
Nothing like the spotlight to bring out the dirt and corruption on those paid to destroy corruption and enforce fairness towards all. Some people, particularly in institutions with lots of power, get the idea their jobs is to prosecute, not to find the defective link and bring it to the justice through the system of Courts, lawyers and prosecutors.
Just recently you had a cam showing cops in Los Angeles CA. putting drugs in a man's wallet to have an excuse to arrest him. What was going through their minds? Who is ultimately responsible? We are because we elect the politicians that give the police their guns and shields and more important their training. Many times training is rushed through because they want to fill vacancies quick other times not enough importance is given how the police are supposed to enforce and never prosecute or punish an individual. We see that the worse the crime the better those perps get treated. Why? The spotlight is on them and is a pity that there is very little light to see what cops do on their shifts: For instance, in NYC the police is allowed to turn off their new given cams. Right from the start, a new program to safeguard the cop and the public is blinded by having a policy taken over by bad one. We put a band on it so it can't see. They confuse good public relations by seeing the cams but we don't know if they are working or not. This is something I could not do working in an office in midtown. I was on live video from the time I came into the time I left minus bathroom breaks. What was I guarding? Tests which is important but is not life-saving nor life taking nor reputation squasher.
Adam Gonzalez🦊
On Wednesday, Australia learned the result of a national vote that showed decisive support for legalizing same-sex marriage. The discussion over changing the law has been one of the most hotly debated issues in the nation's recent social and political history.
But the death of a university lecturer in Adelaide 45 years ago led to an even more fundamental change for Australia's gay community. Jamie Duncan reports.
In the foyer of the University of Adelaide's law faculty building, a photograph of a sober-looking man wearing dark-rimmed glasses stares out at posters backing a "yes" vote on Australia's same-sex marriage postal survey.
The scene is a symbol of evolving social debate in Australia.
The photograph below is part of a memorial to Dr. George Duncan, a gay law lecturer at the university who is 1972 was killed a stone's throw away at a riverbank in an attack suspected to have been committed by police officers.
The crime, still unpunished, revolted mainstream Australia and led the state of South Australia (SA) to become the first national jurisdiction to decriminalize homosexuality.
Tragic return
Dr. Duncan, born in London in 1930, moved to Melbourne with his parents at seven.
He studied classical philology at the University of Melbourne but did not complete the course because he contracted tuberculosis in 1950. Later, Dr. Duncan earned degrees in arts and law at St John's College, Cambridge, before completing a Ph.D. at the University of Bristol.
A practicing Anglican, he returned to Australia to lecture in law at the University of Adelaide, starting on 25 March 1972.
Less than two months later, Dr. Duncan was dead. He was 41.
In 1970s Adelaide, homosexuality was illegal and the southern bank of the River Torrens in the heart of the city was a well-known meeting spot for gay people.
The bank drops sharply below tree-lined Victoria Drive, the northern boundary of the University of Adelaide. It's out of sight from homes north of the river and riverside paths were deserted at night.
Around 23:00 on 10 May 1972, a gang of men confronted Dr. Duncan and another man, Roger James, on the southern bank, near a footbridge.
Both men were thrown into the water but Dr. Duncan could not swim and drowned.
Mr. James suffered a broken ankle in the attack. He crawled up to Victoria Drive. A passing motorist took him to hospital. He later refused to identify the attackers.
Shortly after police retrieved Dr. Duncan's body, a TV news crew arrived. Incredibly, police placed the body back in the river and dragged it out again for the camera.
In the days following his death, rumors began circulating that members of the police vice squad were responsible, but witnesses feared for their lives.
South Australian Premier Don Dunstan offered protection for anyone who came forward. No-one did.
Case gathers profile
A coroner's inquest began on 7 June 1972, at which two members of the vice squad refused to answer questions. They and a third detective were suspended and later resigned.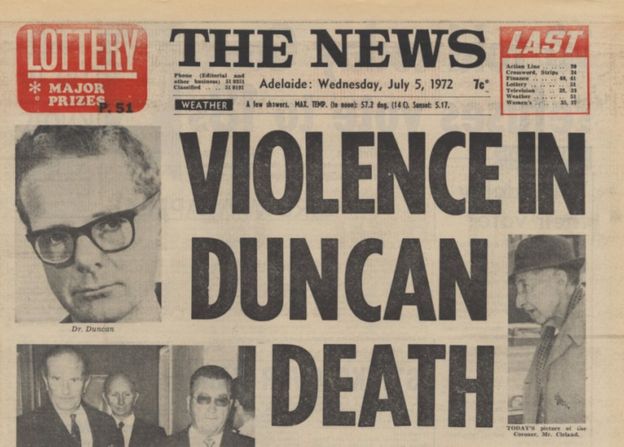 A 1972 newspaper front page. No-one pictured was suspected in

Dr
. Duncan's death
By then, the case, the possibility of police involvement and a broader discussion about attitudes to homosexuality were making headlines around Australia.
Amid the charged political atmosphere, Mr. Dunstan authorized police to call in detectives from New Scotland Yard.
Meanwhile, Murray Hill, a lawmaker, tabled a bill in the state's ultra-conservative Legislative Council to decriminalize homosexual activity between consenting adult men.
It was drafted by two junior solicitors - his son, Robert, and colleague John Cummins.
Robert Hill, later an Australian government minister, said the bill was his father's reaction to a discriminatory law that by 1972 lagged well behind community values.
"I guess it surprised some people because in many ways [Murray Hill] was a quite conservative chap, but he was progressive in others, particularly in anti-discrimination," Robert Hill told the BBC.
The bill passed, but further amendments later in 1972 destroyed its intent.
Mr. Hill said the public reaction to Dr. Duncan's death was strong.
"It started a debate about how the police were behaving in relation to homosexuals around the Torrens," Mr. Hill said, adding that suspicion of police involvement increased over time.
"And it added some momentum to the debate about decriminalization. It had started before at a fairly low tempo, but when the public became aware of what happened disbelief turned to anger and general community anger pushed the debate along."
Community disquiet spread around Australia as gay rights rallies in the big cities pushed for reform.
The inquest found that Dr. Duncan died from violence inflicted by unknown persons. A subsequent police investigation also failed to identify suspects.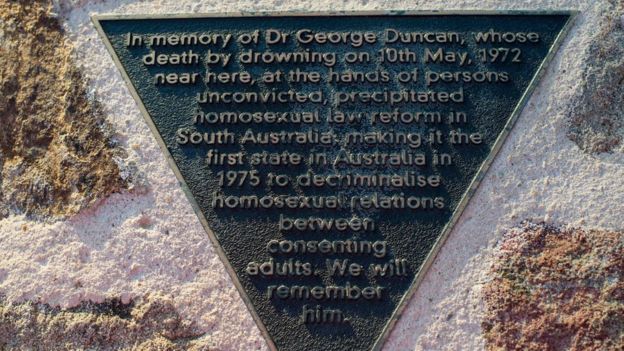 A memorial plaque erected near the river to mark the 30th anniversary o

f

Dr

.

Duncan's death
The case revealed the previously little-known practice among a few police officers of terrorizing gay men by the Torrens. Mr. Hill said the brutality made the general public uncomfortable.
In October 1972, the British detectives called into the case delivered their final report, which was never released, and the SA Crown Solicitor decreed no charges would result, further fuelling the case for change and turning Dr. Duncan into a symbol for gay rights advocates.
A second decriminalization bill introduced by another lawmaker, Peter Duncan, was defeated twice, but the same bill passed in 1975.
It was far from the end of the matter.
'Cover-up'
In July 1985, a former vice squad member, Mick O'Shea, told an Adelaide newspaper that there had been a cover-up to protect three other squad members who he said killed Dr Duncan.
In February 1986, the three were charged with his manslaughter. Only two faced trial, and in September 1988 both were acquitted. A police taskforce on the case was disbanded in 1990 with no prospect of identifying other suspects.
Decriminalisation of male homosexuality had passed in all states and territories bar one by 1990. Tasmania clung to its anti-homosexual laws until May 1997 - passed only when gay activists threatened a court challenge to the laws.
Long-time gay rights activist and same-sex marriage campaigner Rodney Croome were at the heart of the fight in Tasmania.
He said Dr. Duncan is an inspiration for gay rights.
"For people like me who became part of the movement for decriminalization a generation after that, it was a pivotal moment in that historical narrative that we all became a part of," Mr. Croome told the BBC.
"It was often cited by people from that earlier generation - not just people from Adelaide, but people from all over Australia - as a turning point, a key moment that revealed the depth of our oppression and the need for our emancipation." Mr
Croome said he sees parallels between broad support for
decriminalizing
homosexuality following
Dr
. Duncan's death and the same-sex marriage debate in Australia today.
But he believes the political debate is vastly different, believing that there is an "element that sees empathy as weakness and refuses to empathize with LGBTI people, instead wanting to portray us as aggressors, and a threat to democracy and civilization."
Opponents of same-sex marriage in Australia's debate have consistently argued that they are protecting traditional values and religious freedoms. Anti-reform lobby groups have said changing the law could have negative consequences for children.
Mr. Hill said today's same-sex marriage debate is also a fight for equality, but the 1970s debate was colored by Dr. Duncan's horrific death and the fact that harmless acts between consenting men were considered criminal.
"You can argue that same-sex marriage is a further progressive reform, but I think it was a fundamentally different sort of debate, and I think the horrific story of what happened to Dr. Duncan played a key part in contributing to almost a demand that the law change," he said.
SA Police still offers an A$200,000 (£120,000; $150,000) reward for information leading to a conviction in the case.
Author Jamie Duncan and Dr. George Duncan are not related.