President Trump deputized lawyer Rudy Giuliani to run a shadow foreign policy for Ukraine outside the State Department, witnesses told Congress this past week — and the White House said people should "get over it."
It has been a busy week. Here's what you need to know about the latest in the Ukraine affair and the impeachment investigation.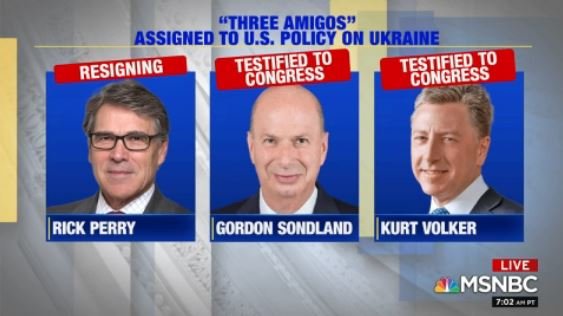 These dudes ran the show under Mayor Giuliani in the Ukraine and Trump as
Chief in Law-Breaking and Bandolero ( Tres Amigos + dos bandoleros)
Mister mayor and Bandolero in Ukraine
Giuliani has been an important figure in Trump world for years, but what investigators heard was how central he was in the plan to get Ukraine's government to launch investigations that Trump wanted.
Trump wanted Ukraine's new government, led by President Volodymyr Zelenskiy, to investigate a conspiracy theory of Trump's about the 2016 cyberattacks on the Democratic National Committee and the family of former Vice President Joe Biden, ostensibly over "corruption."
In exchange, it appears, Trump was prepared to engage with Zelenskiy and continue the flow of military assistance, appropriated by Congress, that had been flowing to Kyiv since it was invaded by Russia in 2014.
Although Trump may not have told many officials about that plan in real time, Trump did ask early on for many of them to work with Giuliani in their dealings with Europe and with Ukraine, the witnesses said.