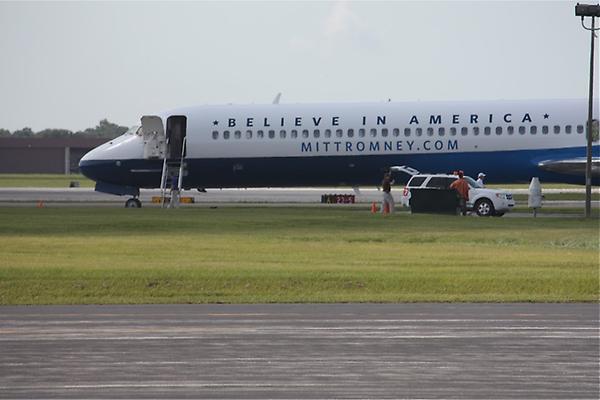 LAKELAND, Florida — A day after being crowned the Republican contender for the White House, Mitt Romney on Friday finally unwrapped a gleaming new campaign plane.
The white and blue passenger jet is painted with the slogan "Believe in America" and bears Romney's website address on the fuselage and his distinctive red, white and blue "R" logo on the tail.
Romney's running mate Paul Ryan has a similar plane, and both were prominently placed on the tarmac as the backdrop at a Republican convention send-off rally at the airport in Lakeland, Florida.
Romney has been flying for months on nondescript charter planes, and the quality of the interiors has varied from plush to paltry.
The new wings present a more unified, official campaign image for Romney's travel as he launches his 10-week whirl to the November 6 election.
With Romney officially his party's nominee, he can now spend money that has been raised for the general election campaign.
His team has reported having some $186 million in the bank, significantly more than President Barack Obama, whose campaign earlier this month reported $124 million.
Love And Pride Sale! Up to 70% OFF on Selected Products Buy Now!
Special offers and sales for all products! Up to 70% off, Free Shipping! Buy Now!||||