Just over half the public think the U.S. gives too much away in foreign aid, and Democrats and Republicans disagree over who should receive aid
In absolute terms the United States has the world's largest development aid budget of
over $31 billion in 2013
. Relative to the size of America's economy, however, the United States is actually one of the least generous wealthy countries, with an aid budget almost three-quarters smaller than the UK's. Like most wealthy countries the United States aspires to give 0.7% of national income in aid each year, a goal that will come closer as John Kerry seeks to win
congressional approval for a $50 billion
foreign aid budget.
Research from YouGov indicates, however, that Americans either aren't aware or aren't convinced that, relatively speaking, America's foreign aid contribution is smaller than in many other countries. Most Americans (52%) say that the U.S. gives more in foreign aid than other countries relative to the size of the American economy, while only 11% say that the U.S. gives less. Almost exactly the same percentage (51%) believe that the U.S. gives too much in foreign aid, while only 9% think that the U.S. should give more to developing countries.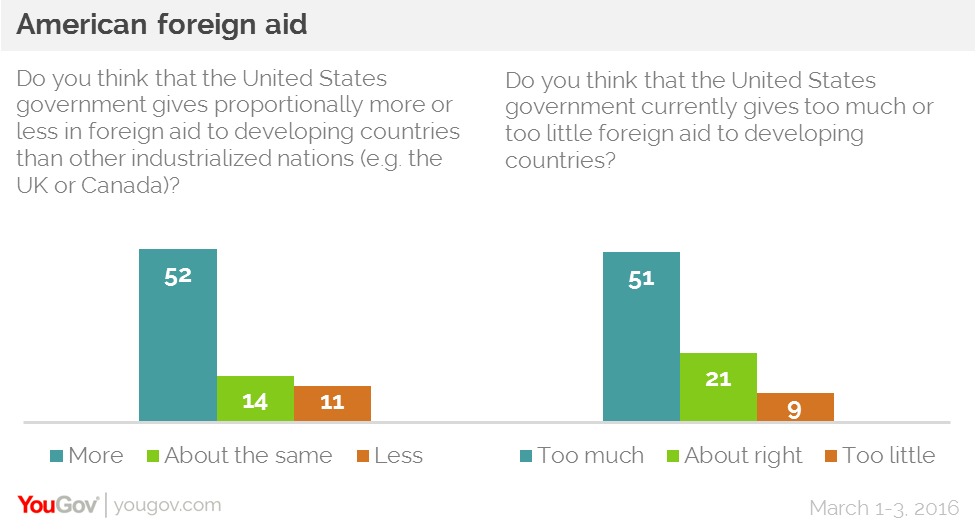 Republicans (68%) are more likely than other to think the U.S. gives to much in aid, but even Democrats (42%) tend to agree that Uncle Sam is too generous internationally.
Democrats and Republicans do differ quite significantly, however, on what the focus of American foreign aid should be. Half of Democrats (49%) say that foreign aid should be focused on the world's poorest countries, while most Republicans (59%) believe that American aid should be used to reward countries which support American foreign policy.
Peter Moore