March 19, 2017
William Gedney's photographs of India capture the public intimacy between men in the city of Benares, or Varanasi.
January 19, 2017
Prince Manvendra Singh Gohil, India's first openly gay royal and AIDS activist, speaks during an interview in New Delhi. A member of a royal warrior clan and heir apparent to the throne of Rajpipla in Gujarat, Gohil uses his fame and status to educate the gay community about safe sex and their rights in a country where gay sex is a criminal offense. (Originally AFP)
"People say homosexuality is a part of western culture. It is absolutely wrong," Gohil told AFP in an interview, citing the Kamasutra and the homoerotic sculptures that feature in ancient temples across the country.
"It is the hypocrisy in our society which is refusing to accept this truth. And this motivated me to come out openly and tell the world 'I am gay, so what? And I am proud of it'."
Gohil has been part of a campaign against the colonial-era law that bans homosexual acts in India, which he says has contributed to the spread of HIV/AIDS.
His charity, Lakshya Foundation, works with homosexual men and the transgender community to promote safer sexual practices, though they face constant obstruction from police.
"People are having sex under fear and unsafe sex practices are going on," he said.
"When we started work among the MSM (men having sex with men), we were harassed and threatened by police.
"We would keep condom packets in public toilets, and even hang them on trees in public parks because we did not want to stop them from having sex in toilets or behind the bushes. We just wanted them to have safe sex."
Gohil says some of his NGO's workers "were arrested and taken to the police station where the cops themselves had forced sex with them without condoms." (AFP)
'Spreading homosexuality'
Gay sex was effectively decriminalised in 2009 when the Delhi high court ruled that prohibiting it was a violation of a person's fundamental rights.
But in 2013 the Supreme Court ruled that the responsibility for changing the 1861 law rested with lawmakers and not judges.
Prosecutions are rare, but gay people say they face significant discrimination as well as harassment from the police.
Gohil said even a government contract to distribute condoms did not protect his workers from police harassment.
"They said we were spreading homosexuality," he recalled.
"Some of our workers were arrested and taken to the police station where the cops themselves had forced sex with them without condoms."
India has the third highest number of HIV/AIDS cases in the world according to the United Nations, with about 2.1 million people in 2015, although the rate of infection is falling.
In another positive sign, two bills designed to end discrimination against transgender people and individuals infected with HIV are currently going through the Indian parliament.
Working with people in the transgender community is a priority for the government in its national AIDS response plan, but social isolation means the community is still at particularly high risk of HIV transmission.
The bill seeks to prohibit discrimination in any form and specifically bans denying them access to public places, on pain of up to two years' imprisonment and a fine.
But campaigners have objected to a clause which would force people to undergo tests to determine their gender identity.
They say this is against the spirit of a 2014 Supreme Court judgement that allowed anyone to "self identify" which gender they are.
"When the social empowerment ministry itself is not clear who a transgender is how will they address their issues?" said Gohil.
"It is a challenging situation. I don't blame any political party. It's not the party but the individuals who are either homophobic or gay friendly.
"It's our duty to educate them because they are ignorant."
June 12, 2015
Families in India are using "corrective rape" to convert their gay, lesbian and transgender sons and daughters, the director of the first Indian film on the issue said, urging society to confront the brutal, hidden practice.
Corrective rape, which is known to happen in Africa and the Caribbean though largely perpetrated by strangers or acquaintances, in India can involve families and is thus seldom reported.
Director Deepthi Tadanki said research for her film "Satyavati" - named after the lesbian protagonist who is raped by a family member - helped her understand why families were committing corrective rape in India.
"There is this very conservative society where people are very afraid to tell anyone that their son is gay or daughter is lesbian, and they think that they can change their orientation if they get them into contact with someone of the opposite sex," the 27-year-old director said in an interview on Thursday.
"They can't approach outside people to do it as they are worried about the family's name and reputation... so they get a family member to do it."
Tadanki said although it was difficult to find victims willing to speak about their ordeal, she came across two cases in the city of Bengaluru which were "horrific".
In one case, a young lesbian was raped by her cousin to make her "normal", and in another case, the family of a gay man tried to make him have sex with his mother.
Homosexuality was re-criminalised in India in 2013, after four years of being legal, in a Supreme Court decision that shocked rights groups. The United Nations called it a "significant step backwards for India".
The 155-year-old British colonial law states that "carnal intercourse against the order of nature with any man, woman or animal" - widely interpreted to refer to gay sex - is punishable by up to 10 years in jail.
Tadanki said cases of corrective rape were kept inside the home, and victims were afraid to speak out for fear of being arrested themselves.
"When something happens to you, you go to your family for support, but when your family is committing the abuse and the police might arrest you, where do you go?" she said by phone from the southern city of Hyderabad.
The film tells the story of Satyavati - which means "she who speaks the truth" - and how she falls in love with another woman, much to the horror of her parents.
It explores their concern over their reputation being ruined in their middle class neighbourhood, and follows the parents as they plot the rape that will "correct" her.
Tadanki hopes the 90-minute film will be ready for screening in September, but has struggled to find funders willing to finance a first-time director with a film on a taboo subject.
She and her friends have poured in their own money, but to complete the film they need an additional 1.6 million rupees ($25,000), which they are trying to raise through crowdfunding.
"I have received a lot of acknowledgement and appreciation for the film... but when it comes to actual support such as funding, there has been nothing," she said.
"It's important to complete this film - not just for India, but also for the world. This is happening in other countries also and people should know."
(Thomson Reuters Foundation) -
(Reporting by Nita Bhalla, editing by Alisa Tang. Please credit the Thomson Reuters Foundation, the charitable arm of Thomson Reuters, that covers humanitarian news, women's rights, trafficking, corruption and climate change. Visit www.trust.org)
May 20, 2015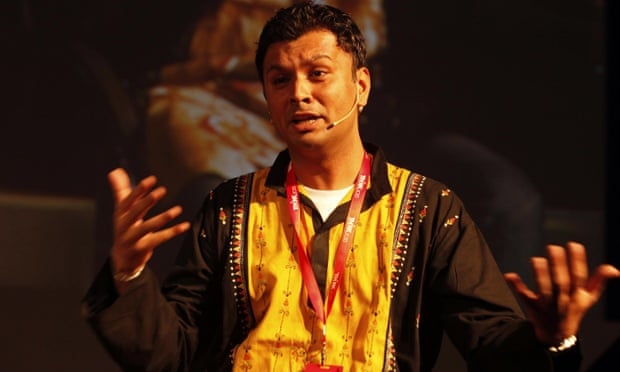 In all but one word, the advertisement was like thousands of others published in the still hugely popular matrimonial section of newspapers across India every week.
"Seeking 25-40, Well Placed, Animal-Loving, Vegetarian Groom for my son (36, 5'11'') who works with an NGO," it read.
Printed in a tabloid newspaper on Tuesday, it was the first advertisement for a partner in a same-sex marriage in India, where homosexuality is illegal.
The son in question was Harish Iyer, a prominent Indian activist, and it was placed, as is

"I'm proud of her. It was her idea. My mum was like: 'You don't have a boyfriend, you're not so young.' She was concerned for her ageing son like any Indian mum would be, irrespective of whether he is homosexual or heterosexual," Iyer, 36, said.
Homosexuality was in effect re-criminalised in India in 2013 in a decision by the supreme court that stunned campaigners and led to international criticism.
Gay rights activists say gay people face significant discrimination and police harassment, even if prosecutions for same-sex activity have been rare.
Iyer said three major newspapers refused to carry the advertisement, on the grounds that it was illegal.
Sachin Kalbag, executive editor of the Mumbai daily Mid-Day, said there had never been any question of not publishing it.
"Normally if there is a problem with an ad, then the department will come to me. It raised no eyebrows at all. We are pro-equal rights and have been running vociferous campaigns against discrimination on the grounds of sexual orientation," Kalbag said.
Gay activists say that though much prejudice remains in India, there is increasing support for their cause. Only about a dozen people attended India's first gay pride march, in the eastern city of Kolkata in 1999. Now thousands gather there each year and similar events are held in Delhi, Mumbai and other major cities. Gay film festivals and university campus groups have also sprung up.
Homosexual marriages, however, remain a distant prospect.
"Historically, Indians have always had marriages arranged by parents or relatives as the preferred way of getting hitched. There has been an outpouring of support for the gay community but there remains a huge conservative community too, which is a majority and is unwilling to accept gays," Kalbag said.
Few had expected the 2013 legal challenge launched by conservatives – including Muslim and Christian religious associations, a rightwing politician and a retired bureaucrat turned astrologist – to succeed.
It read: "Caste no bar (though Iyer preferred)". "It's more like fixing a date. I'll make my own choice. There's no issue for me, as long as he is vegetarian and loves animals," Iyer said.
It is with great sadness that we published these pictures to remind every one of two things. First that the british wer...

Words from the publisher: Before you start reading this posting let me warn you that NOT ALL the information  here has   been verified. Th...

 If Trump's Grand daddy would have been denied entrance here (we were in between wars with     Germany)Trump would not be here...