June 1, 2016
Usually a story of a Christian singer coming out would not make the pages of this blog but on this occasion you have someone who had a strong following for many years. But that alone was not it. What swayed the decision was this was an important article with something to say besides a gay person finding out that they are gay which happens everyday in this country. It was reading the comments to the letter from Trey announcing to his followers that he published. I expected the usual tearing down that we hear from these people and the politicians they elect. l thought I would read about all he need is more prayer or to be baptized again or to wait for Jesus to talk to you and show you the way(in spanish it means and which Ive heard many times "Espera que Dios te hable") Which actually means never. Just wait as you are and wait for god to talk…that's what many kids go through and are told by their religious parents if they don't try to change them first, wait. Many spent their lives waiting to be change and it never happens and they end up living someone else's wish of how their lives should be. Talk about a life wasted.
What I read was an array of educated, compassionate comments. One said 'his coming out means is not a matter of choice because he chose to be straight and couldn't (that was my case), he prayed to god and was not changed, so it's not a matter of prayer and god and waiting. Because he is a family man he and gays are not anti family.'
I thought that maybe this is an indication that things are changing for real in the Christian and Evangelical quarters. I keep reading about it but I have not seen any indications until now.
_*_
"I don't mean to cry. It's just been such a long time coming."
Trey Pearso
n, 35, was overcome with emotion halfway into our first interview, and it is easy to understand why. For the past 15 years, he's been the lead singer of the popular Christian rock band "Everyday Sunday." But he decided to put his career on the line this week and admit to his faithful fans that he is gay.
"I finally decided to come out because I couldn't keep trying to be something that I wasn't," he tells me.
Pearson's announcement is no small story. Since 2001, "Everyday Sunday" has sold around a quarter of a million albums. His song "Wake Up! Wake Up!" was the most played Christian rock song of 2007, and his 2009 album, "Best Night of Our Lives," broke onto the coveted Billboard 200 chart. Pearson has toured in all 50 states and 20 countries, playing with top Christian musicians such as Toby Mac, Switchfoot, MercyMe, Jeremy Camp and others.
(614) Magazine, an entertainment and culture magazine in Columbus, Ohio, will tell Pearson's story in a 12-page cover story for their upcoming June 2016 issue. His narrative will ring familiar to many who grew up in a religious community. Pearson raised in a conservative Christian home where he was taught that sexual orientation was a matter of choice. Though he knew from an early age that he was attracted to other males, he attempted to suppress his feelings and "be straight."
"I never wanted to be gay," he tells (614). "I was scared of what God would think and what all of these people I loved would think about me; so it was never an option for me."
Nearly eight years ago, Pearson married a woman in hopes of achieving the kind of straight dream-life his community would support. Though he and his wife had two children, his hopes never materialized and Pearson realized he "was never going to be who my wife needed me to be."
"I was not making it an option to be gay so I could be loyal to her and my children," he told me. "But then I realized the only way I was ever going to be my best for them was to be healthy myself."
As Pearson started accepting his sexual orientation, he sought guidance from other Christian leaders. The first person he told was pastor Jonathan Martin, author of "How to Survive a Shipwreck," who helped him connect with a counselor. His mentor and friend Rob Bell, former pastor and author of "How to Be Here," also helped him process.
While Pearson says he will no longer live a lie, he is not abandoning his faith. The rocker says he still prays regularly and reads the Bible. He even once memorized the entire epistle of James. His study of the Scriptures, he says, has led him to believe that the handful of Bible verses that directly address homosexuality do not prohibit the kind of loving, committed gay relationships known to the modern world.
"There is absolutely no conflict with accepting who I am and following Jesus," he said. "God wants me to be healthy, authentic, whole, integrated and my truest self."
Pearson's shift places him in the center of a growing movement of popular Christian musicians who are coming out as gay and are advocating for a more open and accepting posture in the church. Ray Boltz, whose songs were staples in evangelical churches throughout the 1990s, came out as gay in 2004. Grammy-nominated Anthony Williams became the first openly-gay gospel artist in 2009. Jennifer Knapp, another Grammy-nominated Christian artist admitted she was a lesbian one year later. And in 2014, popular worship music artist Vicky Beeching told The Independent that she too was a lesbian.
These musicians paid a hefty price. Since Christian music fans tend to be conservative and believe that homosexual acts are sinful, you won't hear their music played in most churches or on Christian radio these days.
Pearson accepts that his announcement could mark the end of his music career too, but he hopes it will signal a fresh start instead. He plans to continue making music and will release a new single later this year. He will perform at Wild Goose, the Christian festival in July, and hopes to become a voice within the burgeoning "gay Christian" movement.
"I definitely know how hard it was on my journey to be able to accept myself, and how other people's voices and stories helped me. So I absolutely want to be a voice for other people," Pearson says. "I know there are more and more Christians that realize how important this is, and I hope I can join with them in seeing this change."
Pearson's journey begins today with a single step and the following letter written to those who've supported his music over the years.
To my fans and friends:
Religion News Service
Most of us reach at least one pivotal moment in our lives that better defines who we are.
These last several months have been the hardest–but have also ended up being the most freeing months—of my life.
To make an extremely long story short, I have come to be able to admit to myself, and to my family, that I am gay.
I grew up in a very conservative Christian home where I was taught that my sexual orientation was a matter of choice, and had put all my faith into that. I had never before admitted to myself that I was gay, let alone to anyone else. I never wanted to be gay. I was scared of what God would think and what all of these people I loved would think about me; so it never was an option for me. I have been suppressing these attractions and feelings since adolescence. I've tried my whole life to be straight. I married a girl, and I even have two beautiful little kids. My daughter, Liv, is six and my son, Beckham, is two.
I had always romanticized the idea of falling in love with a woman; and having a family had always been my dream. In many ways, that dream has come true. But I have also come to realize a lot of time has passed in my life pushing away, blocking out and not dealing with real feelings going on inside of me. I have tried not to be gay for more than 20 years of my life. I found so much comfort as a teen in 1 Samuel 18-20 and the intimacy of Jonathan and David. I thought and hoped that such male intimacy could fulfill that void I felt in my desire for male companionship. I always thought if I could find these intimate friendships, then that would be enough.
Then I thought everything would come naturally on my wedding night. I honestly had never even made out with a girl before I got married. Of course, it felt anything but natural for me. Trying not to be gay, has only led to a desire for intimacy in friendships which pushed friends away, and it has resulted in a marriage where I couldn't love or satisfy my wife in a way that she needed. Still, I tried to convince myself that this was what God wanted and that this would work. I thought all of those other feelings would stay away if I could just do this right.
When Lauren and I got married, I committed to loving her to the best of my ability, and I had the full intention of spending the rest of my life with her. Despite our best efforts, however, I have come to accept that there is nothing that is going to change who I am.
I have intensely mixed feelings about the changes that have resulted in my life. While I regret the way I was taught to handle this growing up, how much it has hurt me and the unintentional pain I have brought Lauren, I wouldn't have the friendship I now have with her, and we wouldn't have our two amazing, beautiful children. But if I keep trying to push this down it will end up hurting her even more.
I am never going to be able to change how I am, and no matter how healthy our relationship becomes, it's never going to change what I know deep down: that I am gay. Lauren has been the most supportive, understanding, loving and gracious person I could ever ask for, as I have come to face this. And now I am trying to figure out how to co-parent while being her friend, and how to raise our children.
I have progressed so much in my faith over these last several years. I think I needed to be able to affirm other gay people before I could ever accept it for myself. Likewise, I couldn't expect others to accept me how I am until I could come to terms with it first.
I know I have a long way to go. But if this honesty with myself about who I am, and who I was made by God to be, doesn't constitute as the peace that passes all understanding, then I don't know what does. It is like this weight I have been carrying my whole life has been lifted from me, and I have never felt such freedom.
In sharing this publicly I'm taking another step into health and wholeness by accepting myself, and every part of me. It's not only an idea for me that I'm gay; It's my life. This is me being authentic and real with myself and other people. This is a part of who I am.
I hope people will hear my heart, and that I will still be loved. I'm still the same guy, with the same heart, who wants to love God and love people with everything I have. This is a part of me I have come to be able to accept, and now it is a part of me that you know as well. I trust God to help love do the rest.
– Trey
Jonathan Merritt is senior columnist for Religion News Service and a contributing writer for The Atlantic. He has published more than 2500 articles in outlets like USA Today, The Week, Buzzfeed and National Journal. Jonathan is author of "Jesus is Better Than You Imagined" and "A Faith of Our Own: Following Jesus Beyond the Culture Wars." He resides in Brooklyn, NY.
April 21, 2016
The announcement Thursday afternoon came a few hours after authorities in Carver County, Minnesota, responded to Prince's Paisley Park estate in the town of Chanhassen.
The 57-year-old Grammy-winning artist's death also came a week after his tour plane made an emergency landing in Illinois, where he was hospitalized with what was described as the flu. That illness followed him canceling a pair of concerts in Atlanta.
Prince channeled the dance moves of James Brown, the guitar virtuosity of Jimi Hendrix and the theatricality of "Sgt. Peppers"-era Beatles.
But he was indisputably a singular figure in American music, mixing breakneck guitar solos, soaring falsettos, infectious melodies, provocative lyrics, acrobatic dance moves and outrageous costumes — which typically reflected his obsession with the color purple.
In the studio, he was a notorious perfectionist, playing almost all the instruments on his studio recordings. He nurtured generations of pop stars, including many who also came from Minnesota and his hometown of Minneapolis.
He toured the world many times over, but was also reclusive, puzzling fans with offbeat antics and offending traditionalists with his mix of religious and sexual themes.
The son of a jazz pianist, Prince was born Prince Rogers Nelson in June 1958, but changed names a number of times — including his head-scratching use of a glyph as the result of a dispute with his record company, which he used from 1993 to 2000. The symbol forced people to refer to him as "the artist formerly known as Prince."
He also toyed with people's conceptions of him, often appearing sexually androgynous to the people who did not know him.
He signed his first record contract as a teenager, and in 1978 released "For You," marking the start of a prodigious songwriting career in which he released 36 more albums over the following 37 years, ending with last year's "HITnRUN: Phase Two." Even then, the prolific pace could not keep up with his torrid speed; hundreds of recordings reportedly remain in his personal vaults.
January 28, 2016
"In our new

David Bowie

memorial issue, out January 29th, various artists pay tribute to the late singer, songwriter and pop innovator. In this exclusive recollection,

Bono

reflects on the way Bowie helped him find "doors into ... other worlds

."
I've played at being a rock & roll star, but I'm really not one. David Bowie is my idea of a rock star. Right now, I'm in Myanmar, a little cut off from the reaction to David's passing, but I can assure you the sky is a lot darker here without the Starman.
The first time I saw him perform was on Top of the Pops in 1972, singing "Starman." He was so vivid. So luminous. So fluorescent. We had one of the first color TVs on our street, and David Bowie was the reason to have a color TV. I've said he was our Elvis Presley. There are so many similarities: the masculine-feminine duality, the physical mastery of being on a stage. They created original silhouettes, shapes now seen as obvious, that did not exist before.
They both had that otherworldliness. With Bowie, you had this sneaking suspicion that if you hung around him, you might find some doors into those other worlds. In my teenage mind, "Life on Mars?" was much more about, is there life on earth? Are we really alive? Is this really all there is? And some of the doors Bowie opened led to other artists. He opened doors for me into Bertolt Brecht, and William Burroughs — and, by the way, Bruce Springsteen, who he was on very early. And for me, the most important door he opened was the one with Brian Eno behind it.
I'd like to consider myself David's friend, but I'm more of a fan. He came and visited us when we were mixing Achtung Baby — and, of course, he had introduced us to Berlin and to Hansa Studios. We had a playful sort of banter — he would really go there in conversations, and we would even occasionally hurt each other's feelings. He took his daughter to a matinee to see Spider-Man: Turn Off the Dark, and he sent me the reasons he didn't like it. And everything he said was really helpful, because it was in the early days of the show.
I've been talking with Brian Eno about this, because David sent Brian a goodbye note, and he shared the contents with me. It was so amazing, and it's so funny. It's a really surreal, defiant type of goodbye letter, a kiss-off. And I was saying to Brian that David had been on our minds. Over Christmas, my oldest daughter Jordan and I were listening to Blackstar a lot. David met her when she was two. He called her "Pixie," and she's been a lifelong Bowie fan.
I like Bowie when he's evenly pulled in the direction of being a pop star and Picasso, where he's right down the middle. That's usually my favorite, when the songwriting is disciplined but the recording is not. I love when he's pulled equally in the directions of art and populism. Blackstar is much more art, so I shouldn't like it as much as I do. But I really loved it. And so did my daughter Jordan.
I sent him a picture of myself and Jordan toasting him on his birthday this year. I sent him a long email, and I sent him a beautiful poem by Michael Leunig called "Love and Fear" — one line goes, "there are only two feelings/love and fear." I didn't hear back, but I was told he got it.
Ultimately, as a songwriter and as a performer, your currencies are thoughts and feelings. Some people may have original thoughts, but the musical landscape is not that unique. Bowie's musical landscape affected you in a way that is completely different from all the other music around it. You have to close your eyes, imagine you don't speak English and just feel the songs and say, "What part of me is being played by those notes?" Or "Who else plays them?"
And in his case, the answer is nobody. That part of me is only played by David Bowie. So that part of me is now a void — I have to find other ways to wake it up. But it woke me up when I was 14.
From The Archives

Issue 1254: February 11, 2016


http://www.rollingstone.com @rollingstone on Twitter | RollingStone on Facebook
October 16, 2015
In 1989, a swell of Romanians wanted just one thing for Christmas: the death of their leader. And as the 42-year-old communist regime was swept away in a flood of violent unrest, on Christmas Day, wrists bound in a wintry backyard, Nicolae Ceaușescu was executed. Just a few short years later, in 1992, 70,000 desperate, agitated Romanians gathered at the National Stadium in Bucharest, screaming for something different: "Michael! Michael! Michael!" Mr. Jackson was in town.
He enters the stage and freezes for an exaggerated amount of time, wearing gold lamé briefs over pants and a visible bandage on his arm: the ever-complicating details now familiar in Jackson's legacy. As the seconds tick by and smoke swirls around the still figure, as much a mirage as a man, the effect is that of a building pressure, pressing down on the jugular of the crowd until they almost can't stand it; watching now, it still releases goosebumps. And then, suddenly, he's alive.
The King has taken full command of a broken empire.
Improbably, he starts the show off with a throwaway dud. But it doesn't even matter; the crowd is so over the meter that he could take a nap on stage and people would still be passing out. And viewing the show today, as limp body after limp body gets passed above hair-sprayed frizzes and soaked faces, it becomes clear that something different is going on. A collective exorcising of any care or worry or dispute about anything other than the dominance of Michael Jackson is taking place: The King has taken full command of a broken empire.
Looking back, it's quite mesmerizing and even at times comical to see "a crowd of that size be absolutely possessed and emotional," reflects Matt Tuggle, a 33-year-old grain broker from New Orleans. Tuggle has a personal habit of sharing the video: "Watching with a group of friends that have never seen it before never fails to be a great night of pure entertainment." Sure, he's a familiar performer. And though the fidelity's not great, we know every beat regardless. But this show has an air of another time.
It was the Dangerous tour
, following his eighth album, which featured "Black or White" and "Remember the Time," the 1991 Christmas present for so many of those amped Romanians. Although it was one of the best-selling albums of all time (32 million sold), it wasn't his most successful (that was Thriller, with triple the sales). Yet this show, almost a year after the album's release, proved to be a high point in his lifelong career.
That peak was enhanced when HBO televised the Bucharest show, its first Jackson special; it garnered the largest audience for a single broadcast in the channel's history, reaching 3.7 million households. (It would be released on DVD much later, in 2005.) The atmosphere that night in Romania was charged, electrified by thousands of people who had just endured intense upheaval and were now gripped in the clutch of a gloved man at his zenith.
A few years ago, I found myself at a Mexican beach resort on "Michael Jackson Night." Like any cruise-ship-esque show, it sounded like cheesy, one-off dinnertime entertainment. But as the 5 impersonators took over the lean-to stage by the pool and the first bass thumps of "Billie Jean" started, a hush fell over the resort. Looking up, the balconies were packed with dancing silhouettes; poolside, older couples grooved, while little kids scattered, lost in absorbed imitations of the gliding moonwalk. Nearly a quarter of a century later, in another place and another reality, for 4 minutes and 47 seconds, we might as well have been in Bucharest that night.
By:
Shannon Sims
in:
OZY
September 21, 2015
"I am so terribly sorry," said the woman in a black blazer and leopard-print heels, hovering over Grace Jones. "There's no way that I can have you keep doing this interview here."
Ms. Jones looked up incredulously and said, "What?" She was in the lounge room of the spa at the Mandarin Oriental, New York, wearing a towel wrapped around her head and a terry robe, a half-drunk mimosa in one hand.
Smiling a frozen smile, the hotel employee continued, "This area is for spa guests who are having ——"
"I am a spa guest!"
"Of course, Ms. Jones, I know. But people who are having treatments ——"
"So can we put a robe on him and get him a treatment?" Ms. Jones said, referring to her interviewer, whom she had ushered into the spa 15 minutes earlier, having checked out of her room upstairs.
The answer was no: hotel policy. Nevertheless, the woman was quickly learning what decades of agents, photographers, album producers, tour managers and lovers already knew: Nobody tells Grace Jones what to do.
"You're so corporate," she said, looking the woman up and down. "I would hate having your job. You want to work for me?"
The hotel staff, realizing it had awaked a lioness, swiftly rustled up an empty room on the 39th floor, where Ms. Jones ordered up a bottle of Champagne and fresh orange juice.
Undisturbed at last (and still in her bathrobe), she settled onto a twin bed to discuss her singular career as a style icon, disco queen, avant-garde rocker, Bond girl, provocateur and sphinx, all chronicled in her new autobiography, out Sept. 29.
The title is "I'll Never Write My Memoirs," a lyric from her 1981 song "Art Groupie." Why the about-face?
"I'm allowed to change my mind, you know," she said with a grin.
For fans who have relished her contradictory pronouncements, reinventions (though she hates the word) and blasphemies over the years, the book contains a bounty of hedonistic flashbacks from a woman whose greatest achievement has been remaining her defiantly idiosyncratic self.
From her breakout as a model in Paris in the early 1970s, where her roommates were Jerry Hall and Jessica Lange, her predatory, androgynous style subverted notions of race and gender. Embraced as a modern Josephine Baker, she relocated to New York and became a ribald disco sensation at Studio 54 and a habitué of Andy Warhol's Factory.
When disco turned tacky, she abandoned it for reggae-inflected New Wave rock, sung in her signature deadpan purr. Between albums, she played off her savage persona in movies like "Vamp," "Conan the Destroyer" and the Bond film "A View to a Kill." more attention to another guest, or the time she was barred from a Grammy after-party and left the building screaming at the top of her lungs.
Nor does she hold back on her tempestuous love affairs. Her relationship with Dolph Lundgren, the Swedish security guard she helped transform into a big-screen hunk, ended after she showed up at his hotel room in Los Angeles waving a gun. Her marriage to a Turkish man in the '90s broke up, she writes, after he held two butcher knives to her throat during a fight. (They never divorced because she lost track of his whereabouts.)
As if to burnish her over-the-top reputation, the book even contains a copy of her tour rider, which requires that her green room be furnished with two dozen oysters on ice, unopened because "Grace does her own shucking."
But the memoir's deepest revelations have to do with her repressive childhood in Jamaica, where she was born in May 1951. (Or so she says; some reports have her born earlier.) As part of a prominent family of clergy in the Pentecostal church, she and her five siblings were raised under strict religious supervision.
Her parents moved to upstate New York when she was small and left the children under the authority of their step-grandfather, Peart, known as Mas P, who Ms. Jones describes as a "ferocious disciplinarian." For minor infractions, like doing a handstand in a dress, she would be whipped with a leather belt.
She coped through fantasy, the only thing she could control. "Grace lived in her own world, created her own space, created her own imaginative games," said her brother Noel Jones, a megachurch pastor in California.
The young Grace imagined Mas P's imperious stare as an "all-seeing eye," following her even to the gully where she played after school. It wasn't until years later, while taking lessons with the acting teacher Warren Robertson, that she realized she had unconsciously adopted Mas P's glare in photo shoots and performances, turning the "all-seeing eye" back out onto the world.
She followed her parents to Syracuse as an adolescent and began the process of liberating herself. She lived as a nudist for a month, took mind-opening acid trips and worked as a go-go dancer with a whip, simultaneously aping her abuser and defying him.
"I'm always rebelling," she said at the hotel. "I don't think I'll ever stop."
Ms. Jones likes to say that she exists in several time zones at once, but most of the time you can find her in London or Jamaica. She had come to New York to headline the Afropunk Fest in Brooklyn, where she performed at Commodore Barry Park two nights in a row.
At both concerts, a billowing curtain fell away to reveal Ms. Jones covered head to toe in tribal body paint (a look Keith Haring created for her in the '80s), wearing a feathered headdress adorned with a gold skull and a corset that ended just below her exposed breasts.
Donning a series of outrageous costumes, she sang raspy, raunchy versions of her hits, including the double-entendre-laden "Pull Up to the Bumper," which was accompanied by a blast of bubbles. She performed her entire final song, "Slave to the Rhythm," while hula hooping topless, betraying nothing of her 60-something years. ("I never remember how old I am," she says. "I'm 5,000 years old.")
If her mostly young spectators saw traces of pop music's current crop of exhibitionists, they were not alone. Her name and her envelope-pushing influence are now commonplace in descriptions of such mass-marketed misfits as Miley Cyrus, Amber Rose and Nicki Minaj.
"They make it so obvious," she said at the Mandarin. "But they don't quite have the conviction. It's always someone styling them, for example. It's not coming from them."
She added: "People say, 'Well, you should be flattered.' And I'm like, 'No, I'm not.' Because my whole view is being unique and finding yourself, from your own suffering or your own upbringing or your own happiness. For me, it's all piggybacking."
What about Lady Gaga?
"She is obsessed!" Ms. Jones said, laughing dismissively. "She's been trying to get me to work with her forever. She's even gone to my brother in L.A. to get him to try and talk me into it."
A Jamaican born into poverty, Bishop Noel Jones has made his way to the other extreme, now living on a hilltop with a view of the Pacific Ocean, …If each of his church goers would give only $10.00 a week(very low figure), that alone would make him a millionaire and then no income taxes to pay, Im surprised not many go into this fuel. All you need is to know how to sell. Billy Graham was a vacuum cleaner door to door salesman. Many of us that have studied this fuel psoses the tools but not the heart to sell something we don't own.
(The brother, Noel, later said that he was never approached by Lady Gaga, but that he is friends with someone in her "inner circle" and they discussed the idea of a collaboration.)
According to Ms. Jones: "I basically said: 'Bring me something. Don't just take something from me. If you want me to work with you, then come with an idea. Come with music. Dazzle me.' People said, 'Do you know how much money you can make working with her, collaborating with her?' It's never been about the money. And the fame, believe me, it's a double-edged sword."
In her memoir, she similarly criticizes the generation of young pop stars who "play the pioneer without taking the actual risk."
With pride bordering on paranoia, she writes: "I have been so copied by those people who have made fortunes that people assume I am that rich. But I did things for the excitement, the dare, the fact that it was new, not for the money. And too many times I was the first, not the beneficiary."
She names names, writing: "There's a lot of that around at the moment. Be like Sasha Fierce. Be like Miley Cyrus. Be like Rihanna. Be like Lady Gaga. Be like Rita Ora and Sia. Be like Madonna. I cannot be like them, except to the extent that they are already being like me."
Working with such megastars, she insists, would benefit them more than her. Not that she has gone out of her way to avoid the limelight. She tours frequently, though her appearances in New York are rare. During her shows at Afropunk, images of her hula-hooping flooded Instagram, signaling a wave of newfound appreciation from fans who were born long after disco died.
Still, she has been slow to release new material. Disillusioned by the music industry, she took a long break between albums starting in 1989. She was largely absent from the public eye in the '90s, making money by appearing at corporate parties, where she would, say, pop out of a cake for a high fee.
In 2008, she put out her first new record in 19 years, "Hurricane," the first sign of a resurgence. In 2012, she performed her hula-hooping number (more fully clothed) at Queen Elizabeth II's diamond jubilee. She is working on a new Africa-themed album called "She" and starring in a coming documentary for BBC Films.


Meanwhile, she is planning to build a house on her grandfather's land in Jamaica, and has a new beau there, a Rastafarian she met through a friend. She was traveling in New York with her and Mr. Goude's son, Paulo, a tall, dreadlocked musician who tours as her percussionist, and her granddaughter, Athena, a pale 6-year-old with fiery red hair.
With her son, Paulo, watching whales off the California coast. Credit Grace Jones Private Life Collection
"Anytime I see a redhead, I go, 'Was your granny black?' " she said, chuckling.
If she does not share Madonna's penchant for inserting herself into trends, more often contemporary pop culture finds her. Last fall, Mr. Goude published an Internet-rocking photo shoot of Kim Kardashian in Paper magazine, including an anatomically impossible image of Ms. Kardashian balancing a Champagne glass on her derrière.
The photo was Mr. Goude's homage to himself: A similar pose appears in his 1981 book, "Jungle Fever," which also includes his most famous (and infamous) portraits of Ms. Jones. The cover image depicted Ms. Jones in a cage, naked and baring her teeth like a tigress.
When Ms. Jones saw the Kardashian photos, she had some words for her former collaborator. "I said, 'Darling, what the hell were you thinking?' " she recalled. "I just asked him, 'Why did you do that?' "
The reason, she suggested, was Mr. Goude's desire to make a splash in America after the controversy he and Ms. Jones caused in the '80s.
"When we got attacked for me in the cage on the cover of his book and certain things, America basically didn't understand him as an artist," she said. "They thought of it as negative. I was attacked by the feminist groups. All this interference into art, you know?"
In the online frenzy that the Kardashian photos ignited, some observers questioned the racial undertones of the originals. What did it mean to have a white man photographing black women crawling in a cage, or enhancing their buttocks to cartoonish proportions? Was it objectifying? Exoticizing? Who was really in control?
Ms. Jones insisted that the photos were simply the product of her and Mr. Goude's intensely personal connection. "We really were art soul mates," she said. "We totally understood each other and were not afraid just to go for it. There was no fear. And if he was afraid, I made sure I wasn't afraid."
In any case, it is hard to imagine that Ms. Jones ever had anything less than total control over her image, which projects an almost superhuman self-possession. Though she was an object of fascination for designers (Issey Miyake), photographers (Helmut Newton) and artists (Mr. Haring), she does not consider herself a mere muse.
"As much as I was a muse, they were also muses for me," she said.
She poured a second round of mimosas. Her irritation from the spa incident had melted into free-roaming (if opinionated) chattiness, covering everything from Kanye West, who she claims copied a video idea from her ("When I see him, honestly, I'm going to get in his face"), to her concept for a line of discontinued merchandise, though the details are sketchy.
"I hate that, when they discontinue something that's really good," she said, perhaps stumbling onto a metaphor for her own sporadic place in pop culture. "I don't know, man, it's so weird. If something is really good, why do you want to discontinue it?"
Someone knocked on the door. She had been talking for nearly two hours, and Paulo and Athena were waiting by the hotel pool.
Ms. Jones eyed the half-full bottle of Laurent-Perrier. "Do you think we can take the Champagne to the pool, or are they going to have some corporate law about it?" She grabbed it anyway and headed for the door.
"Well, let's see. Let them try and stop me."
September 2, 2015
Coming out rarely takes place with one bold leap out the closet. For 2013 Australia's Got Talent runner-up Greg Gould, it has been more like tiny footsteps – first considering himself bisexual, then coming out to his family.
With the imminent release of his debut single, Run to You, the 27-year-old is taking one of his last and final steps, by coming out to his fans.
Clean-cut and dressed in a midnight-blue dinner jacket ("blue is my colour," he says), the singer, from the NSW central coast, comes off as boyish and animated but relaxed. "In other interviews I've been more nervous because I'm trying to pander to what I'm not," he says.
When Gould was just 17 he found himself subjected to the scrutiny of Australian Idol producers, who bluntly asked if he was gay.
In other interviews I've been more nervous because I'm trying to pander to what I'm not
When Gould replied, "When I know, I'll let you know" and that for now he was "label-free", Mark Holden, the judge, told him: "To be honest, mate, let's cut to the chase here when you say 'I'm label-free', that means 'I'm gay'. It does, mate."
Another producer advised the aspiring pop star: "Don't be too gay."
Gould never made it past the show's top 40 round and left the competition feeling deeply disillusioned. "Nope, I can't do it," he thought. "I'm not ready to be me, let alone be in this industry." His father encouraged him to pick up a trade and he reluctantly became a hairdresser.
Advertisement
"My dad was the first person I came out to," he says, describing his father as an aggressive problem solver. Recognising that his son was troubled, they sat down one day and ran through the list of possibilities: was it school, was he doing drugs?
"And that's when I said I thought I might be bisexual," he says.
"His reaction was, 'Bisexual? So you have a choice! I'm not going to make the decision for you, but if I had to make this decision between a sweaty, meaty man or a gorgeous, voluptuous woman, I know what I'd choose.'"
The singer smiles, then says: "I don't think I made the same choice."
It took Gould some time to realise he wasn't bisexual, he was gay. And even more time to realise he would never be happy as a hairdresser – he was a musician.
When auditions came around for Australia's Got Talent, it represented a second chance for Gould. He was now 25, more confident and determined not to let his sexuality eclipse his talent. Appearing alongside a six-piece band as Greg Gould and the Chase, his brassy, stage-shaking takes on Prince, Nina Simone and Arthur Hamilton's Cry Me a River took them all the way to the 2013 finals – nabbing the band the runners-up spot.
Throughout Gould's run on the show no reference was made to his sexuality. But in the post-reality show scramble for managers and label deals, no one in the industry seemed to know what to do with him. He was consistently told to either hide his sexuality or go the opposite way – become the movement's poster boy, be "really fabulous".
"I'm not – " Gould breaks into a hyper-camp impression, "Hello! I'm going to be the poster boy for gay people! … I'm not that person," he says emphatically.
And yet, with his ambitious campaign to support marriage equality called #keeprunning ("Now is not the time to slow down, we need to keep running towards marriage equality," he says) he is becoming a poster boy of sorts. Just without bearing the badge of a "gay musician", merely a musician who happens to be gay.
When I hear someone say you can't marry another man, it's dehumanising
Greg Gould
"I'm a serious artist with real music," he says. "I've got stuff I want to say, I want to sing about." He is hoping to set an example. "You don't have to be a certain way to be gay. And you don't have to be a certain person to be successful."
Among his musical influences (Tina Arena, Guy Sebastian), he greatly admires the British singer-songwriter Sam Smith, who has been frank about his sexuality and made music that has touched a wider audience. "Sam Smith is huge in Australia, so why don't we have our own?
"Why can't I be the next Sam Smith?" he asks. It is more than a rhetorical question. It is a challenge.
He remains frustrated by Australia's inability to make marriage equality a legal reality. "I'm just sick of these excuses. You can put eggs in any basket but at the end of the day there are people in this country that are adding plenty of value to the community, that have so much love to give, but they're being denied the right to marry who they love."
And he views former prime minister Julia Gillard's change of heart with some scepticism. "When she was in a position of power she could have done something then. I feel like it's a little bit too late," he says, although he acknowledges it is a positive step.
Greg Gould and the Chase on Australia's Got Talent
"When I hear someone say you can't marry another man, it's dehumanising. It's saying, 'We can't give you the same certificate. We can't credit your love the same as somebody else's.'"
Would he like to get married one day? "Absolutely. But only if we're all allowed to do the same thing, we all have the same rights in this country. And hey, I'm not going to be allowed to marry unless they change the law. So hurry up!"
And he adds with a wink. "So if Mr Right is out there … "
In the meantime, Gould is busy keeping up with the seismic shifts in his career. The power romance ballad Run to You was written by American songwriters Chris Mann and Jared Lee, but Gould says was partly inspired by "the only time I've ever been in love" and recorded in Erina on the NSW central coast with Adam Lambert's band. "I wanted it to be an anthem for love because at the moment we can't have an anthem for marriage equality – we haven't got it in this country," he says.
Just last week Gould moved from the central coast to Sydney and, in making the decision to reveal his sexuality, feels he has broken new ground.
"My whole body had changed, my whole world felt different," he says. "It felt like I was moving towards something really perfect."
Monica Tan
The Guardian
November 21, 2014
I
t's been one of Nashville's worst-kept secrets for years, but Ty Herndon has always thought making his sexuality public would equate to career suicide.
"I've dreamed about being in country music since I was six years old," the singer tells Entertainment Tonight. "It's my life, it's what I do, it's who I am, and I went to great lengths to cover up [being gay] to be a country star."
Those lengths included getting married twice, to "some really amazing young ladies," Herndon says, claiming both ex-wives knew he was gay. "I had a lot of people around me that I trusted... and I was like, 'Hey, you know this about me but the world doesn't. So I'm gonna need to call on your services for a little while.'"
The 52-year-old singer knew as a child he was gay. He came out to close family members when he was in his twenties but never felt comfortable going public until now. Herndon tells People magazine that an Anthony Robbins seminar sparked the courage to come out, as he realized sharing his story might help frightened gay youth.
"I was 10, sitting in church and horrified that I might be a homosexual. Whatever that word meant, I knew that I probably was one," the singer recalls. "And I know there's a lot of those kids still out there. Telling my story is an opportunity to help just one of them."
Herndon's country music story was ignited by his very first single, "What Mattered Most," which went to Number One on the country charts, breaking a record for the most radio adds by a debut single in its first week and clinching impressive sales for his 1995 debut album of the same name. Hits that followed included "Living in a Moment," "A Man Holding On (To a Woman Letting Go)," "It Must Be Love" and "Hands of a Working Man," among several others But after a three-album hot streak, his fourth album tanked and — coupled with his second divorce, bankruptcy and two lawsuits — brought his personal life down with it. Herndon's drug and alcohol abuse spun out of control, and he finally checked himself into rehab in 2004 — his second attempt at sobriety.
The gay rumors followed Herndon in both good times and bad, as did drug and alcohol problems. He was at the height of his career when he was arrested in a Fort Worth, Texas, park for speed possession and for exposing himself to an undercover police officer. (The latter charge was eventually dropped.) He checked into a drug rehab center the very next day. At the time, the singer claimed he was just urinating in the park, but now he says he was on so many drugs that he doesn't remember his intentions.
Over the past, sober decade, Herndon has continued to release music, including two holiday LPs and a Grammy-nominated contemporary Christian album. His latest release is 2013's Lies I Told Myself, the title track of which now takes on a whole new meaning. It was his first country album in seven years and will reportedly be followed by another new LP next year.
Herndon's full interview with Entertainment Tonight, during which he proudly proclaims to be "an out, proud and happy gay man" — and also discusses his partner of six years — airs tonight (November 20th).
Rolling Stones
Official Site:
http://www.tyherndon.com
|
@tyherndoncom

Like many new country singers of the mid-'90s, Ty Herndon fused neo-traditionalist country with a slick, rock-oriented sense of style and production. Like many of his contemporaries, his blend of genres proved commercially successful, as his first album became one of the biggest hits of 1995. Herndon was a little wilder, at least off the stage, than many of his peers, but his records had a down-to-earth sense of sentimentality that initially gave him a broad fan base.

Born in Meridian, MS and raised in Butler, AL, Herndon became involved in music as he was growing up. He sang gospel music and learned how to play piano. After he graduated from high school, he moved to Nashville. Initially, he had difficult time gaining a foothold in the music industry, spending ten years without making any real headway. Herndon left the Music City and headed to Texas, where he began slogging it out in local honky tonks, developing a dedicated following of fans. In 1993, he won the Texas Entertainer of the Year. Later that year, he signed to Epic Records.

Herndon's first single, "What Mattered Most," hit number one in the spring of 1995. An album of the same name was released in April and became a Top Ten country hit. The second single, "I Want My Goodbye Back," became a number seven hit. Seemingly, the world was in his hands, but his first year of stardom was a difficult one, as he was arrested for drug possession on June 13, 1995, in Fort Worth, TX. Nevertheless, the arrest didn't halt his career. The third single, "Heart Half Empty," was a hit, and Herndon's second album, Living in a Moment, debuted at number six upon its summer 1996 release. Big Hopes followed two years later, and in 1999 Herndon resurfaced with Steam. This Is Ty Herndon: Greatest Hits arrived in 2002, followed by a collection of Christmas songs (Not So Silent Night) in 2004 and a new album (Right About Now) in 2006. ~ Stephen Thomas Erlewine, Rovi.
November 10, 2014
Now, the former Jonas Brothers member is opening up about sex in a very candid way.
"Sex is such an important part of a healthy life, in the sense that it's such an intrinsic part of who you are," he shared in the December issue of Attitude magazine. "When your sex life is not healthy, you resort to other things as an outlet. And in terms of the show, that's tough to watch."
Attitude Magazine
In recent magazine shoots, fans may have also noticed Jonas' impressive abs, partly attributed to his role in the DirectTV series Kingdom.
While some admirers were shocked at how much the "Jealous" singer bulked up, Jonas was surprised at how some fans didn't exactly approve of his chest hair.
"I never even really thought about it; that that would be an issue," he told the Europe publication. "I think that I've never even tried to like wax or shave my chest hair or anywhere else. I just think, 'I'm a man, I don't really need to!' That's the beautiful part about being a man!" Breathe ladies, breathe.

And while the former Jonas Brothers member continues to work towards an image far different than what we saw during his Disney days, the 22-year-old admits it's a work in progress.
"Back in the days with my brothers, I think I put more pressure on myself than I should have. I wasn't enjoying the moments as much as I could've," he admitted. "So this time around, at the core, I've told myself to enjoy the ride and have fun with it, and don't stress over the little things."
Want to read more? Download the entire interview at Attitude magazine's website here.
May 29, 2014
SAM Smith has confirmed he is gay.
The 'Lay Me Down' singer, who won the BRITs Critics' Choice Award this year, opened up about his sexuality for the first time after admitting he was left heartbroken last year, but insisted it "is a non-issue," as he has never tried to hide the fact.
The 22-year-old star told the June/July issue of The FADER magazine: "I've never been in a relationship before. I've only been in unrequited relationships where people haven't loved me back. [New album] 'In the Lonely Hour' is about a guy that I fell in love with last year, and he didn't love me back
"It's all there now, and I can move on and hopefully find a guy who can love me the way I love him."
Despite never addressing his sexuality in the past, Sam claimed he has always felt comfortable with who he is.
He said: "I am comfortable with myself, and my life is amazing in that respect. I just wanted to talk about him and have it out there. It's about a guy and that's what I wanted people to know -- I want to be clear that that's what it's about. I've been treated as normal as anyone in my life; I've had no issues. I do know that some people have issues in life, but I haven't, and it's as normal as my right arm. I want to make it a normality because this is a non-issue.
"
http://www.dailyexaminer.com.au
May 6, 2014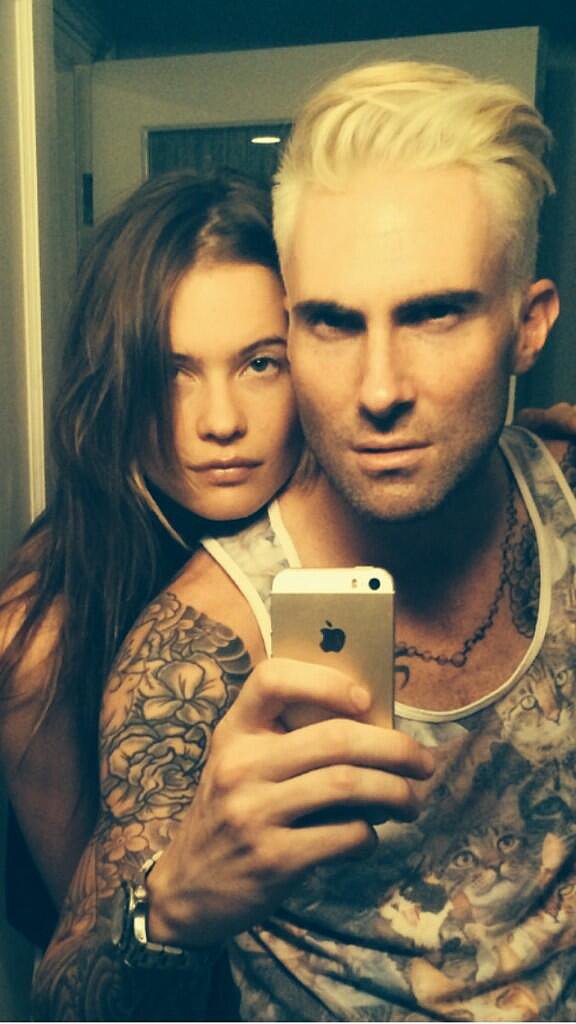 For those of you who like your men tall, dark, and handsome — well, Adam Levine now no longer (totally) meets your checklist. The Maroon 5 front man and host of

The Voice

just defied his brunette roots in favor of bleach blond locks. He revealed the big hair change on Twitter with a photo of his new 'do, his gorgeous fiancée, Behati Prinsloo, and the irreverent caption "Apocalypse prep course complete."
While some suspect he did it as a nod to

The Voice

's new coach, Gwen Stefani (who is known for her platinum mane), our first thought was that the native Californian wanted to go lighter for Summer. Turns out, we were right.
Adam's stylist, Shaul Arbiv, told People: "With Summer months coming up, we wanted to do something totally drastic and different from his previous styles, so we bleached it. I have been working with Adam for a long time, and he likes to change up his style often."
We want to know: are you a fan of Adam's new blond hair? Should he have done a more subtle color look à la Jared Leto's ombré? Or are you in favor of his natural dark strands?