Say someone came up to you selling a dietary supplement—a pill that you take once a day—that could boost your energy, improve your body's ability to repair its DNA, and keep you healthier as you get older.
It might sound like a scam, or more likely just another in a sea of confusing, undifferentiated claims that make up the $20 billion dollar supplement industry.
THE SCIENTIST AND THE STARTUP
"My biggest hope is that we can make available to people something that is currently unavailable, and that it will have a positive impact on their health," Guarente says.
"The fundamental question was: Are there other natural products out there that could be meaningful? I think resveratrol was the first, and I was thinking there's maybe the potential for many others," Marcotulli remembers thinking as he studied the story while in business school.
The two started cold-calling scientists involved in aging research and were surprised how many were enthusiastic about the idea, including Guarente. The FDA doesn't recognize aging itself as a condition, so, instead, companies like Sirtris and GSK are are taking scientific findings about how we age and translating them into drugs that treat specific age-related diseases. The issue is that the clinical trials involved in doing this can take more than a decade, and even then that is no guarantee a drug will be approved. The result has been that, though scientists have made major strides in understanding how and why we age and demonstrating that this aging can be delayed, they've so far seen few results in translating their work to help people.
The two entrepreneurs wanted to take a very different approach than the drug makers: sell only unaltered natural products, which generally aren't patented and don't need FDA approval, and create new kinds of supplements that make no claim to treat a specific disease but promote general wellness instead.
"If there's a benefit that can be had now, then I think it doesn't make sense to wait a decade or more until some derivative [from a drug company] becomes available—though I'm not saying that's not a good thing to do too" says Guarente.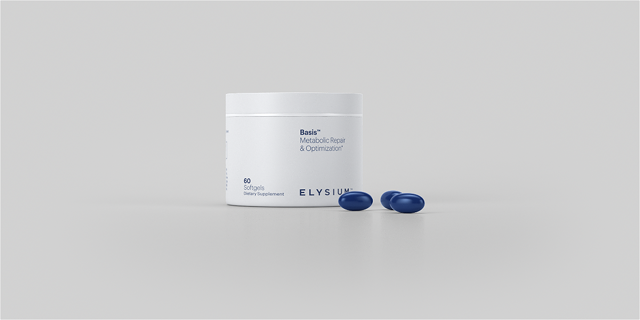 BOOSTING NAD
The theory behind the pill is built on work first pioneered in Guarente's lab on sirtuins, a group of enzymes involved in cell metabolism and energy production that are common to a wide range of living organisms. Researchers have found that boosting the activity of sirtuins, which is sometimes done by calorie restriction diets, can extend lifespan of yeasts, worms, mice, and other animals. Efforts to develop a drug that can have the same effect, without the lack of calories, have been going on for the last two decades, including at Sirtris and GlaxoSmithKline. There are also natural compounds that elevate sirtuins—one is resveratrol, which is already sold as a dietary supplement today. Another is called NAD.
Elysium explicitly wants to avoid the charlatan feel of the countless "anti-aging" products on the market today. It isn't selling the pill as a key to a longer life or to preventing any particular disease, since there isn't any evidence the pill will do that. A press release the company put out with its launch hardly mentions aging at all. (Another reason is they want to appeal to young people too, who don't necessarily care about aging, but may want to feel healthier and more energetic). Instead, the founders talks about enhancing basic biological functions: improving DNA repair, cellular detoxification, energy production, and protein function.
"We have no interest in being an anti-aging company and extending lifespan," says Marcotulli. "For us this is about increasing healthspan, not lifespan."
THE FUTURE OF DIETARY SUPPLEMENTS
There is a downside to the model: They can't patent their work. Some companies already sell supplements for each of the two ingredients in BASIS, and others could copy Elysium as soon as it releases its next products. That's where Elysium's business model— and its scientific superstars—come in.
"Our vision and mission is to bring scientifically validated natural health products to market through these traditional retail channels," says Marcotulli. "But it also takes the best aspects of the pharmaceutical model—the R&D focus, clinical rigor, and following these consumers over time."
Its products will only be sold on its website, where Elysium can control more nuanced messaging than on store shelves. Branding, trust, and scientific expertise are what the team hopes differentiates them from the faceless companies that line Whole Foods' shelves. At the most basic level, that means trust that the pill contains what it says it contains, but also beyond that, trust that it is doing a person any good.
Elysium assures the ingredients in its products will all be pure, and it will do its own safety testing, as well as test for a basic level of efficacy. Already, says Guarente, it has tested BASIS at a range of doses for safety and to assure that NAD levels in the body actually increase from taking its pill. Over time, the team hopes to also collect data back from customers to start demonstrating some of the longer-term benefits over months and eventually years.
For Elysium's next products, which might touch on other areas such as brain health or musculoskeletal health, it will start to tap into the expertise of the formidable list of more than 30 scientific advisors signed on—everyone from Eric Kandel, a brain scientist who received the 2000 Nobel Prize in medicine to Tom Sudhof, a cellular physiologist at Stanford who received the prize in 2013. Eventually, it hopes to expand this network of scientific expertise further to as many scientists that want to get involved.
If anything, Elysium might make more people aware that aging is becoming something that we may one day treat.
[Top photo: Sarah Salmela/Getty Images]
Adamfoxie blog International is not endorsing this product nor has received any compensation to publish this article. This article which is based at ongoing research on aging is complimentary to articles we publish on health. Born at the end of the*"baby boomer's" generation myself rightly or wrongly I don't think I will get significant and affordable benefits from current research products but I truly believe the generation behind me definably will. Adam Gonzalez
A

Comment from a user:

Well, I've been taking Basis for a while now. I feel great, but then, since I take good care of my diet and exercise, I always feel great, so I can't say I've seen any huge change. Guess we should all meet back here in twenty or thirty years and I'll report in then!
*Baby boomer:A marked increased in births after WWII and lasting until the early part of 1960 when birth control became universal in the US.