March 21, 2016
90 years after a sitting President's visits Cuba, President Obama made the trip Yesterday
People gather on the street in Old Havana. U.S. President Barack Obama is scheduled to visit the historic area
shortly after his arrival late Sunday afternoon.
As President Barack Obama flies to Cuba Sunday, he is embarking on a historic trip, with the two nations moving to normalize their relations 55 years after they broke off ties.
Obama, the first sitting U.S. president to travel to Cuba in almost 90 years, will cap his visit with a direct address to the Cuban people outlining his vision for the future U.S.-Cuba relationship.
The White House said Obama's three-day visit, and his televised speech in Havana on Tuesday, represents a new beginning in the relationship between the former Cold War enemies, expanding on the formal restoration of their diplomatic ties eight months ago.
"Diplomacy, including having the courage to turn a page on the failed policies of the past, is how we've begun a new chapter of engagement with the people of Cuba," Obama said during an appearance at the U.S. State Department several days before his departure.
Signature foreign policy
Obama has positioned the re-establishment of relations with Cuba as one of the signature foreign policy achievements of his administration, arguing the decades-old U.S. policy of isolating Cuba had failed.
FILE - President Barack Obama meets with members of his economic team at the
White House, Washington, March 4, 2016. Obama leaves for a historic three-day
visit to Cuba on Sunday.
Other US leaders: Former President Jimmy Carter visited Cuba in 2011.
Sources: Calvin Coolidge Presidential Foundation, U.S. Library of Congress, University of Virginia's Miller Center, U.S. Department of State-Office of the Historian
"The old approach – trying to isolate Cuba, for more than 50 years – clearly didn't work," Susan Rice, the president's national security advisor, said Thursday. "We believe that engagement, including greater trade, travel and ties between Americans and Cubans, is the best way to help create opportunity and spur progress for the Cuban people."
Obama and the first family are to visit cultural sites in Old Havana in the first hours after they arrive in Cuba late Sunday afternoon.
On Monday, he holds talks Cuban President Raul Castro, then meets with Cuban entrepreneurs to discuss business ties between the U.S. and Cuba. A state dinner at the Revolutionary Palace is scheduled for Monday evening.
Obama's speech to the Cuban people, the highlight of his trip, will be an opportunity to look back on the two countries' complicated history, Ben Rhodes, deputy national security advisor, told reporters in an advance briefing.
Speech to lay out vision
The president's address on Tuesday morning will "lay out his vision for how the United States and Cubans can work together, to how the Cuban people can pursue a better life," Rhodes said.
Obama also plans to meet with members of Cuban civil society, including human rights activists, despite objections from the government in Havana.
The White House said the list of people invited to meet with the president during his visit was "non-negotiable."
The Cuban government recently released some political prisoners and has taken small steps to open up Internet access. But a 2015 Human Rights Watch report found the Cuban government "continues to rely on arbitrary detention to harass and intimidate individuals who exercise their fundamental rights."
The report found detentions have increased since the diplomatic thaw began, with arrests increasing from 2,900 to 7,188 in the first full year after the administration announced the resumption of relations. The thaw in relations could be an opportunity for the Cuban government to look at its internal laws on censorship, Internet freedom and freedom of assembly.
Continuing concerns about Cuba's human rights abuses have prompted some Republicans on Capitol Hill to strongly criticize the Obama trip. Speaking of Cuban President Raul Castro and his brother, Cuba's revolutionary hero Fidel Castro, House Speaker Paul Ryan said Friday, "This is a regime that provides safe harbor to terrorists and fugitives."
Ryan said he doubts whether Obama will adequately bring up the need for reforms in Cuba. He also reminded reporters that despite Obama's attempts to announce new commercial deals, the U.S. trade embargo with Cuba is "still intact and enforceable," almost 60 years after it went into effect.
House Foreign Affairs Committee Chairman Ed Royce echoed those concerns in a statement declaring any easing of economic sanctions "will further prop up a communist regime in Cuba that has a long record of brutal human rights abuses."
Only a majority vote by Congress can lift the U.S. embargo on trade with Cuba, and such a move is highly unlikely while Republicans hold majority control of both the House of Representatives and the Senate. However, there have been signs that some lawmakers may be receptive to the president's policies.
Five Republican lawmakers are traveling to Cuba with Obama, and at least 15 Senate Republicans have publicly backed a loosening of restrictions on Cuban travel and trade.
Senator Jeff Flake, a member of the presidential party in Cuba, told VOA: "It's always bothered me that, as Republicans, we talk about engagement and travel and commerce as something that will nudge countries toward democracy. But with Cuba we tend to say, 'No, no, it won't work there.' But it will work. It is working."
Push to make changes
Analysts say the presidential visit may help push the Cuban government to make changes.
"The Cuban people need to be in the driver's seat for this thing to work, and the Cuban people are participating more freely in their economy," said Marc Hanson of the Washington Office of Latin America, a human rights advocacy group. "They need to be able to participate in their politics as well."
"I have everything, because I've learned to live without anything,"
reads a sign near Calabazar, on the outskirts of Havana, Cuba.
Geography: The Caribbean island, slightly smaller than the U.S. state of Pennsylvania, lies 150 kilometers (93 miles) south of Key West, Florida.
Government: Communist. Fidel Castro led a successful 1959 military coup, toppling U.S.-backed dictator Fulgencio Batista and assuming control of the island nation. When he stepped down in 2008, younger brother Raul Castro became president.
Population: Almost 11.4 million. Cuba's population skews old, with 13 percent 65 or older compared with 8 percent worldwide. Its under-15 age group accounts for 17 percent of islanders versus 26 percent globally.
Life expectancy at birth (2013): 79 years in Cuba; 62 worldwide
Literacy: Universal
Economy: Socialist system in 2011 began introducing reforms such as enabling some private ownership and sales of real estate or permitting Cubans to buy cellphones and electronic appliances. Reforms also brought cuts in government jobs and approval for new retail service work, fostering entrepreneurship. About 476,000 Cubans have registered as self-employed.
GDP contribution by sector (percent): agriculture, 4; industry, 23.5; services, 73. The chief crop is sugar cane, followed by tobacco for hand-crafted cigars.
The success of the president's visit depends largely on making the opening with Cuba irreversible, said William LeoGrande, an expert on Latin America and former dean of American University's School of Public Affairs.
LeoGrande, the co-author of Back Channel to Cuba: The Hidden History of Negotiations Between Washington and Havana, said Obama has to show that his engagement with Cuba "brings results, so that the next president, whomever he or she may be, will look at what Obama has done with Cuba and say, 'This works. It's in the national interest. It works better than the old policy and so there's no reason to go backward.' "
Long process
While the president's visit will mark a key turning point in the U.S.-Cuba relationship, it will be just the start of a long process of recovery for the nation after decades of isolation, Hanson said.
"Reforms with Cuba will help create a relationship with Cuba where the Cuban people get to play a larger role in their own destiny and the Cuban government is willing to open up more space for people to do things," he added.
The White House has just announced it is easing restrictions on travel and trade with Cuba.
The regulatory changes allow for "people-to-people" visits to Cuba, eliminate a ban on Cuban financial transactions going through U.S. banks and allow Cuban citizens to earn salaries in the United States.
First lady Michele Obama will meet with female Cuban students during her time in Havana and the entire first family will attend a baseball game before they leave late Tuesday for a three-day visit to Argentina.
VOA's Senate Correspondent Michael Bowman contributed
to this report.
July 21, 2015
Cuba has officially become the first country in the world to eliminate the

transmission

of HIV and syphilis from mother to child.





Margaret Chan, director-general for the World Health Organisation,

described

the small Caribbean island's achievement as:
...one of the greatest public health achievements possible.



Cuba's success is the first step in a potential victory of the fight against HIV and AIDS. Its milestone is important on several fronts in the global health governance work towards an AIDS-free generation.





It also resonates in the Millennium Development Goals to reduce child mortality, combat HIV/AIDS, malaria and other diseases as well as in the sustainable development goals to reduce the global threat of HIV and AIDS.





What lies behind Cuba's success





Cuba's health system is described as being a model for the world, despite a lack of resources and financial assistance. It provides access to health care for its entire population of more than 11

million

and provides assistance, including provision of doctors, to other developing nations.





The healthcare system is linked to research and development, providing constant innovation in treatment and care. It is based on preventive medicine, instead of a curative model, which is more costly and less effective.





The main drivers in eliminating mother-to-child transmission were:





* the combined efforts of the Cuban government;




* its political tenacity in working to stop the halt of the virus; and




* the efforts of Pan-American Health Organisation in ensuring Cuba adhered to its programmes to stop the progression of transmission.





Their success story is partly as a result of the Pan American Health Organisation's access to medicines programme which increases mothers' access to anti-retroviral drugs in the region.





In partnership with the WHO the organisation implemented two strategies: the Global Elimination of Congenital Syphilis

strategy

and the

2011 Global Plan

towards the elimination of new HIV infections among mothers and children.





These effectively increased governments' political will to engage with HIV-positive citizens.





These regional initiatives controlled the spread of the disease. It showed success and consistency in their approach to stem risky behaviour which could increase transmission.





Within the country there were three major drivers that broke the infection chain for transmission. A decision was taken to provide additional HIV and syphilis testing for pregnant women and their partners; women were offered caesarean deliveries instead of natural deliveries; and breastfeeding was substituted.





Cuba also initiated a nationwide HIV screening program during 1985 and 1986. HIV screening is still required for expectant mothers. Voluntary screening is also encouraged. As a result, over 23 million HIV tests have been performed. HIV-positive females receive

AZT

as a matter of priority from 14 weeks of gestation.





The global picture





Each year about 1.4 million infected women across the globe fall pregnant. Without anti-retrovirals, these women have a 15% to 45% risk rate of transmitting HIV, either during pregnancy, labour or breastfeeding. If anti-retrovirals are provided, the risk drops to 1% of transmission.





Currently seven of the 10 pregnant women across the globe have access to anti-retrovirals to prevent viral transmission. This is an increase in access to anti-retroviral medication in low and middle income countries and should result in increased prevention of transmission of the virus.





Of the 22 countries which account for 90% of the new HIV infections, eight have reduced new infections by more than 50% since 2009, with an additional four creeping closer towards this milestone.





Lessons southern Africa can learn





What Cuba's success story means is two-fold. First, it is possible to eliminate mother to child transmissions, within measure. Second, the intervention and assistance of a regional organisation is effective in reducing transmission and providing access to anti-retrovirals.





Southern Africa, which has the highest rate of HIV/AIDS in the world, should take heed. The spread of the disease remains at the forefront of the development agenda for the heads of state in the Southern African Development Community or

SADC

.





If the SADC could mimic or adopt the same level of success that the Pan American Health Organisation has, this could significantly decrease mother to child transmission in the region.





The SADC

secretariat

should facilitate and co-ordinate regional issues and health care. But it is only mandated to assist with policy making that is approved by member states.





The secretariat has a HIV and AIDS unit, which assisted with a strategic framework. And most member states have adopted national policies or strategic development plans to address the country specific problems.





But co-ordination of policy is only executed once the SADC member states agree to implement the policy. A separate plan, the

Pharmaceutical Business Plan

, which was developed to address the need for regional provision and management of medication, has not been renewed.





Despite significant policy attention and the development of a regional cross border HIV and AIDS

initiative

, it remains to be seen how the region will fare in its struggle to reduce the epidemic.





Efforts to increase access to anti-retrovirals are continually hampered with problems of stock outs, limited political will and logistical difficulties. South Africa and Zambia, two prominent countries in the region, have experienced medication stock-outs. The need for a strengthened regional presence is evident.
This article was originally published on
The Conversation
by
Erica Penfold
January 30, 2015
Cuban President Raúl Castro seemed to throw some pretty big hurdles in front of efforts to establish normal diplomatic relations with the United States.
In a speech at a summit of Latin American countries, President Raúl Castro said a rapprochement with its northern neighbor would not make sense without three conditions: 1. The lifting of the U.S. embargo on Cuba. 2. The return of the U.S. base at Guantánamo Bay. 3. Compensation for "human and economic damage" the Cuban people have suffered.
Back in December the U.S. and Cuba announced they had intentions of normalizing diplomatic ties. President Obama loosened some U.S. restrictions on travel and business and Cuba agreed to release dozens of political prisoners.
Last week, the two countries held historic diplomatic talks in Havana. As NPR's Carrie Kahn reported, both delegations came out of it saying the talks were constructive and respectful and were going well.
NBC News reports that Castro's speech on Wednesday at the summit of the Community of Latin American and Caribbean States in Costa Rica broadens the list of Cuban demands.
The U.S. has said Guantánamo is not part of this negotiation and only Congress has the power to fully lift the embargo on Cuba.
So what does this mean? One analyst the Associated Press spoke to seems to think that this is Castro simply setting expectations on the island.
"John Caulfield, who led the U.S. Interests Section in Havana until last year, said the tone of Cuba's recent remarks didn't mean it would be harder than expected to reach a deal on short-term goals, such as reopening full embassies in Havana and Washington.

"In fact, he said, the comments by Mr. Castro and high-ranking diplomats may indicate the pressure Cuba's government is feeling to strike a deal as Cubans' hopes for better living conditions rise in the wake of Obama's outreach.

"'There is this huge expectation of change and this expectation has been set off by the president's announcement,' Mr. Caulfield said."
Update at 10:02 a.m. ET. A Bit Of Guantánamo History:
The shorter version is that the U.S. took possession of the sliver of land after it helped Cuba gain independence from Spain during the Spanish-American War at the end of the 1800s.
Through controversial politicking, the U.S. was given a perpetual lease to Guantánamo in 1903.
Through the estrangement, and much to chagrin of the Castro regime, the U.S. has kept a base in Cuba. It cuts a check every year and every year, the Cuban regime refuses to cash it.
December 18, 2014
This is a day that has been too long in coming. We sent soldiers to both Viet-Nam and Korea. WE had about 100,000 casualties between the two conflicts. We have relations with Vietnam and would love to normalize relations with North Korea. We never fought militarily with Cuba never had a single soldier die or injured in battle with them yet even though they are the closest nation on water to us and not standing that we had nothing to loose and everything to gain it took this long. Why? The The wealthy Republicans in Congress that don't care how much this can cost the uS annually and the families, Who cares about them? When was the last time the GOP cared about food stamps or if children went without food here? NEVER This was a well orchestrated campaign from Cubans that moved here when things got hot in Cuba and brought their money and started living great lives here that they didn't want the poor cubans to have. They form a great block as a GOP constituency because these guys knew dirt on politicians, these were the guys from bay of pigs. These were the cubans that were CIA informants on Cuba and other of their countryman here on the land. They developed through money and lending money for business for Miami a net like the Grandfather's. They we're in control. Typical anti communists would continue to dream for a war against all communists at anytime and they almost got us to eliminate the rest of the world as they eliminated us. They hated Kennedy for not giving them air cover on the Bay of Pifs invasion.
There are stories going around with many experts saying that Cubans with the CIA killed Kennedy. Anybody who has study those events find so many peculiar things. We even find Bush Walker, the father working as an intelligence analyst for the CIA (When Kennedy was shot) even though he alway said he never worked for the CIA prior to becoming the Director. When memos are shown with his name on them he's said "it most be another George Bush." Funny if it wasn't that it killed the president of the US and his Brother ex attorney general and probably the next President of the US But today things get a detente with Cuba and since both governments have wanted this it seems is going to be good for both countries. About time that those poor families that could not leave Cuba reunite with thir own.
Today is a great day while the Russians are scrapping for food the Cubans are eating their mangoes and coconut milk. Black beans and pork to soup of chicken without the chicken in Moscow. Thats how things are and now they have been made better for our neighbors like next to us and it will be good for Florida when we are able to start selling what they need. Adam Gonzalez
Barack Obama and Raúl Castro have thanked Pope Francis for helping broker a historic deal to begin normalising relations between the United States and Cuba, after 18 months of secret talks over prisoner releases brought a sudden end to decades of cold war hostility.
The two presidents spoke simultaneously on Wednesday to confirm the surprise reversal of a long-running US policy of isolating Cuba, detailing a series of White House steps that will relax travel, commercial and diplomatic restrictions in exchange for the release of Americans and dissidents held in Havana.
Though a formal end to the US trade embargo requires legislation in Congress, both Obama and Castro said they believed such executive action was sufficient to significantly open up relations between the two countries and allow travellers and trade to flow relatively freely.
"In the most significant changes in our policy in more than fifty years, we will end an outdated approach that, for decades, has failed to advance our interests, and instead we will begin to normalise relations between our two countries," said Obama in an address from the White House cabinet room. "Through these changes, we intend to create more opportunities for the American and Cuban people, and begin a new chapter among the nations of the Americas."
President Castro, who took over from his brother Fidel in 2008, was only slightly less expansive, calling on Congress to formally lift the embargo but saying he believed Obama could substantially "modify its use".
"This decision of President Obama deserves the respect and acknowledgement of our people," said Castro in an address on Cuban television. "The progress attained in the interchange show it is possible to find solutions to many problems. As we have repeated we should learn the art of coexistence in a civilised manner with our differences."
The former defence minister welcomed the release of three Cuban intelligence agents held in the US and recalled a promise from Fidel that they would return. It was the only mention of his sibling, who retired in 2008 in poor health and remains largely out of the public eye.
Gerardo Hernández, Antonio Guerrero and Ramón Labañino were among five Cubans jailed for spying on anti-Castro groups in Florida. In exchange for them, Havana released a Cuban man described by Obama as "one of the most important intelligence agents that the United States has ever had in Cuba". The man, who was freed after nearly 20 years in prison, is said to have been responsible for revealing the "Miami Five" and other prominent Cuban agents. The Cuban government also released 53 political dissidents as part of the deal.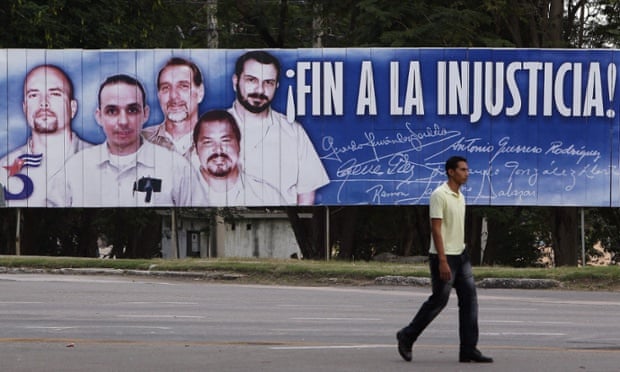 "Five and a half decades of history show us that such belligerence inhibits better judgement. Two wrongs never make a right. I truly hope we can get beyond these mutually belligerent policies and I was very happy to hear what the president had to say today," he said.
Gross said he had the utmost respect for the Cuban people and said he was pained "to see them treated so unjustly".
"In no way are they responsible for the ordeal to which my family and I have been subjected," Gross said, describing the vast majority of Cubans as "incredibly kind, generous and talented".
But even as Gross was en route to the US, it became clear that a far larger negotiation had been underway since private talks began in Canada in June 2013.
These were supported closely watched by Pope Francis, who personally wrote to both leaders and hosted a crucial secret summit at the Vatican this autumn, which they credited with helping clinch the deal.
"His Holiness Pope Francis issued a personal appeal to me and to Cuba's president, Raúl Castro, urging us to resolve Alan's case and to address Cuba's interests in the release of three Cuban agents, who've been jailed in the United States for over 15 years," said Obama.
Nevertheless, the deal brought immediate and fierce criticism from Congress, where many senior figures in both sides believe Obama has struck a poor deal, with few concrete commitments toward political reform from Havana.
"The White House has conceded everything and gained little in return," said Florida senator Marco Rubio. "We are getting no commitment on freedom of the speech, elections, no binding commitment on opening up the internet or even the semblance of a transition to democracy."
"This entire policy shift is based on a lie and illusion, that more access to money and goods will translate to more political freedom," added the Republican presidential hopeful.
Democratic senator Bob Menendez, outgoing chair of the foreign relations committee, said: "President Obama's actions have vindicated the brutal behavior of the Cuban government."
A full end to the US trade embargo of Cuba would require legislation in Congress, something for which there has been virtually no appetite until now, but the White House hopes that by using a series of executive actions to minimise its enforcement, it can provide a breakthrough that will encourage political reform in Cuba and soften political opposition in the US.
"I'm not expecting transformation of Cuban society overnight," said Obama. "[But] we can't keep doing the same thing for five decades and expect a different result."
"We fully expect we will continue to have strong differences, particularly on democracy and human rights ... [but] engagement is a better tool than isolation and nowhere is that more clear than Cuba," added a senior US administration official in a White House briefing call for reporters. "By opening up we will able to promote freedom."
Castro, who has introduced economic reforms but retained tight political control, said Cubans had stayed loyal to the revolution and its social justice ideals despite numerous challenges and would continue to do so. "We carry forward, given the difficulties, with the actualisation of our economic model to build a prosperous and sustainable socialism."
May 17, 2014
The Red Bull Cliff Diving World Series 2014 got underway last weekend in Cuba at Havana's iconic Morro Castle.
The world's top cliff divers, including ten men and five women, plunged 27 meters (88 feet) into the water below.
Between May and October 2014, these divers will gather to perform at the highest level and fighting for glory around the globe.
Watch a teaser clip of the competition below:
January 9, 2014
President Raul Castro has said power in Cuba is being gradually transferred, in a speech at celebrating 60 years since the start of the revolution.
The revolutionaries were giving way to a new generation who would keep socialist ideals alive, Mr Castro said.
Several Latin American leaders gathered in Santiago to mark the failed Moncada barracks assault, seen as the start of Mr Castro's brother Fidel's revolution.
Fidel Castro stepped down from power in 2008 after a series of health issues.
He was absent from Friday's celebrations in Santiago.
Whereas in Fidel's time it was customary to make big announcements on 26 July, Raul Castro has been keeping a lower profile at the event.
This year, President Castro – who's been pushing a string of economic and political changes in the country – paid tribute to his brother and the revolution.
"The historic generation is giving way to the new one, with tranquillity and serene confidence, based on the preparation and competence to keep the flags of the revolution and socialism flying high," he told the crowd.
Venezuela's President Nicolas Maduro, Nicaragua's Daniel Ortega and Uruguay's Jose Mujica were among dignitaries in the audience.
Mr Mujica, who also took up arms with revolutionaries in his country, said the Cuban revolution had given other Latin American nations confidence.
"This was a revolution of dignity. It gave us dreams," he said.
On Wednesday, the former revolutionary had a personal meeting with Fidel Castro.
Following the talks, he said Mr Castro was weighed down by his age but remained brilliant and youthful in his mind.
The annual 26 July rally marks the anniversary of the first battle of the Cuban revolution when Fidel, along with Raul, led an attack on the Moncada barracks.
It was successfully repelled by the army of dictator Fulgencio Batista and the Castro brothers were sent to prison but later released.
December 14, 2013
HAVANA –

On Nov. 8, President Barack Obama declared in Miami that it was necessary to "update" US policy toward Cuba.
From my point of view, the purpose of Obama's visit to Miami was exactly as advertised: to collect money and promote the Democratic Party campaign for the mid-term elections next year.
What's relevant is that the place chosen for that statement was the home of the chairman of the Cuban-American National Foundation, and that the topic selected to attract the Cuban-American electorate was the need to transform US policy toward the island.
How times change! many might say.
Three days later, Secretary of State John Kerry expressed himself with the same language when addressing representatives to the Organization of the American States. In truth, he said nothing new, but the rhetoric itself indicates that the United States no longer finds it viable to maintain a policy that isolates Cuba from the continental concert and at the very least must offer hopes of the change demanded by the Latin American countries.
This, especially, as we look toward the 2015 Summit of the Americas, which many leaders said they wouldn't attend if Cuba was excluded.
Then another Cuba-related event caught the attention of the media. On Nov. 26, the Cuban Interests Section in Washington announced the need to cancel its consular operations because no American bank — or foreign bank accredited in the US — was willing to handle its current accounts.
The reason given by those institutions is that the restrictions, controls and possible sanctions imposed by the U.S. blockade against Cuba make that activity much too complicated and dangerous.
Evidently, that problem is not in the interest of the US government, not only because it questions the administration's ability to honor its international commitments in terms of diplomatic representation but also because its consequences can affect travel and contacts with Cuba, which, as we have seen, is the basis of this administration's work with the Cuban-American electorate.
In an unusual decision, the US State Department on Dec. 3 authorized Cuba's participation in the Caribbean Baseball Series.
Apparently, this event has nothing to do with the US government, given that American teams don't participate in it, but the leaders of Major League Baseball worried about violating the blockade if athletes they had hired participated in it, so they ordered the tournament's organizers to request the license.
It is no coincidence that it was the Department of State, not the Treasury, that issued the approval. The topic of a baseball tournament had become an international problem that forced the United States to intervene.
On the same day, it was reported that Alan Gross, a US subcontractor detained in Cuba, had written to President Obama complaining that the US government had abandoned him, even though (he claimed) he was carrying out missions for the US on this and previous occasions.
Sixty-six senators wrote to the President, asking him to do everything possible to achieve Gross' release and assured Obama that they would support him in the effort. Meanwhile, Kerry said in Brussels that "something" was being done but that he couldn't give any details.
The Cuban government, for its part, called again on the United States to negotiate a solution for this case, taking into account the humanitarian complaints of the four Cubans held for more than 15 years in US prisons, something the US government has so far refused to do.
The common factor in these news items is the demonstration that US policy toward Cuba has become a trap for the US itself, to the degree that it prevents the government from acting with the flexibility demanded by the political action, at both the international and domestic levels.
Even the Cuban-American far right disclaims the straitjackets it once helped to create. The Republicans would like to blow up the Cuban Adjustment Act, because it has become a factory of opposition to their line. The Cuban-American National Foundation, to a great degree the inventor of the Helms-Burton Act, now sides with the President in his call for a more "creative" policy.
No other US president has been in a better position than Obama to take steps to modify US policy toward Cuba, not so much because the American vision has changed ("the objectives are the same," the President said in Mas Santos' home) but because the actual conditions of U.S. politics so demand it.
What's missing is the will to do what common sense dictates — although someone said that common sense is the least common of all senses.
HavanaTimes.org