September 28, 2016
An investigation that implicated Russia in the downing of Malaysia Airlines Flight MH17 was able to track the movements of a missile launcher thanks to photos and video clips from witnesses.
Investigators revealed social media posts aided their efforts to meticulously chart the surface-to-air missile system's path - concluding it was brought into rebel-held territory in eastern Ukraine from Russia.
Prosecutors confirmed the plane with 298 people on board was shot down from the village of Pervomaysk by a Russian-made missile and the launcher was trucked back to Russia after the attack.
Reconstruction footage released by investigators contains witness photos and video that show the missile launcher traveling through the city of Donetsk and smaller towns towards the launch site.
A spokesman had claimed: "First-hand radar data identified all flying objects which could have been launched or in the air over the territory controlled by rebels at that moment.
"The data are clear-cut...there is no rocket. If there was a rocket, it could only have been fired from elsewhere."
Russian officials also tipped off the JIT (Joint Investigation Team) that the rural town of Zaroshchenske was a potential launch site – claiming it was controlled by Ukrainian forces at the time.
mirror.co.uk/news/world
A Dutch-led criminal investigation into the 2014 downing of Malaysia Airlines Flight 17 released Wednesday found evidence the airliner was struck by a Russian-made Buk missile that was moved into eastern Ukraine from Russia.
The report confirmed multiple findings in the past of the cause of the crash of the Boeing 777, en route from Amsterdam to Kuala Lumpur, Malaysia, killing all 298 people aboard.
Wilbert Paulissen, head of the Dutch Central Crime Investigation Department, said communications intercepts showed pro-Russian separatists separatists had called for the missile to be deployed, and reported its arrival in rebel-held parts of eastern Ukraine.
The missile which brought down Flight MH17 two years ago over eastern Ukraine was transported into the area from Russia, a Dutch-led investigation has found. Video provided by AFP Newslook
"It may be concluded MH17 was shot down by a 9M38 missile launched by a Buk, brought in from the territory of the Russian Federation, and that after launch was subsequently returned to the Russian Federation," Paulissen said at a news conference, announcing the results of the two-year investigation.
Russia, which denied responsibility for the July 17, 2014, crash from the start, continued to do so Wednesday.
Initially, Russian officials suggested a Ukrainian fighter jet flying nearby could have shot down the airliner. On Wednesday, Russian Foreign Minister Sergey Lavrov the Dutch-led investigation was "biased and politically motivated."
The Russian military insisted Wednesday that no air defense missile systems have ever been sent from Russia to Ukraine. The Defense Ministry spokesman, Maj. Gen. Igor Konashenkov, claimed the investigation's conclusions were based on information from the internet and Ukrainian special services, the Associated Press reported.
In Washington, State Department spokesman John Kirby said the latest findings are "another step toward bringing to justice those responsible for this outrageous attack."
Eliot Higgins, founder of the open-source research group Bellingcat, whose early reports pointing at Russian involvement were verified by the Dutch report, said Russia has consistently issued false information about the crash "from claims about satellite imagery to claims about the movements of Buk missile launchers."
Russia has repeatedly denied allegations that pro-Moscow rebels in eastern Ukraine were responsible for downing the plane. Russia also has denied supporting the separatists with arms and money, despite evidence to the contrary from foreign governments and news media.
Prosecutors from the Joint Investigation Team — made up of investigators from Australia, Belgium, Malaysia, the Netherlands and Ukraine — told the relatives of those killed that they would investigate about 100 people over the incident, the BBC reported.
Robby Oehler, whose niece died in the crash, told the broadcaster: "They told us how the Buk was transported [and] how they came to that evidence from phone taps, photo, film material, video."
A separate investigation by the Dutch Safety Board concluded in October 2015 that the plane was hit by a Russian-made Buk missile.
Eduard Basurin, from the Donetsk People's Republic rebel group, told the Interfax news agency: "We never had such air defense systems, nor the people who could operate them. Therefore we could not have shot down the Boeing."
In advance of the report's release, Russian presidential spokesman Dmitry Peskov said Russia wanted "an impartial and full investigation of that tragedy."
"No conclusions can be made without taking into consideration the latest information that was published by our military — namely the primary radar data that recorded all aircraft or objects that could be launched or be in the air on the territory controlled by militia at that time," he told reporters, according to the Tass news agency.
He added that "the data are unambiguous and there is no missile (that allegedly downed the jet) there. If there had been a missile, then it could have been launched from other territory. In this case, I do not say which territory — this is a matter of experts."
June 27, 2016

We think of terrorism when there is an airplane crash or when there is something for which we don't have immediate answers. On this particular crash in which terrorism is been on everyone's lips at least as far as the French government investigation is concern it was not terror but probably an unfortunate accident or even a criminal accident.
A spokeswoman told the Associated Press that it would begin as an accident inquiry because there was no evidence so far to link it to terrorism.
The authorities, she said, were "not at all" favoring the theory the Airbus A320 was brought down deliberately.
Flight MS804 from Paris to Cairo crashed in the Mediterranean Sea on 19 May, killing all 66 people on board.
Earlier on Monday, Egyptian investigators said the damaged memory chips from the plane's cockpit voice and data recorders had been flown to France.
Technicians at France's BEA air accident investigations agency will attempt to clean and repair them, and then send them back to Egypt for analysis.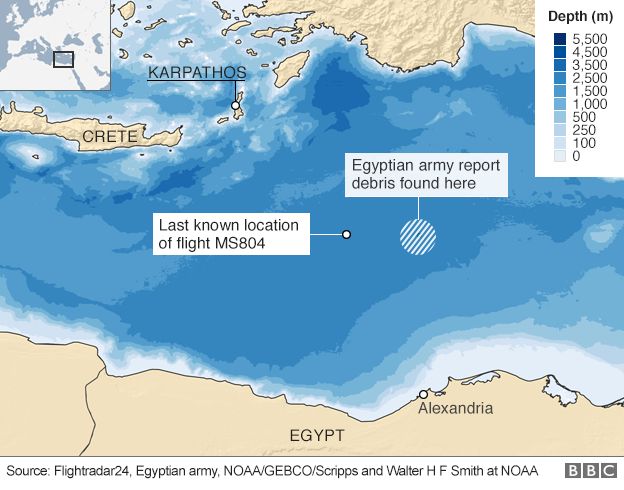 The flight recorders were recovered from the plane's wreckage, about 290km (180 miles) north of the Egyptian coast and at a depth of about 3,000m (9,800ft).
The cause of the crash remains a mystery.
Automated electronic messages sent by the plane revealed that smoke detectors went off in a toilet and in the avionics area below the cockpit, minutes before the plane's signal was lost.
Radar data shows the plane turned 90 degrees left and then 360 degrees to the right, dropping from 11,300m (37,000ft) to 4,600m (15,000ft) and then 3,000m (10,000ft) before it disappeared.
---
What do we know so far?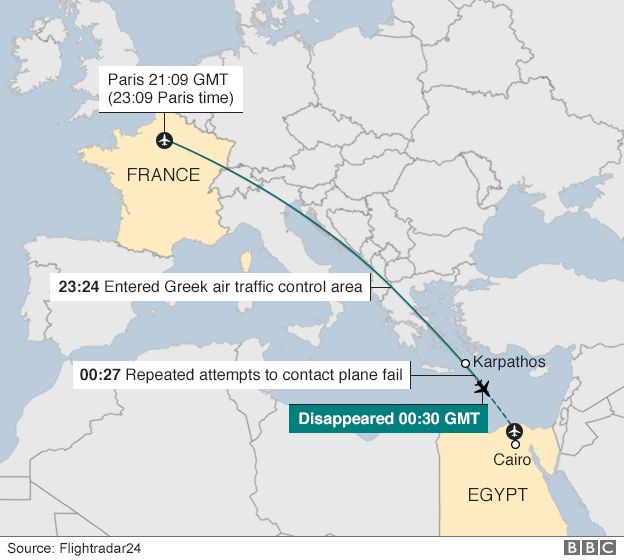 EgyptAir Flight MS804 vanished over the eastern Mediterranean early on Thursday 19 May with 66 passengers and crew on board
Some surface debris was found 290km (180 miles) north of the Egyptian city of Alexandria
Wreckage was subsequently found in several locations at a depth of about 3,000m (6,800ft)
Signals from the plane indicated that smoke was detected in the toilet and in the avionics area below the cockpit
Aircraft made a 90-degree left turn followed by a 360-degree turn to the right before vanishing off radar
November 18, 2015
Egyptian authorities have detained two employees of Sharm al-Sheikh airport for questioning in connection with the downing of the Russian jet, two security officials and an airport employee said on Tuesday
Vladimir Putin Vladimir Putin
President Vladimir Putin vowed to hunt down those responsible for blowing up a Russian airliner over Egypt and intensify air strikes against Islamists in Syria, after the Kremlin concluded a bomb had destroyed the plane last month, killing 224 people.
"We will find them anywhere on the planet and punish them," Putin said at a sombre Kremlin meeting broadcast on Tuesday. The FSB security service swiftly announced a $50 million bounty on the bombers. Until now, Russia had played down assertions from Western countries that the Oct. 31 crash was the work of terrorists, saying it was important to let the official investigation run its course. But four days after Islamist gunmen and bombers killed at least 129 people in Paris, Alexander Bortnikov, the head of the FSB, told a late night meeting that traces of foreign-made explosive had been found on fragments of the downed plane and on passengers' personal belongings.
"According to an analysis by our specialists, a homemade bomb containing up to 1 kilogram of TNT detonated during the flight, causing the plane to break up in mid air, which explains why parts of the fuselage were spread over such a large distance," said Bortnikov at the meeting in footage released by the Kremlin. "We can unequivocally say it was a terrorist act," he said.
Egyptian authorities have detained two employees of Sharm al-Sheikh airport for questioning in connection with the downing of the Russian jet, two security officials and an airport employee said on Tuesday. "Seventeen people are being held, two of them are suspected of helping whoever planted the bomb on the plane at Sharm al-Sheikh airport," said one of the security officials who both declined to be named.
The Airbus A321, operated by Metrojet, had been returning Russian holiday makers from Sharm al-Sheikh in Egypt to St Petersburg when it broke up over the Sinai Peninsula, killing all on board. A group affiliated with Islamic State claimed responsibility, but until Tuesday Russia had said terrorism was just one possible scenario.
RETRIBUTION
Putin, wearing a dark suit, presided over a minute of silence in memory of the victims at the Kremlin meeting, before telling security and military chiefs the incident was one of the bloodiest crimes in modern Russian history and ordering the air force to intensify its air strikes in Syria in response.
"Our air force's military work in Syria must not simply be continued," he said. "It must be intensified in such a way that the criminals understand that retribution is inevitable."
Putin said he expected military chiefs to present him with specific proposals on how Russia could ramp up its campaign. His spokesman, Dmitry Peskov, told reporters Putin was expected to visit the defence ministry later on Tuesday.
A senior French government source said Russia had already launched air strikes against the Islamic State stronghold of Raqqa in northern Syria on Tuesday, a sign, the source said, that Russia was becoming more concerned about the threat posed by IS.Russia began air strikes in Syria at the end of September. It has always said its main target is Islamic State, but most of its bombs in the past hit territory held by other groups opposed to its ally, President Bashar al-Assad.
Putin, in language reminiscent of how he talked about Chechen militants during a war when he came to power 15 years ago, ordered the secret services to hunt down those responsible.
"We must do this without any statute of limitations and we must find out all their names," he said, invoking Russia's right to self defence under the United Nations charter. "Anyone who tries to help the criminals should know that the consequences for trying to shelter them will lie completely on their shoulders."
November 12, 2015
Mounting evidence that an onboard bomb brought down the Russian jet that crashed on Egypt's Sinai Peninsula, killing 224 people, poses a tough new dilemma for President Vladimir Putin: how to respond. If the theory of a terrorist attack is borne out, it will look like exactly what Islamic State militants have said it was: swift and deadly retaliation for Russia's military operation in Syria.
There are several paths the Kremlin could take, but each has potential pitfalls and none is guaranteed to ward off the problems the crash could create for Putin at home and abroad. Here's how Russia might react:
Denial
Until and unless there is powerful proof the crash of Kogalymavia/Metrojet Flight 9268 was caused by a bomb carried on board or stowed in the baggage hold, Russia will be tempted to drag its feet on acknowledging that possibility. A technical cause would be embarrassing for Putin, too, but less so than a terror attack because plane crashes caused by mechanical failure or pilot error are an all-too-familiar phenomenon since the 1991 Soviet collapse, and few Russians would blame Putin personally for the tragedy.
Terrorists have brought down Russian planes before: In 2004, days before militants attacked a school in the North Caucasus town of Beslan, two women from Daghestan boarded separate domestic flights and blew them up in quick succession on a single night, killing all 89 people aboard. But the Airbus jet that broke apart high over the Sinai was outside Russia, headed from the Red Sea resort of Sharm el-Sheikh to St. Petersburg, Putin's hometown. The death toll -- all 224 people aboard -- was the highest in the history of Russian and Soviet aviation.
The idea that such flights are vulnerable further undermines a crucial element of the unwritten contract Putin has forged with middle-class Russians in more than 15 years in power: Fall in line politically and you will enjoy perks that were far out of reach for your parents -- like beach vacations abroad. And all but the most slow-witted slaves to Kremlin propaganda might wonder about the value of Putin's pledges to protect compatriots worldwide -- a group that was the subject of a high-profile meeting in Moscow on November 5 -- if they see Britain and other countries cancelling Sinai flights and Russia making no changes.
The main problem with denial is that it can only work if it is plausible. As evidence of a possible bombing has mounted, both Russian and Egyptian officials have warned loudly against rushing to judgment. Putin made no mention of a possible cause when he broke two days of silence on November 2 and described the crash as an "enormous tragedy." Putin's spokesman, Dmitry Peskov, said on November 5 that talk of a bomb on board was "speculation," and Prime Minister Dmitry Medvedev said it was too early to draw any conclusions about the cause.
Blame Egypt
Russian officials have decades of experience with the blame game, and pointing the finger at Egypt might seem like an obvious course. In its efforts to deflect accusations of involvement in the missile strike that brought down a Malaysian jet in eastern Ukraine last year, killing 298 people, one of Moscow's arguments is that Kyiv is ultimately to blame because it did not entirely close the airspace over the zone where Russia-backed separatists were battling government forces.
But blaming Egypt would fit badly into Russia's new power politics in the Middle East. Putin has assiduously courted the country, long a much closer partner of the United States, and even endorsed President Abdel Fattah al-Sisi before his election in 2014. Also, Kremlin criticism of Egyptian security measures might make Russians wonder why their government never raised the issue before, as hundreds of thousands of them flew in and out of Sharm el-Sheikh and Hurghada, another Egyptian resort, for vacations in recent years.
Blame The West
The tried-and-true approach for Putin, particularly in his third term. He has blamed the United States for street protests that shook the Kremlin in 2011-12 and accused Washington of giving direct backing to militants in Russia's North Caucasus. It would be a stretch to lay the blame for the Sinai crash squarely on the West, but it seems likely the Kremlin will point the finger as much as it can. Jabs at the West may fit into the Russian narrative that holds that U.S. and European actions in the Middle East have facilitated the rise of the Islamic State (IS) group.
Since Putin launched the campaign of air strikes in Syria on September 30, officials in Moscow have lashed out angrily at Western political and military leaders who have warned that the intervention could lead to Russian casualties or other painful consequences in short order. Faced with evidence that a bomb brought down the jet -- and with alleged statements from militants saying that the victims were "crusaders" punished "in response to Russian air strikes that killed hundreds of Muslims on Syrian land" -- officials in Moscow might go so far as to claim that such statements have encouraged IS to attack Russians.
Already, the head of the International Relations Committee in Russia's upper house of parliament has claimed that Britain's decision to suspend all flights to Sharm el-Sheikh -- a response to concerns that the Russian plane was bombed -- was motivated by London's opposition to Moscow's actions in Syria. "There is geopolitical opposition to the actions of Russia in Syria," state-run Russian news agency RIA Novosti quoted the lawmaker, Konstantin Kosachyov, as saying on November 5.
Hours later, Russian Foreign Ministry spokeswoman Maria Zakharova lashed out at Britain over the move, accusing its government of failing to share intelligence about the plane crash. While such a statement will not hold water among Western officials, it could work with a domestic audience -- and dovetails with Russian calls for the United States to share more information about IS fighters and other militants in Syria.
Embrace And Employ
Proof that IS-allied militants brought down an airliner full of Russian vacationers a month after Moscow launched air strikes in Syria would be a heavy blow for Putin. But if he is forced to accept that it was a bomb attack, he will seek to soften the impact and use the tragedy to further his agenda at home, in the Middle East, and in relations with the West.
Domestically, Putin could see the crash as a chance to flesh out his portrayal of Russia as a defiant nation that must be unified in the face of threats from outside, whether they come from the West or from IS. Putin provided a glimpse of that response on November 3 in Daghestan, a Russian region plagued by the country's own Islamist insurgency: Without mentioning the plane crash, he said that "nobody has ever been able to frighten...the Russian people" and called any efforts to do so "hopeless."
Abroad, as he did when Al-Qaeda terrorists attacked the United States on September 11, 2001, Putin might use the tragedy to bolster his case that Russia and the West face a common foe and must work together -- on Moscow's terms -- to defeat it. In the Kremlin's eyes, that means that the United States, Europe, and Gulf Arab states must drop their criticism of the Russian campaign in Syria and accept Moscow -- and Syrian President Bashar al-Assad's government -- as allies in the fight against IS.
On a simpler level, Putin could use the incident to counter Western accusations that Russian air strikes are not targeting IS, portraying such an attack as proof that the militant group sees Russia as major adversary on par with others it has called "crusaders."
But this is a double-edged sword: Depicting his country as a strong, defiant state under attack from IS raises the pressure on Putin to go after IS more aggressively in Syria rather than pursue the more modest goal of shoring up Assad and positioning Russia to maintain influence in the event of a political settlement of the civil war. That, in turn, could mean getting more deeply involved in the conflict -- a costly endeavor that could hurt Putin's popularity at home if Moscow's biggest military operation outside the former Soviet Union since that country's demise goes awry.
There are signs Russia could be headed in this direction. A few days before Russia began its bombing campaign in Syria, Putin told a U.S. television interviewer that he would not deploy combat troops in Syria, but then he added, "at least, we do not plan on it for now." And Victoria Nuland, the U.S. assistant secretary of state for European and Eurasian affairs, told Congress on November 4: "Now Russia is fielding its own artillery and other ground assets around [the Syrian cities of] Hama and Homs, greatly increasing their soldiers' vulnerability to counterattack."
November 7, 2015
President Vladi­mir Putin suspended all Russian flights to Egypt on Friday, pending the outcome of probes into last week's deadly plane crash in the Sinai Peninsula as Moscow investigates whether a bomb is to blame.
The decision came at the suggestion of Russian intelligence chief Alexander Bortnikov, who said Russia should ground all flights to Egypt "until we know the true causes of the incident" that killed all 224 people aboard the Russian Metrojet airline flight on Saturday.
The move marks another huge blow to Egypt's vital tourism industry amid a chaotic mass evacuation of Britons from the southern Sinai, and follows assertions by the United States and Britain that a bomb may have torn apart the Airbus 321 bound for St. Petersburg.
The suspicions were strengthened by French officials, cited anonymously by the magazine Le Point and France 2 television, who were quoted as saying the flight recorders carry the sound of an apparent explosion that is not believed linked to a malfunction or crew error. The investigation includes experts from France, where Airbus is based.
While the United States is not involved directly in the investigation, Homeland Security Secretary Jeh C. Johnson on Friday announced new security enhancements for flights from certain airports in the region. They include expanded screening of items on aircraft, airport assessments and assistance to certain foreign airports.
At a meeting of the National Anti-Terrorist Committee, Russian officials also said they had collected samples of the airplane body, luggage and soil from the crash site to test for any explosives residue.
The statements are the strongest sign yet that Russia is considering terrorism as a primary possible explanation in Russia's deadliest aviation incident. It also appears to go further than some other nations, which have suspended flights only to the resort city of Sharm el-Sheik after the crash.
Russian officials had earlier rejected statements by President Obama and British Prime Minister David Cameron that a bomb may have caused the accident, and urged foreign officials to abstain from "speculation."
"It means that they're taking information about a possible attack very, very seriously," Alexei Makarkin, vice president of the Moscow-based Center for Political Technologies, said of the decision to suspend flights.
If a plot is involved, it could severely alter the public perception of the military campaign in Syria — which some believe could open Russia to increasing risks of retaliatory attacks from groups such as the Islamic State.
"It would be like going from a computer game into a terrifying reality," Makarkin said.
But Makarkin predicted such as scenario would not hurt Putin's soaring popularity. Instead, it could fuel calls for stepped up offensives in Syria, similar to the demands to strike back hard in Chechnya in the past decade after Islamist militants launched deadly raids in Moscow and elsewhere.
As part of the flight suspensions, Russia also said it would take steps to bring home Russians currently in Egypt.
Meanwhile, confusion reigned at the airport in Sharm el-Sheikh as Britain struggled to evacuate thousands of its citizens under emergency security rules.
Despite repeated assurances from British officials that the airlift would go ahead as planned, the low-cost carrier EasyJet announced Friday that "rescue plans that were put in place yesterday have been suspended by the Egyptian authorities."
EasyJet later said two flights managed to leave Sharm el-Sheikh, but that eight had been suspended. Several other airlines, including Monarch, Thomas Cook and Thomson, said their flights also had been cancelled due to over-capacity at the airport. Passengers trying to reach Britain were advised wait for confirmation of a new flight — a process that could take days.
Egypt's civil aviation ministry said that just eight of the 29 planned Britain-bound flights would depart from Sharm al-Sheikh Airport on Friday. It blamed the snags on limited runway and luggage storage capacities at the airport in the Red Sea resort even though many airlines canceled service after last week's crash.
Passengers must leave their checked luggage behind for security reasons. As many as 20,000 Britons are believed to be in and around the resort, a popular destination for Europeans and an important link in Egypt's tourism networks.
In London, a government statement stressed the "logistical complexities" of flying out thousands of people and predicted it would take significant time without giving specifics.
At the airport, passengers who had waited in long security lines to board their flights received text messages saying their returns to Britain had been placed on hold.
When the British ambassador to Egypt, John Casson, showed up, he was heckled by passengers. "What is the problem and when can we go home?" several shouted, according to the Guardian newspaper.
On Wednesday, Britain announced that it would suspend all flights in and out of Sharm el-Sheikh due to concerns about security at the airport. Several other European nations followed suit, and carriers including Dubai-based Emirates said it would shift flight paths from Sinai airspace.
The BBC reported Friday that the British decision to suspend flights in and out of Sharm el-Sheikh had been sparked by intelligence suggesting the Russian plane, an A320 series, was downed by a bomb that had been placed in the luggage compartment. The BBC said that intelligence was "based on intercepted communications between militants in the Sinai Peninsula."
The BBC did not cite specific sources for the report, and British officials declined to comment.
The British prime minister Cameron, citing intelligence reports, said Thursday that a bomb "more likely than not" was the cause of the crash.
Putin's spokesman, Dmitri Peskov, said Cameron and Putin had not discussed British evidence that last week's plane crash was an act of terror.
Cameron "did not share that with us," Peskov told journalists, discussing a phone call on Thursday between the two leaders. "We do not know which data our British colleagues are using."
On Thursday, Obama and other senior Western officials had said that a bomb may have caused the Russian passenger jet to crash in Egypt last weekend, redoubling speculation about a terrorist attack despite heated protests from the governments of both Russia and Egypt.
In a radio interview with ­Seattle-based KIRO Radio, Obama said, "I think there is a possibility that there was a bomb on board and we're taking that very seriously."
"We're going to spend a lot of time just making sure our own investigators and own intelligence community find out what's going on before we make any definitive pronouncements. But it's certainly possible that there was a bomb on board," he said.
U.S. intelligence officials and key legislators echoed the president's remarks but cautioned that while a bomb may have brought down the Russian plane, that cause has not been confirmed.
"There are certainly indications that it may have been an explosion, may have been a terrorist bomb on the aircraft, but it remains a possibility that it was a structural failure in the aircraft," said Rep. Adam B. Schiff (Calif.), the ranking Democrat on the House Intelligence Committee, speaking on MSNBC on Thursday. "And the intelligence community is not really at a point where it can confirm either hypothesis."
Schiff also described as "very forward-leaning" remarks by British Foreign Secretary Philip Hammond that a bomb is a "significant possibility."
"I can only tell you our perspective here in the United States, which is we aren't ready to confirm anything," Schiff said.
Still, the United States has stepped up security on flights from the region.
Johnson, the homeland security secretary, on Friday issued a statement saying he and Transportation Security Administrator Peter Neffenger, "out of an abundance of caution," had identified a series of precautionary security enhancements, designed to provide an additional layer of security for passengers on U.S. bound planes from certain airports in the region.
Russia and Egypt have called for patience while an official investigation that also includes Germany, France and Ireland reviews the crash over the next several months.
Egypt is battling an Islamist insurgency in the Sinai Peninsula, and a bombing would undercut President Abdel Fatah al-Sissi's claims that the situation is under control. Sissi was in London on Thursday for talks with Cameron.
Meanwhile, the Islamic State's affiliate in Egypt has repeatedly asserted responsibility for the crash, which it called revenge for Russia's intervention in the war in Syria.
Witte reported from London. Erin Cunningham and Heba Habib in Cairo, Karla Adam in London and Karen DeYoung in Washington contributed to this report. Word Press Picture
Andrew Roth is a reporter in The Post's Moscow bureau.
Griff Witte is The Post's London bureau chief
US Enhances Airport Security
The United States will boost security checks overseas for U.S.-bound flights as a precaution following the recent Russian passenger jet crash in Egypt, including asking foreign airports to tighten screening of items before they are brought on board aircraft, U.S. officials said on Friday.
Jeh Johnson, the U.S. Homeland Security Secretary, said in a statement that he and the head of the U.S. Transportation Security Administration (TSA), "out of an abundance of caution, have identified a series of interim, precautionary enhancements to aviation security with respect to commercial flights bound for the United States from certain foreign airports in the region."
Johnson's statement said security improvements would include "expanded screening" for items on aircraft, additional assessments of security at foreign airports in partnership with foreign authorities, and unspecificed "offers of other assistance to certain foreign airports" related to aviation and airport security.
The statement said that the enhancements were intended "only for certain foreign airports in the region." It did not specify which airports would be involved. A U.S. official familiar with the matter said that all the airports affected were in the Middle East.
The official said security enhancements by the U.S. would be put in place by local airport authorities and operators in conjunction with U.S. government representatives.
The official said that because the airport at Sharm El Sheikh, from which the Russian aircraft that crashed departed, is not served by any direct flights to the U.S., it would not be affected by the new U.S. security moves.
While airlines of multiple European countries served Sharm el Sheikh before last weekend's flights, U.S. officials said American-flag carriers had not flown directly in or out of that airport for some time.
"All of our members who had flown in or over that region have stopped doing so and are rerouting flights out of an abundance of caution," added Melanie Hinton, a spokesperson for Airlines for America, a trade association for U.S. airlines.
U.S. officials would not say whether the decisions by U.S. airlines to avoid Sharm el Sheik were based on official guidance from any U.S. government agency.
One U.S. official said that within the last two years, TSA had assessed security at foreign airports, and that Sharm el Sheikh had a reputation inside the U.S. government for poor security. Another official noted that TSA has never made such assessments public. (Reuters)
November 6, 2015
— President Obama said last night (Thursday eve.) that there was "a possibility" that a terrorist bomb was responsible for the destruction of a Russian passenger plane that broke apart last Saturday over the Sinai Peninsula in Egypt.
Mr. Obama said in a radio interview that there may have been a bomb on the plane, but he did not go as far as his counterparts in Britain, who have suggested that the destruction of the plane, and the death of all on board, was most likely the result of a terrorist explosion.
"I don't think we know yet," Mr. Obama told the Seattle radio station KIRO during an interview broadcast on Thursday afternoon. "Whenever you've got a plane crash, first of all you've got the tragedy, you've got making sure there's an investigation on site. I think there is a possibility that there was a bomb on board. And we are taking that very seriously."
Russian emergency services personnel at the site of the Metrojet crash in the Sinai Peninsula, Egypt.Britain, Concerned About Russian Crash, Halts Sinai FlightsNOV. 4, 2015
Russian crews collected the personal belongings of passengers on the Metrojet flight on Tuesday on the Sinai Peninsula in EgyptFlash Was Detected as Russian Jet Broke Apart, U.S. Military Officials SayNOV. 3, 2015
A tourist watched the sun set over the Red Sea in the resort town of Sharm el Sheikh, Egypt, in June.Sinai Plane Crash Threatens a Bright Spot for Egyptian TourismNOV. 2, 2015
"We are going to spend a lot of time making sure our own investigators and our own intelligence community figures out exactly what's going on before we make any definitive pronouncements," Mr. Obama added. "But it is certainly possible that there was a bomb on board."
At the White House earlier in the day, administration officials said that the United States had not yet made a determination about the cause of the crash near the Egyptian resort city of Sharm el Sheikh, but added that the government had not excluded the possibility of a bomb.
"We can't rule anything out, including the possibility of terrorism," Josh Earnest, the White House press secretary, told reporters in Washington.
In London on Thursday, Prime Minister David Cameron said that "more likely than not a terrorist bomb" had brought down the plane as he announced plans to bring British citizens back from Sharm el Sheikh.
Mr. Obama's comments were the first direct indication by the president that the downing of the Russian airliner might have been something other than a technical malfunction. American officials have repeatedly cautioned that the cause of the crash was still under investigation.
Officials have noted that no American airlines fly to or from the airport in Egypt where the Russian plane began its flight. And they said before the crash, the Federal Aviation Administration had already issued guidance to airlines to fly higher above the region.
Mr. Obama's comments came during a series of short interviews with five radio stations across the country in which the president urged people to sign up for health insurance at HealthCare.gov during the current open enrollment period. During one of the interviews, Mr. Obama was asked about the Russian plane.
In recent days, administration officials have noted the differences between the crash of the Russian plane and other airline disasters. Unlike the case last year of the missing Malaysian jetliner, the United States does not have F.B.I. agents working directly on the crash.
"Right now there are not," Mr. Earnest said Wednesday afternoon. "Right now this is an Egyptian investigation. The Russians are involved in it."
Officials have said American investigators were "in touch" with their counterparts in other countries who are looking into the crash. But without an American known to be on the flight — a presence that often gives officials a reason to participate in the investigation of a crash — there has been no reason for direct United States involvement, they said.
The Russians and the Egyptians have also not asked for help from the United States in the investigation, officials said.
Mr. Cameron made his remarks about the crash in an appearance at No. 10 Downing Street with President Abdel Fattah el-Sisi of Egypt.
New York Times
Could ISIS have bombed Flight 92668?
When an Islamic State affiliate in Egypt claimed responsibility for the downing of a Russian airliner on Saturday, analysts were initially sceptical about the group's ability to bring down a passenger jet.
Speculation focused on an assumption that the group, which calls itself Sinai Province, was claiming to have fired a missile at the plane - almost certainly beyond its technical means.
But five days on from the crash, which killed all 224 people on board shortly after take-off from the Egyptian resort of Sharm el-Sheikh, the UK has grounded flights at the resort and David Cameron has said it is "more likely than not" that a bomb brought down the plane.
UK military officials are now on their way to Egypt and security at Sharm el-Sheikh airport is under intense scrutiny. Julian Bray, an aviation security analyst, says it is "highly probable" that even a relatively unsophisticated terror group could get a bomb on a jet leaving the resort.
"It is unlikely a passenger would be able to stow it on board the aircraft, but it is quite likely it could have been taken into somewhere like the cargo shed and then into a container in the plane," he says.
"All passenger aircraft nowadays carry cargo as well, which often comes as a complete sealed unit, and the concern is that at airports like Sharm security is lax around cargo.
"A lot of the airports in the Far East and Middle East are running on a shoestring and they have to turn round aircraft and cargo as fast as possible.
"That leads to skimping on security procedures."
Egypt has criticized suggestions that a bomb was involved in the crash. Civil Aviation Minister Hossam Kamal said the country's airports all comply with international security standards.
Investigators are yet to reveal any information from the aircraft's black box recorders and there is no concrete evidence of a bomb attack.
US media reported on Tuesday that a military satellite detected a "heat flash" over Sinai at the time of the crash, suggesting an explosion, but officials said they have not ruled out a technical malfunction.
On Wednesday, Sinai Province, which emerged in 2011, reiterated its claim of responsibility in an audio recording circulated on social media, but refused to give any details about the method used.
"We brought it down by God's help, but we are under no obligation to reveal the mechanism we used," the statement said. "So search the wreckage of the plane, and find your black box and analyse it."
Jump media playerMedia player helpOut of media player. Press enter to return or tab to continue.
Media captionDid bomb cause Sinai plane crash?
The data retrieved from the black boxes may reveal whether a bomb was involved. If Sinai Province's claim is corroborated, it will be the first IS attack against a passenger aircraft - a grisly milestone for the terror organization.
Spectacular attacks against civilian targets - especially planes - have so far been the preserve of IS's much older rival, al-Qaeda, which was behind 9/11.
AQAP, al-Qaeda's branch in Yemen, claimed responsibility for two bombs discovered unexploded on cargo planes in 2010 - one in London and one in Dubai. The 300-400g devices - large enough to bring down a plane - were hidden in printer cartridges aboard cargo flights from Yemen.
Both packages were destined for Chicago and timed using mobile phones to detonate over the US mainland.
And in 2010, the CIA said it had foiled a plot by AQAP to smuggle a technically advanced bomb on board an airliner bound for the United States.
By contrast, IS has so far focused on taking land and hostages, and inspiring lone wolf attacks in other parts of the world rather than planning its own sophisticated operations.
Debris from the plane was spread over a wide area, indicating it broke up in mid-air
Many analysts have been waiting for a high-profile terror attack by IS, according to Dr HA Hellyer, a Middle East expert with the Royal United Services Institute. But the scale of the Metrojet attack would nonetheless be a surprise, he says.
"I don't think anybody expected an attack on a plane, maybe on a hotel or a kidnapping ... but nobody expected something this large.
"I don't think it will surprise anyone such a radical and extremist group has targeted civilians, but certainly the nature of this attack is very dramatic," he says.
If the attack is confirmed it would be a significant propaganda coup for IS, says Dr Hellyer. "It would mean that they've taken out a huge number of civilians at once, and struck a blow against two of their enemies at once, Russia and Egypt."
And it will remain a success of sorts for IS even if investigators rule that the plane was brought down by a technical fault, he says.
"If it turns out that they didn't do it, that is still a victory in a sense. We are having this conversation now. They have managed to dominate the discussion, and that in itself is a communications victory."
November 5, 2015
The British prime minister suspends UK-bound flights from the Egyptian airport, but doesn't reveal why they believe a bomb may be the culprit.
Concerned a bomb may have taken down the Russian airline that crashed in Egypt's Sinai region on Saturday, the British government on Wednesday suspended all daily British-bound flights departing a southern resort town.
Ben Watson is news editor for Defense One. He previously worked for NPR's "All Things Considered" and "Here and Now" in Washington, D.C. Watson served for five years in the U.S. Army, where he was an award-winning combat cameraman and media advisor for southern Afghanistan's special operations ... Full Bio
"While the investigation is still ongoing we cannot say categorically why the Russian jet crashed. As more information has come to light, we have we have become concerned that the plane may well have been brought down by an explosive device," the British prime minister's office said in a statement Wednesday.
The statement out of 10 Downing Street echoes a similar warning from U.S. Director of National Intelligence James Clapper on Monday at the Defense One Summit. When asked if ISIS has the ability to shoot down an airliner, Clapper called it "unlikely," but said "I wouldn't rule it out…We don't have any direct evidence of any terrorist involvement yet."
On Monday, an American infrared satellite "detected a heat flash at the same time and in the same vicinity over the Sinai where the Russian passenger plane crashed," a U.S. official told NBC News. "According to the official, U.S. intelligence analysts believe it could have been some kind of explosion on the aircraft itself, either a fuel tank or a bomb, but that there's no indication that a surface-to-air missile brought the plane down."
The plane crashed about 20 minutes after takeoff from Sharm el-Sheikh, killing all 224 passengers on board in the worst civil aviation disaster in Russia's history.
The Islamic State's Sinai affiliate released an audio message on Wednesday repeating their previous claim to have downed the airliner. But the group provided few details and Egypt's Prime Minister Abdul Fattah al-Sisi dismissed the claim as "propaganda," according to the Associated Press.
White House spokesman Josh Earnest refused to comment on the ongoing investigations, but said the U.S. already had standing warnings for civil aviation over the Sinai. He cited a March 2015 advisory from the Federal Aviation Administration about the risks from insurgents—"Man-Portable Air Defense Systems (MANPADS), small arms fire, and indirect fire from mortars and rockets targeting Sinai airports"—to aircraft passing below 26,000 feet in the Sinai airspace, and an earlier warning for flying over 24,000 feet.
"Attacks against aircraft in-flight or weapons fire targeting Sinai airports can occur with little or no warning," the FAA warned, in March.
Defenseone.com
Remains of the Russian Jet while an Egyptian chopper hovers above
Latest from the Russian Government:
A Russian aviation official said the investigation was looking into the possibility of an object stowed on board causing the disaster.
"There are two versions now under consideration: something stowed inside (the plane) and a technical fault. But the airplane could not just break apart in the air – there should be some action. A rocket is unlikely as there are no signs of that," the Russian official said.
Security experts and investigators have said the plane is unlikely to have been struck from the outside and Sinai-based militants are not believed to possess the technology to shoot down a jet from a cruising altitude above 30,000 feet.
Any evidence that a bomb knocked the plane out of the sky would deal a heavy blow to tourism in Egypt, a pillar of the economy that is struggling to recover after years of political turmoil, and would also undermine Sisi's assertions that Cairo has brought under control Sinai Province's insurgency.
Sinai Province has killed hundreds of Egyptian soldiers and police since Sisi, as army chief, toppled Islamist President Mohamed Mursi in 2013 after mass protests against his rule.
Sisi was elected president last year on promises he would stabilize Egypt and rebuild its shattered economy. Critics say his tough crackdown on Islamists will only create more radicals in Egypt, which has fought militants for decades.
November 4, 2015
Investigators probing what caused a passenger plane to crash Saturday in Egypt's Sinai Peninsula have turned their attention to who was on board — and who would have had access to the doomed jetliner before takeoff.
An airport source told NBC News that Egyptian security at Sharm el-Sheikh Airport has been focusing on who gained entry to the departure hall, was part of the catering and cleaning services, and had permission to be in the departure lounge.
Related: Satellite Shows Heat Flash When Russian Metrojet Plane Crashed, But No Missile
The Metrojet-operated Airbus A321, which was headed for St. Petersburg, was carrying 224 people on board, mostly Russian vacationers visiting the Red Sea resort. No one survived.
The intrigue over the Russian charter jet's final moments has only deepened as aviation experts float two theories: Either there was a bomb smuggled on board or some sort of catastrophic mechanical failure occurred in mid-flight.
American intelligence sources told NBC News that none of the passengers or crew members were found on any U.S. terrorism databases.
U.S. officials on Monday also dismissed earlier speculation that a missile could have struck the airliner since infrared satellite imagery showed no possible heat trail that would have come from a launched missile. Similarly, Russian media reported there were no signs of blast-related trauma found on the recovered bodies.
Metrojet officials said at a news conference that the pilots never dispatched that they were in distress and made no effort to contact Egyptian traffic controllers in the event the crew saw something headed the plane's way.
Russia's Interfax news agency, meanwhile, claimed that sounds taken from cockpit recordings from the airliner's black boxes were "uncharacteristic of a standard flight."
Some analysts have said a 2001 accident in which the Airbus A321's tail section was damaged when it smacked into the tarmac on landing could have contributed to a longstanding structural problem.
But the plane, which was originally registered in Ireland, was repaired. Irish authorities said that as of last May, the plane's certification was in order.
Capt. Mike Vivian, a U.K.-based aviation and safety analyst, said that if the aircraft cabin was physically compromised in any way, that would have proved disastrous.
"If you have a pressurized environment such as an aircraft cabin, obviously a fracture is very serious and could potentially bring the aircraft down," he said.
NBC News
Featured Posts
Donald Trump was supposed to be the guy who would fix everything in Washington, but after two months in office he's p...

Words from the publisher: Before you start reading this posting let me warn you that NOT ALL the information  here has   been verified. Th...

 If Trump's Grand daddy would have been denied entrance here (we were in between wars with     Germany)Trump would not be here...