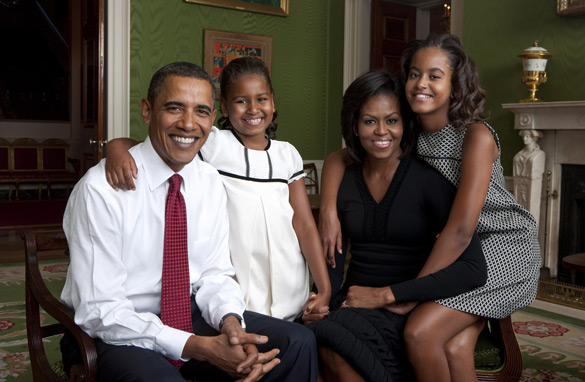 CNN Picture
In Life by Emma Jones
.
But Modern Family Is A Yes For The Obamas
President Obama may have embraced Facebook for his own use, but don't count on friending the First Daughters, Sasha and Malia, anytime soon. In the Obama household,Facebook is a big no-go for the kids, and for very good reasons.
In their only print interview of the holiday season, President Obama and First Lady Michelle tell People Magazine: "Why would we want to have a whole bunch of people who we don't know knowing our business? That doesn't make much sense."
The Obama's elder daughter Malia is now 13, and old enough to have a Facebook account; however, 10-year-old Sasha isn't legal to use the site under the Children's Online Privacy Protection Act. The federal regulations prohibit websites from collecting information from users younger than 13, and as a result, Facebook requires its users to be at least 13.
Still, Obama's no-Facebook rule is an exception when compared to the number of parents allowing their under-age kids to lie their way on to the social networking site. "It's not been a hard decision," the President said.
Michelle again emphasized the ages of her daughters, to which President giggled and added, "We'll see how they feel in four years."
The interview then moved on to the Obama's favorite television shows, which unlikeFacebook, seems to be a dividing rift within the family.
"For the girls and me, Modern Family, that's our favorite show," the President says, adding that he's "a little darker" in his TV habits, listing Boardwalk Empire and Homeland as his must-sees, other than sports.
"Yes," said the First Lady with a laugh, "we don't watch TV with him."